VIRTUAL - Whim Rules the Child: The Archaeology of Childhood in Scandinavian Scotland
September 27, 2021 @ 7:00 pm

EDT

Eastern Time
This is an online event.
Sponsored by: Archaeological Institute of America
---
The cultural imagining of the Viking Age is of an adult world. It is seen as a violent world, populated by men with swords and, for the most part, the women and children who occupy this space do so on the periphery. In archaeological research, however, Viking women were among the first to enter feminist discourse, through the work of Dommasnes (1976), and have been a major subject for discussion ever since. Children have come a little later and more sporadically, though the study of Viking Age childhood has gained momentum in recent years. This talk seeks to add to the discourse by examining the evidence for both the presence of children and the agency of children in Scandinavian Scotland. We will cover funerary practices and material culture, including toys and games from Viking contexts.
Short bibliography and/or website on lecture topic:
Graham-Campbell, James and Colleen E. Batey (1998) Vikings in Scotland: An Archaeological Survey. Edinburgh: Edinburgh University Press.
Hadley, D.M. and K. A. Hemer (2014) Medieval Childhood: Archaeological Approaches, edited by Oxbow: Oxbow Books.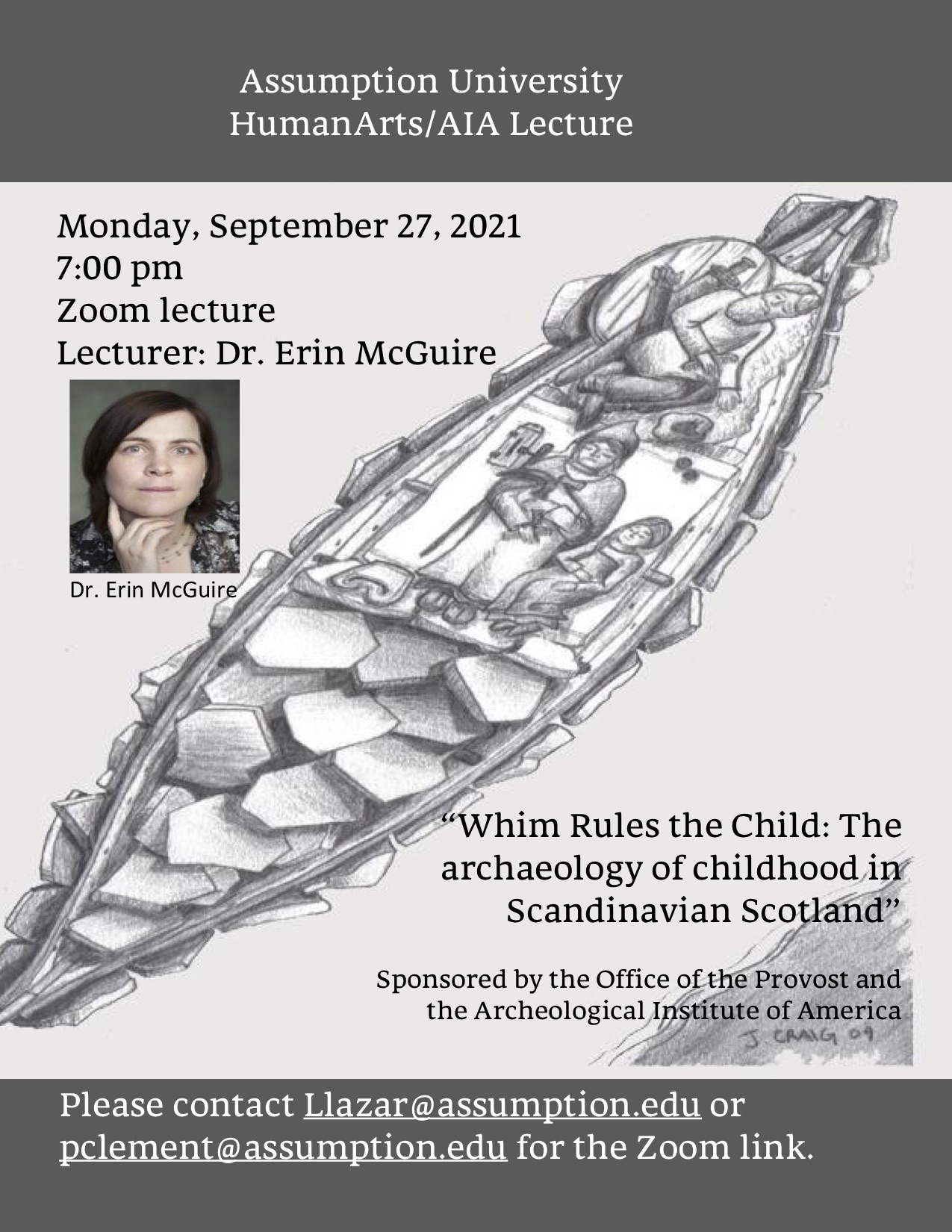 Please contact Llazar@assumption.edu or pclement@assumption.edu for the Zoom link.
Lecture to be followed by question and answers and virtual wine & cheese.
Co-sponsored by the Human Arts Series, the History Program, and the Medieval and Early Modern Studies Program, and the Office of the Provost of Assumption University.
When placing events on your calendar using these buttons, please check that time zone displays correctly.