December 29, 2010
Expert Recommendations: A Preview of the Annual Meeting Program
by Peter Herdrich, AIA Executive Director
---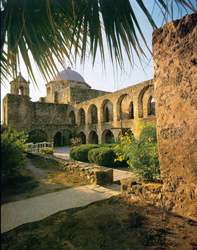 The countdown is on and not just for New Year's. From January 6-9 we convene in San Antonio, Texas for the 112th Annual Meeting of the Archaeological Institute of America, our premiere academic event. This year we are featuring over 300 presentations. Professor Garrett Fagan of Penn State and his colleagues on the Program for the Annual Meeting Committee deserve high praise for their work putting the program together. It must indeed have been difficult to choose among the distinguished papers that were submitted. Of course, the question now becomes, with so much to choose from, how can one possible decide which among these stellar sessions to attend?
To get some help, I asked a number of our Academic Trustees to recommend sessions that they thought might be a good starting point for the conference. Dr. John Hale, the Director of the Liberal Studies Program at the University of Louisville, has a suggestion for anyone who wants full immersion in a popular subject. He writes, "This year, the Annual Meeting of the AIA is offering a complete introductory course on the intriguing field of Nautical and Underwater Archaeology. Many of the most important investigators in the field will be presenting papers.  Start in Session 1D with David Pettegrew's paper on portaging ships across the Isthmus of Corinth, then go on to 'Ancient Ships and Ports' (Session 2D), 'A Half Century of Nautical Archaeology' (Session 3C), 'Travel, Trade and the Aegean Sea' (Session 4G), and 'Coasts and Harbors' (Session 5H).  Finally, let Bridget Buxton carry you into the future in Session 7F, with her paper 'NAUTOPSY: A New Paradigm for Deepwater Archaeological Excavation'."
Professor Glenn Schwartz of Johns Hopkins University is particularly intrigued by two sessions. He agrees with Dr. Hale, and recommends Session 3C, the colloquium, "A Half Century of Nautical Archaeology: Revisiting Excavations." He also likes Session 4B, a colloquium titled "The America Research Center in Egypt's (ARCE) Conservation Projects: An Archaeological Approach to Preserving Egypt's Cultural Heritage."
Dr. Chen Shen, Senior Curator at the Royal Ontario Museum, recommends Session 2H, "Recent Research on Anatolia and Mesopotamia." He also writes, "I would like to participate in a number of sessions and workshops on Cultural Heritage Management, such as Sessions 2E and 3H, as well as the workshops on Collaboration between CHAMP and CHCAG." And proving himself a man of many archaeological interests, he adds, "The session on scientific archaeology in analyses of obsidian and ceramics would also draw my interests as a specialist of prehistory stone tools." (Session 6D)
Professor Barbara Barletta of the University of Florida agrees with Dr. Shen on the Obsidian and Ceramics Colloquium.  "These materials are fascinating subjects for study because they were so commonly used and therefore give us much information on trade and other connections among societies for which we often have little other information." Her other pick? "I'm particularly intrigued by Interpreting Sculpture (Session 4D) because it looks at some well-known works from a new perspective.  Additionally, polychromy, which is examined in relation to Hellenistic sculpture, is an exciting new field of research."
Professor Carla Antonaccio of Duke University reveals her wide-ranging tastes by recommending six diverse sessions. She's intrigued by Sessions 2E, "The UNESCO Convention at 40," 3C, on nautical archaeology, 4C, "Production and Consumption Mechanisms in Hellenistic and Classical-Period Coinage," 4G, "Travel, Trade, and the Aegean Sea," 6E, "The Archaeology of Resistance," and 7F, "Politics, Preservation, and Ethics in Archaeology."
Whatever sessions you choose to attend, what is most impressive about this year's array of presentations is its breadth and depth. Issues and ideas from around the world are confronted. And archaeology is placed in multiple contexts, across the historical record, in the field, in the laboratory, in the classroom, and, importantly, in society. It is safe to say that this year's program stands as testimony to the scholarly commitment and ardor of the members of the Archaeological Institute of America. Enjoy the program and see you in San Antonio.