January 19, 2012
Hoyo Negro Completes Project to Safeguard Site
by Dominique Rissolo
---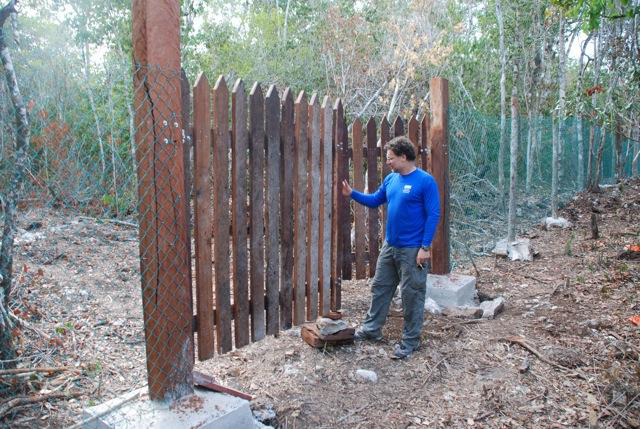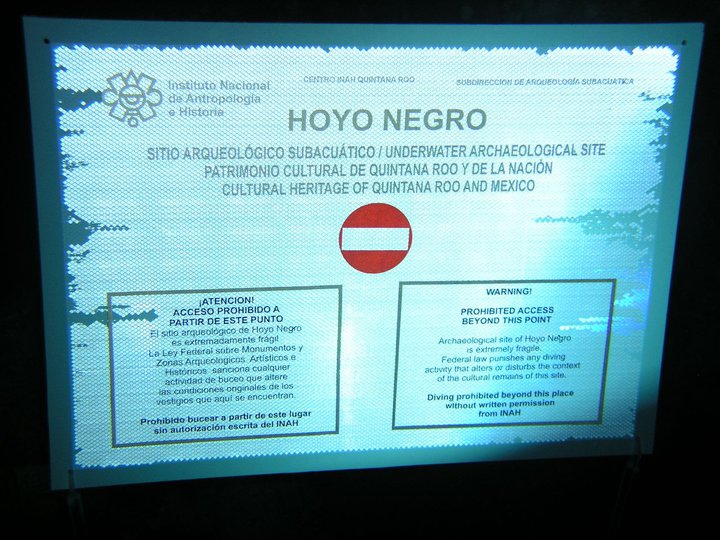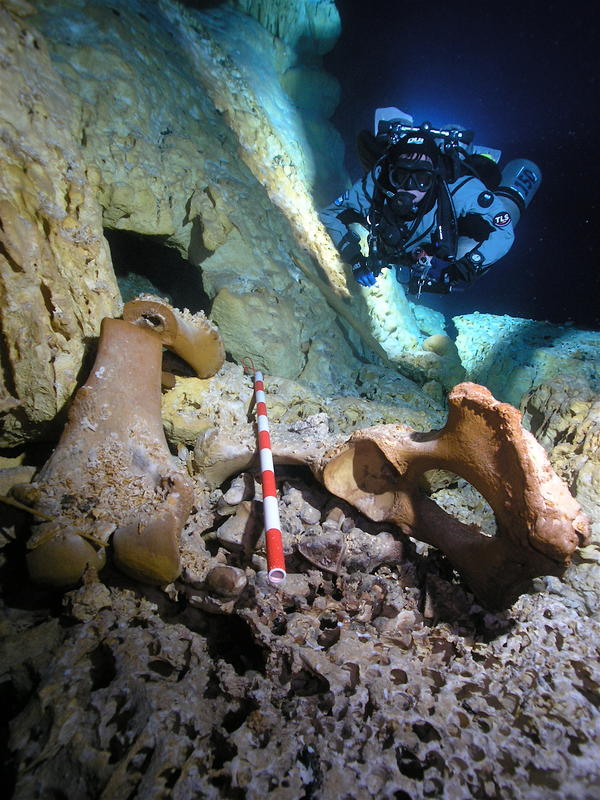 In 2007, underwater cave explorers Beto Nava, Alex Alvarez, and Franco Attolini chanced upon a human skeleton and the bones of extinct megafauna at the bottom of a deep pit within the Aktun Hu submerged cave system of Quintana Roo, Mexico. It was immediately apparent that this black abyss – later named Hoyo Negro – held the remains of a unique Late Pleistocene site.
At the end of the last glacial maximum, sea levels were up to 100 meters lower than they are today. Many of the now-flooded cavern systems of the Yucatan Peninsula would have been dry during the Late Pleistocene, allowing Paleoamericans and animals alike to venture into these caves in search of freshwater. The skeleton of the young woman in Hoyo Negro is in spatial association with the remains of an extinct species of elephant. Also present in the cave are ancient rope marks at the edge of the pit (possible evidence of water collection) and a fire pit, which would have been used to provide illumination for the cave's Paleoamerican visitors.
My INAH project co-directors, Pilar Luna Erreguerena and Luis Alberto Martos Lopez, and I have been coordinating an international and interdisciplinary group of specialists to conduct a truly collaborative and comprehensive study of a submerged Late Pleistocene site on the Yucatan Peninsula. The first phase of the project involves detailed, state-of-the-art imaging and recording of the deposits. The exploration team has been mapping the cave passages in detail and has produced a site plan and section drawing. The location of the remains with respect to the cave's overall morphology will be critical in reconstructing the natural and cultural processes that resulted in the formation of this unique site as well as provide essential temporal information.
Until late 2010, the site was not considered to be at-risk due to its obscurity. Over the past several months, local divers have come to learn about Hoyo Negro and have been diving near the site. We sought an AIA Site Preservation Grant to control public access to the cenote and improve access for the scientific diving team. Funding from the grant enabled the designation and construction of a formal gated, fenced, and posted access road and path to the Ich Balam entrance of Hoyo Negro. These works, completed in summer 2011, set the stage for the more recent construction of stairs and a dive platform at the cenote, which will prevent erosion and facilitate controlled scientific diving operations. Underwater signage was installed to inform local divers about the importance and fragility of the site and encourage them to keep within acceptable diving limits.
We believe that these relatively simple measures will help protect and preserve the unique Late Pleistocene site of Hoyo Negro, enabling scientific investigations to proceed. The AIA Site Preservation Grant was instrumental in raising awareness about the site and has enabled us to secure additional funding.
Related Projects:
---