September 18, 2020
In Memoriam: Norma Kershaw
---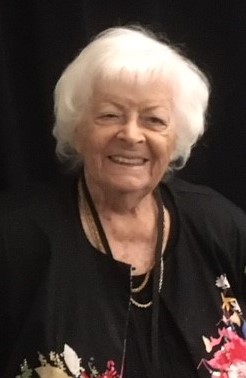 It is with the deepest sadness that we share the news of Norma Kershaw's passing and offer our sincere condolences to her family, friends, colleagues, and students.
Long-time AIA friend and supporter, Norma Kershaw, aged 95 years, died peacefully at her home in Mission Viejo, CA on September 14, 2020.
Norma was born on New Year's Eve in 1924. She worked for seven years in advertising before marrying Reuben Kershaw, a real estate investor, in Great Neck, NY. After raising their two daughters, at the age of 43, Norma enrolled at Queens College, City University of New York, to pursue a double major in anthropology and art history. She completed her B.A. in 1972, graduating Phi Beta Kappa, and went on to earn a M.A. degree from Columbia University in art history and archaeology in 1974.
Norma participated in archaeological fieldwork in Israel, Cyprus, and Egypt. Her first excavation was in Tel Gezer, outside of Jerusalem, in 1972. She taught art history and archaeology courses for 18 years at the Great Neck Adult Program (1971-1989), Hofstra University Continuing Education (1973-1989), where she earned the Conger-Patterson Award for Distinguished Teaching, and LIU Post (the C.W. Post campus of Long Island University, 1982-1989). Known for her ability to relate archaeological research with humor and charm, Norma became a widely respected and sought-after lecturer on the archaeology and art history of the Middle East. She served as a lecturer for the United Nations Cultural Affairs Committee from 1976 to 1989.
Norma was a stalwart and long-time supporter of the AIA. In 1968, she helped found the Long Island Society, serving as its president from 1977 to 1981. She became a Lifetime Member of the Institute in 1976 and received our prestigious Martha and Artemis Joukowsky Distinguished Service Award in 1989. She even served as a travel editor for our flagship publication, ARCHAEOLOGY magazine, from 1980 to 1985. 
In 1990, Norma and Reuben moved to Mission Viejo, CA to be closer to their daughters. Without wasting any time, Norma founded the Orange County Society in 1991 and served as its first president. She joined the AIA Governing Board in 1992, and, in 1996, was the first female (and still the only) named as a Trustee Emeritus of the Institute. Norma established two very important funds, for which the AIA is extremely grateful. The Kershaw Lectures in Near East Archaeology, established in 1994, have brought world-renowned experts to share their research with Societies across the country. The Kershaw Fund for the AIA Newsletter allows us to share the important work of the Institute with the greater AIA community. Norma was also a valued member of our Charles Eliot Norton Legacy Society.
In addition to everything Norma was involved in at the AIA, she also had deep associations with other archaeological organizations. She served on the editorial board of the Biblical Archaeology Review, was a founding president of the Cyprus American Archaeological Research Institute, founding member of the Orange County chapter of the American Research Center in Egypt, honorary trustee of the Albright Institute of Archaeological Research, and honorary trustee of the American Schools of Oriental Research, from which she received the Richard J. Scheuer Medal (1997) and The Charles U. Harris Service Award (2014). Norma helped bring the Dead Sea Scrolls and House of David Inscription exhibitions to the Bowers Museum of Cultural Art in Santa Ana, CA, and, in 2007, they named their 300-seat auditorium after her. She's also responsible for endowing two university chairs, one at UCLA and one at UCSD. AIA member, Dr. Aaron Burke, holds the Kershaw Chair of Ancient Eastern Mediterranean Studies at the University of California, Los Angeles and former AIA Trustee, Dr. Thomas Levy, holds the inaugural seat of the Norma Kershaw Chair in the Archaeology of Ancient Israel and Neighboring Lands at the University of California, San Diego.
The AIA and the field of archaeology as a whole are forever indebted to the wisdom, generosity, and commitment of Norma Kershaw.