March 20, 2013
It's March Madness at the AIA!
---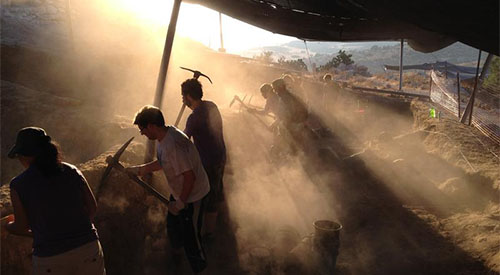 "The AIA is unique for its service to the world's cultural heritage, the professionals who seek to recover, interpret, and preserve it, and the public who has an undying fascination with the past."
—Elise Friedland, The George Washington University
The AIA has just been given an incredible opportunity and we need your help TODAY to secure a grant of $50,000! A fantastic friend of archaeology has pledged to match, dollar-for-dollar, all new Annual Fund donations totaling up to $50,000. This means that during the March Annual Fund Challenge you have the opportunity to have your gift DOUBLED! Give now and your contribution will go twice as far to
provide professional archaeologists with the resources they need to excavate, research and present the kinds of incredible discoveries that captivate and inspire us all! Critical resources like the American Journal of Archaeology, the AIA Annual Meeting, and the AIA Lecture Program are all made possible thanks to your support of the Annual Fund!
preserve threatened archaeological sites around the world. If you believe, as we do, that the world's cultural heritage is worth saving please contribute to the Annual Fund so we may increase our efforts to preserve threatened archaeological sites and advocate for archaeology!
educate and excite people in communities from coast-to-coast about the importance of cultural heritage through our free-of-charge Lecture Program, Archaeology Fairs, and National Archaeology Day activities!
How do I join the March Annual Fund Challenge and double my gift? It's easy. Make a tax-deductible contribution online by clicking here or by calling 617.353.8703.