March 10, 2022
Member Spotlight: Alice Kehoe
---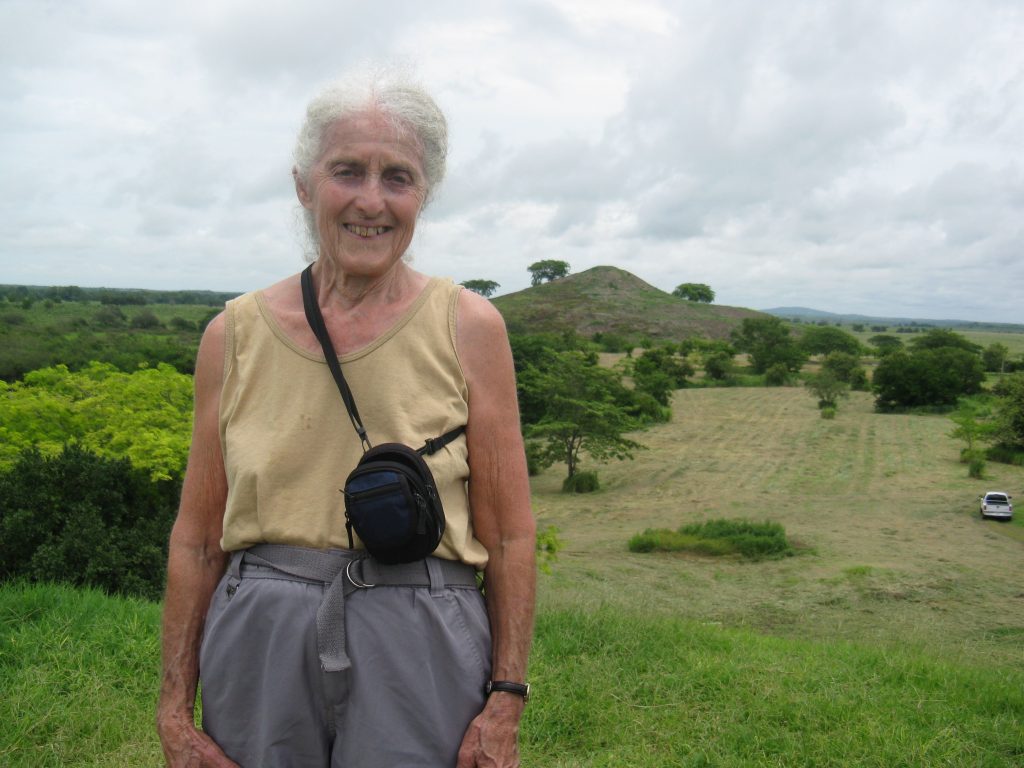 This month, we're delighted to spotlight Alice Kehoe of the Milwaukee Society. Alice is a long-time friend of the AIA, a Milwaukee Society Officer, and a Professor of Anthropology, emeritus, at Marquette University. In 2016, the Plains Anthropological Association honored Alice with its Distinguished Service Award for her "enduring work in Anthropology and Archaeology of the Great Plains." We asked Alice some questions about her interest in archaeology and how she got involved with the AIA and we're excited for you to read her words!
What interests you about archaeology?
Archaeology bridges what we know about ourselves as Homo sapiens, from evolutionary biology, and what we know from historical documents. That deeptime is so exciting, to see how bipedal apes in Africa 3 million years ago began depending on a variety of tools, of which stone ones survive to tell, inventing and sharing and journeying throughout the planet and lately, as it were, inventing writing systems and letting historians help us archaeologists. Archaeology is what gives us our long pasts.

How did you find out about the AIA?
I had heard of AIA when I was in college in New York, at Barnard in the 1950s, but it seemed it was just for Classical archaeologists, while it was earlier human histories, all over the globe, that I wanted to study. When we moved to Milwaukee, my husband was the curator at the Milwaukee Public Museum, and the Museum Director at that time, Stephen Borhegyi, was assisting local avocationals and fans of archaeology to build the AIA's Milwaukee Society. I dropped in at the meetings and was impressed with the quality of the presentations and passion for outreach. Jane Waldbaum showed up, newly employed in 1973 at the University of Wisconsin-Milwaukee (I was teaching at Marquette University), making two women professional archaeologists at the meetings – so I thought, well, I should sign up.
Jane and I are the shift generation in archaeology, between women as silent collaborators with their husbands to women as full professionals. We both did our graduate work at Harvard, on opposite sides of Divinity Avenue (Classical and Anthropology), both sides with professors who refused to take women students. The AIA had eminent women archaeologists, but in terms of our local Society, sharing that Harvard and postgrad background with Jane made the welcoming Milwaukee Society a real home for me.
What made you decide to get more involved with the Milwaukee Society?
Jane and I wanted to help, to support, the avocationals who were running the young Milwaukee Society. Borhegyi, the Museum Director, was killed in an accident, leaving us to assist, to nurture the Milwaukee Society; you could say, as women we had been brought up to be nurturing. What kept both of us continuously involved all these decades was the camaraderie. The Milwaukee Society has always had a wide cross-section of local people, asking stimulating questions of our lecturers, affirming our commitment to archaeology as a significant part of knowing ourselves as humans.
---
Alice recently published her memoir, Girl Archaeologist: Sisterhood in a Sexist Profession, which explores the history of American archaeology and the shifting role of women in the field. You can purchase her book for $14.97 (a 40% discount) by visiting the University of Nebraska Press website or calling Longleaf Services at 1 (800) 848-6224 and mentioning discount code 6AS21. To order outside of North America, please call Combined Academic Publishers in the United Kingdom at +44 (0)1423 526350 and use the discount code CS40UNP.
You can learn more about Alice at her website www.alicekehoe.com.