December 15, 2021
Member Spotlight: David L. Stone
---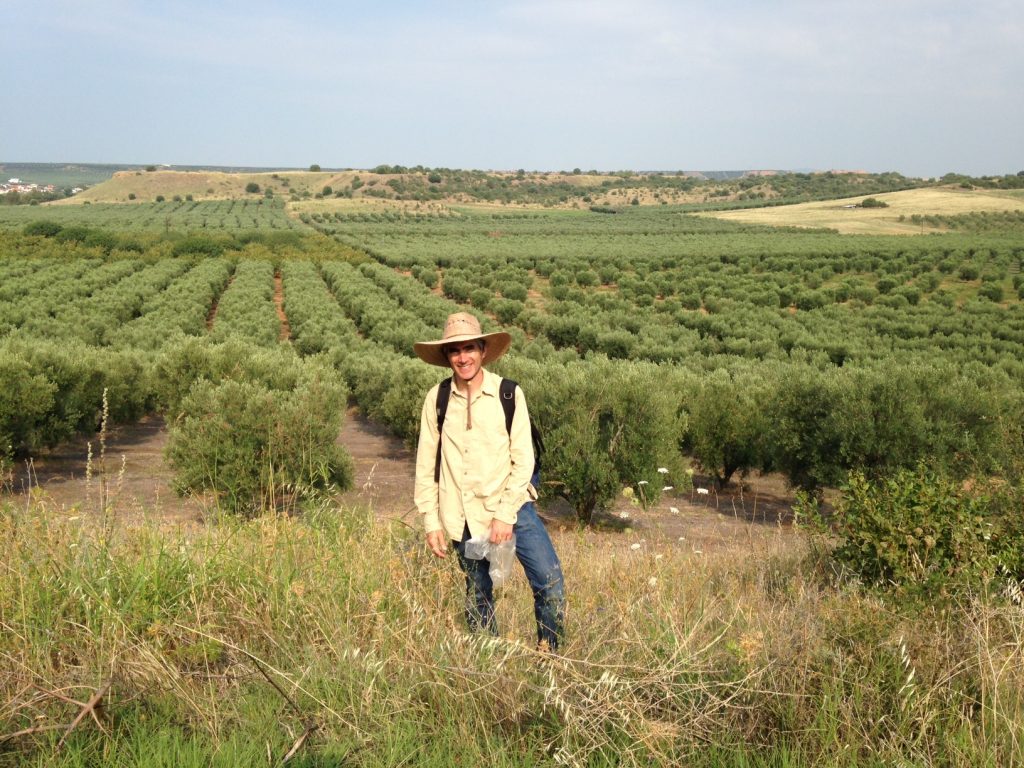 This month, we're excited to spotlight David L. Stone, Vice-President of the Ann Arbor Society. David is a survey archaeologist working in both the Greek and Roman worlds whose research addresses questions about ancient cities, empires, and landscapes. He is currently directing new fieldwork on the ancient city of Pella (Greece) and in the past has spent many seasons at Leptiminus (Tunisia) and Olynthos (Greece). He is the main author of Leptiminus (Lamta) Report No. 3: The Field Survey (2011) and Mortuary Landscapes of North Africa (2007). David is currently Lecturer II in the Department of Classical Studies at the University of Michigan and Editor of Book Reviews for the American Journal of Archaeology.
What interests you about archaeology?
I get a kick out of finding (old) things and trying to make (new) sense of them by posing lots of questions about them. That curiosity has gotten me interested in the purpose of stamps on amphoras, the materials used to grind grain into flour, and the energy required to build an earthen burial mound, among other things. It has also pushed me to take a variety of theoretical and methodological approaches designed to address these questions. One fundamental realization that I had early in my career was that interdisciplinary approaches to ancient societies can greatly illuminate the past, informing us not just about the wealthy citizens of antiquity, whose writings are the mainstay of research in the field of classics, but also about the poor, for whom these "traditional" written sources are lacking. Thus, I teach my students not only the essential history and chronology, but also the results of innovative studies on, for example, residues left in ancient cookpots, malnutrition in Pompeii's cemeteries, and environmental change at the time of Rome's fall. This approach is something I find especially exciting in my Great Discoveries in Archaeology class, which begins 7 million years ago in East Africa and finishes with interaction between Europeans and Native Americans in recent centuries. Many students enter the class thinking that a great discovery is a treasure-laden tomb like King Tut's, but as we explore the concept of a great discovery in depth, they frequently argue in their final essays that the development of interdisciplinary methods to study the "average" inhabitants of the past tells us more about our ancestors. Pursuing interdisciplinary approaches to regular people in this way has been one of my most sustaining interests in archaeology.

What does the AIA mean to you?
I am proud to be a member of an organization that promotes archaeological research and encourages ethical practices towards world heritage. The AIA has been an important part of my professional life since I joined as a graduate student. At that time, I received awards to support my participation in the Annual Meeting, and I looked forward to each issue of ARCHAEOLOGY magazine and the American Journal of Archaeology. Now, something like 30 years since I became a member, I have presented research at approximately 15 meetings. I have also served on the Program for the Annual Meeting Committee and the James R. Wiseman Book Award Committee. These committees have provided me with deeper insight into the great work that members are carrying out, and have pushed me to read innovative scholarship — something that I value tremendously. Five years ago I took a position as Editor of Book Reviews for the AIA's scholarly publication, the American Journal of Archaeology. My AJA position brings me into contact with books from many periods and places, and has vastly improved my understanding of the field, by exposing me to the new research questions that archaeologists are posing and the new methods they are employing. Not only does it extend my knowledge in new directions, it puts me in touch with archaeologists around the world on a daily basis, and this network of experts keeps expanding my knowledge about archaeology.

What made you decide to get more involved with the Ann Arbor Society?
In 2017 I was elected as Vice-President of the Ann Arbor Society. This volunteer role offers me a nice opportunity to help out the local community of archaeologists here in Michigan and to spend some time with the fabulous speakers that the AIA sends. The chance for interaction has even been present during COVID-19, when we have long conversations with speakers during practice sessions. What I have also enjoyed during COVID-19 is that we have had our largest audiences ever for some lectures, far surpassing what we would have attracted in person. This is a wonderful testimony to the interest in the AIA National Lecture Program, and I am pleased to have a small part in it.