January 31, 2023
Member Spotlight: Elizabeth S. Greene
---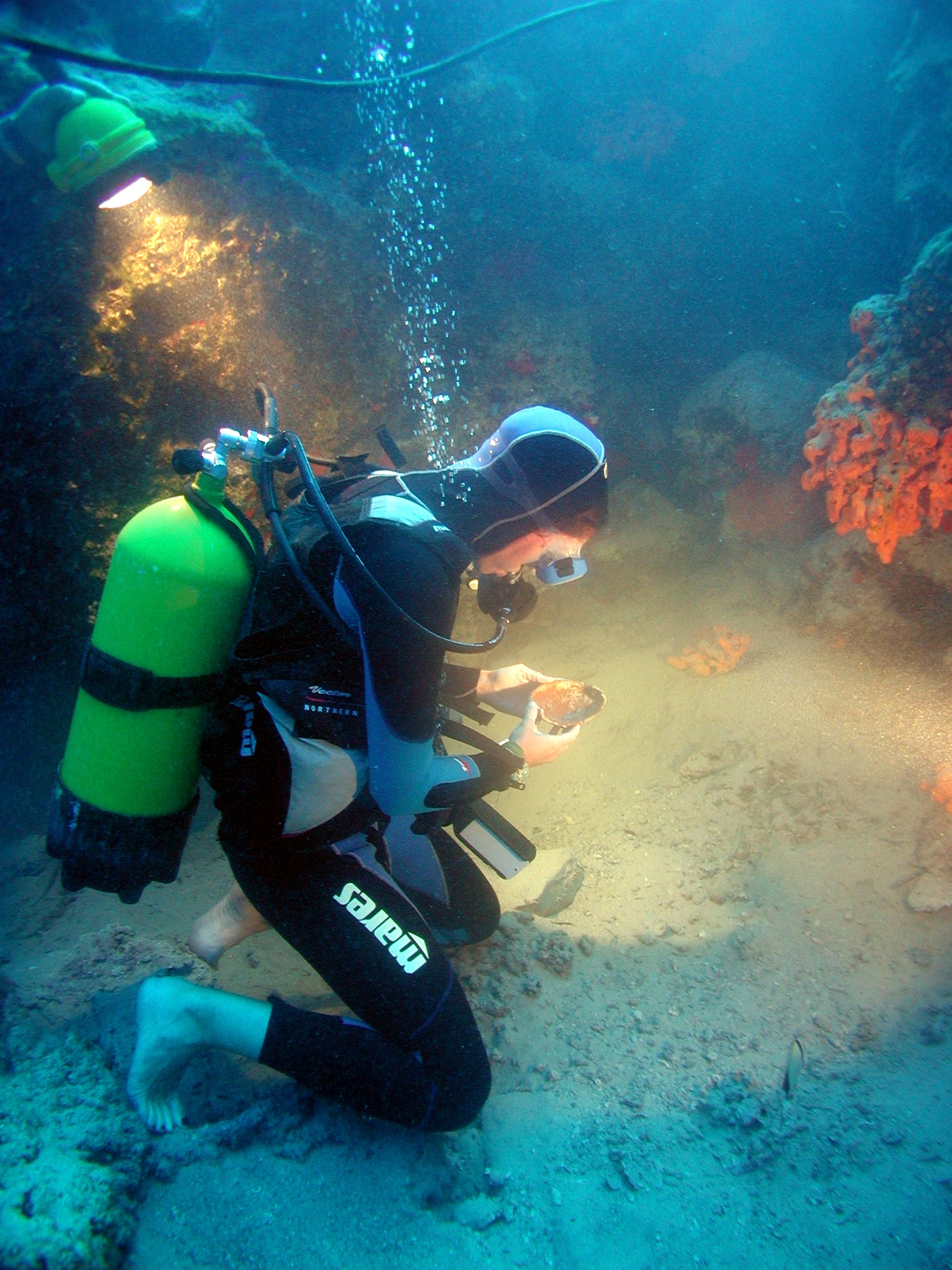 Photo: Liz examining a bowl from the shipwreck at Pabuç Burnu, Turkey. 
This month, we're delighted to spotlight Dr. Elizabeth S. Greene. Liz was recently elected as President of the Archeological Institute of America. She is a Professor in the Department of Classics and Archaeology at Brock University in St Catharines, Ontario, a maritime archaeologist who works on Mediterranean shipwrecks and harbors, and a passionate advocate for the preservation of cultural heritage. She's been a loyal friend of the AIA since her undergraduate days, serving at both the national and local level in the Niagara Peninsula Society. We asked Liz some questions about her interest in archaeology and we're excited for you to read her words!
What interests you about archaeology?
For me, archaeology is about storytelling. As a maritime archaeologist, embedded in a discipline that is never too far removed from Jacques Cousteau and the Titanic, I explore the sea through objects used and discarded by those crossing the Mediterranean. Underwater excavation and survey of shipwrecks and harbors off the coasts of Turkey and Italy have made me wonder at a bronze trident used by hungry sailors to catch fresh food on a long voyage; a wooden lice comb tossed overboard in disgust; and fragments of a black-glazed cup, so valuable to the captain that it was mended in multiple places with lead staples. These simple objects bring past worlds alive. They amplify the voices of those whose stories might not otherwise be told. And they remind us of continuities and disconnections between past and present for those who cross the sea in ships, driven by adventure, opportunity, and need.
How did you become involved in the AIA?
I discovered underwater archaeology as an undergraduate, from a feature story in the New York Times science section about a shipwreck excavation off the coast of Greece. Thanks to a series of fortuitous turns, I was able to join that project, where I was introduced to both the discipline and one of its founders, George Bass, winner of the AIA's Gold Medal Award for Distinguished Archaeological Achievement. Throughout my academic journey, AIA Societies in Princeton, College Station, Boston, and now the Niagara Peninsula have connected me to students, community members, and a wide range of professional archaeologists whose stories continue to inspire. After years of working with my local AIA Society—a terrific and lively one—I got involved with the national organization to help protect ancient and historic shipwrecks from treasure hunters and looters, eventually becoming Vice President for Cultural Heritage.
What are you looking forward to during your presidency?
Over the next three years I look forward to setting sail with you on a journey that features storytelling for all as part of our mission to excavate, advocate, and educate. Alongside the incredible Boston staff, elected officials, and all of our members, I aim to support professional archaeologists in exploring the human past by bringing together collaborative community dialogue and new scientific advances. I pledge to support global heritage protection as a human right and a critical imperative that preserves connections to our many shared histories in the present. Through education, outreach, and the weaving of tales, I hope to reach new audiences, to energize professional and avocational archaeologists, and to engage future generations in a diverse, accessible, and inclusive archaeology. I am grateful for the opportunity to serve.