July 5, 2022
Member Spotlight: Gavin McGuire
---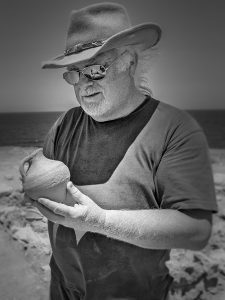 This month, we're excited to spotlight Gavin McGuire of the Athens (Greece) Society. You may recognize Gavin's name from our annual Photo Contest. Gavin has submitted multiple photos over the years and won many times in various categories. He's the photographer at the Sissi Archaeological Project in Crete. We asked Gavin some questions about his interest in archaeology and how he got involved in archaeological photography and we're excited for you to read his words!
What interests you about archaeology?
In particular, how the destructive archaeological processes of peeling back the various excavation layers should ultimately lead to a greater understanding of the ancient Aegean Minoan and ultimately Mycenaean cultures within Crete (2600-1200 BC), whilst also posing further intriguing questions, including why is it that we regularly make new discoveries and/or have to reassess the role of the site, often within two days before dig closure! Nevertheless for me, as resident 'project' photographer at the Sissi Archaeological Project, under the auspices of Professor Jan Driessen (Université Catholique de Louvain, Belgium) it's primarily about imaging up-close-and-personal in black-and-white, the current human interaction with the past and also of those involved in post-excavation (conservation, research, environmental, etc.) laboratory work. The photographic project is now in its 13th year (2009), with a new five year extension up to 2026. As an aside, my interest in archaeology is not just confined to land based digs but also nautical archaeology, including dives at Truk, Scapa Flow, Aegina.
How did you find out about the AIA?
Using the American Journal of Archaeology issues at the Canterbury University library (NZ) during the 1970's; although in 'those days' I was more into Classical history, particularly Roman.
How did you get involved in archaeological photography?
It was in 1963 when my father (a keen photographer) gave me a birthday present – a book called Tutankhamun: Life and Death of a Pharaoh by Christiane Desroches-Noblecourt. As an eleven year-old New Zealander, the work opened up an extraordinary ancient world, particularly revealing the pioneering work of Howard Carters' excavation photographer, Harry Burton, whose enduring 1,400 glass plate images, played a crucial role in the 1920's in bringing the young pharaoh and all his worldly goods back to life. To me his ground-breaking approach to photography then, as it still does today, reflects his belief that if it were not for the camera much evidence would have been lost forever.