August 4, 2022
Member Spotlight: Larry and Sophie Cripe
---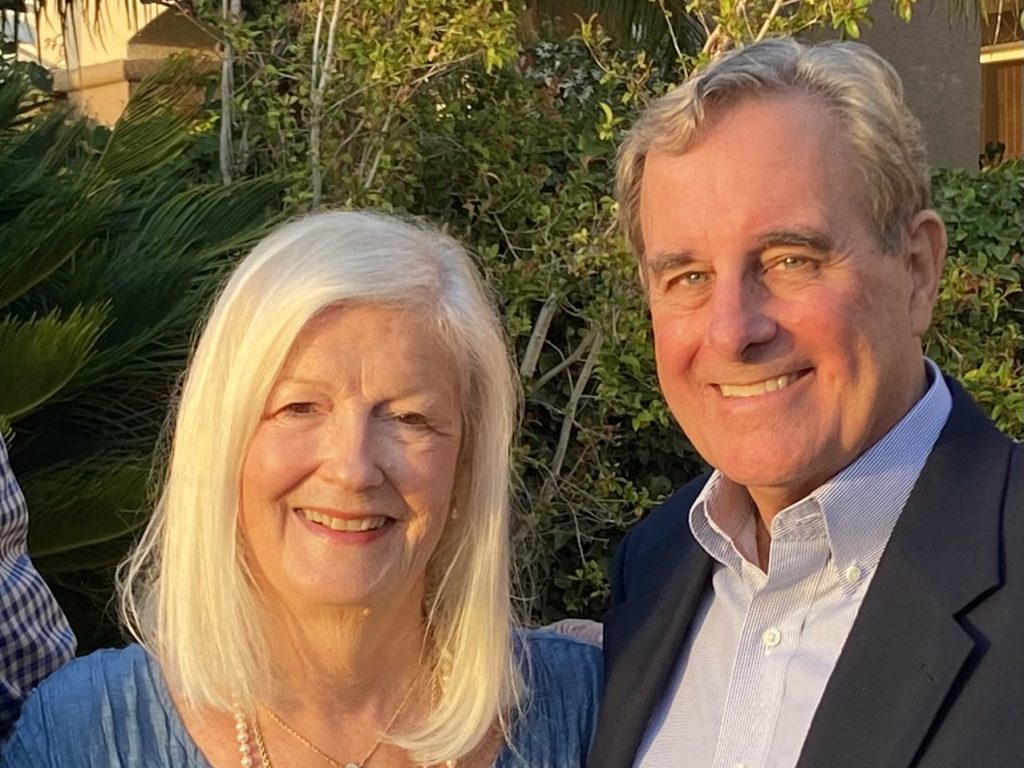 This month, we're excited to spotlight a dynamic duo from the Orange County Society in California – Larry and Sophie Cripe. Larry is a General Trustee on the AIA's Governing Board and Sophie is President Elect of the Orange County Society. We asked Larry and Sophie some questions about their shared interest in archaeology and we're excited for you to read their words!
What interests you about archaeology?
Our interest in archeology was ignited by inspiring " teachers" that made the past come alive. As an educator, Sophie's began with a course she taught on the Bible as Literature at the high school level. As a result, she took a fabulous guided tour of the British Museum by the head of the docents. That really hooked her. Larry's interest started with a shipwreck (long story), where we ended up in Cairo with an incredible Egyptian guide triggering a fascination with the ancient past.
How did you find out about the AIA?
Our mutual interests led to our attending an annual lecture series at the then University of Judaism in Los Angeles, where we heard renowned speakers like Jodi Magness, Bill Dever, Bart Ehrman, and Dan Bahat to name a few, and met others interested in archeology like David and Ruth Seigle. This led to us taking Biblical Archaeology Society seminars…our first at sea led by Jodi Magness, and next at the University of Oxford with Jodi and Professor Dan Schowalter. This led to our participating in Dan's excavation at Omrit in Northern Israel. We learned about the AIA primarily from Jodi Magness and David Seigle, and started to subscribe to ARCHAEOLOGY magazine.
What made you decide to get more involved with the Orange County Society?
David, who was involved with AIA nationally on the Governing Board, as well as locally as Vice President of the Orange County Society, suggested we get involved locally, which we did. We enjoyed the other members and really liked the lectures. Jodi reached out to get Larry on the Governing Board, and Sophie was elected to the Orange County Society Board. She has served as Grants Chair, Program Chair, and Vice President. She is currently President Elect. Larry is also a Board member of the Orange County Society.
Bonus! Here's more about the shipwreck story Larry mentioned:
Larry: Sophie and her mom were on the Cunard Royal Viking Sun in the Red Sea on their way to Aqaba when the stabilizers hit a reef that sliced a hole in the side of the front of the boat (much like the Titanic).
Sophie: We immediately took on water and were told to go to the lifeboats within five minutes. We began to list a bit. The lifeboats were readied to be entered. Unlike the Titanic, it was a beautiful warm evening, many boats were around, we were close to shore, and there were enough lifeboats for everyone, including the crew. The watertight doors were locked so we stopped taking on water. We eventually went into the dining room and stayed there until it got light. We were then sent to our cabins.
Larry: After spending the night by the lifeboats (the captain and crew where phenomenal), they were towed to Sharm El Sheikh and the cruise was off. I was scheduled to meet them at their next port-of-call: Cairo. The trip was to continue on to other destinations in Israel and Italy. With the cruise off, we decided that what was important was to be together as a family, so we stayed in Cairo for a week and then went onto Rome and Positano. It was here where I learned that there were more questions about ancient history than definitive answers. So with my love for puzzles, the adventure began…