April 25, 2022
Member Spotlight: Robert Littman
---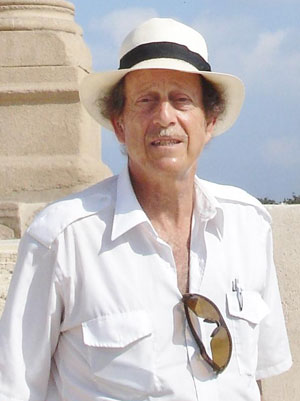 This month, we're excited to spotlight Robert Littman of the Hawaii Society. Robert is a Professor of Classics at the University of Hawaii at Manoa and Director of the Tell Timai Archaeological Project in Egypt. He's also the President of the Hawaii Society and a former Society Trustee on the AIA Governing Board. For his long-time support of the Institute, he was honored in 2018 with the Martha and Artemis Joukowsky Distinguished Service Award. We asked Robert some questions about his interest in archaeology and how he got involved with the AIA and we're excited for you to read his words!
What interests you about archaeology?
I first became interested in the ancient world as a 14-year-old student when I studied Greek and read Homer in the original. As a Classics major, I became interested in Greek art and visited Greece when I was 19 for a tour of all the ancient sites. I was hooked. Later, as a student at the British School in Athens and when I came to direct my own excavations in Egypt, I was constantly thrilled by holding objects thousands of years old. I also saw that the material culture told us a lot more about how people really lived than the literary and historical documents.
How did you find out about the AIA?
I first attended the AIA Annual Meeting as an undergraduate. One of my professors who did not have a car wanted someone to drive with to the meetings. I had a beat-up old Studebacker and drove him and another professor 200 miles to the meeting.
What made you decide to get more involved with the Hawaii Society?
Having been a professor of Classics and an archaeologist, and having AIA presenters at the Annual Meeting constantly ask me when Hawaii would form a Society so they could come out in mid-winter to lecture, I founded the Hawaii Society in 1996, and have been president ever since. In the first few years after founding the Society, the former Presidents of the AIA came out to give our February lecture among the palm trees.