April 1, 2010
Milwaukee Archaeology Fair 2010
---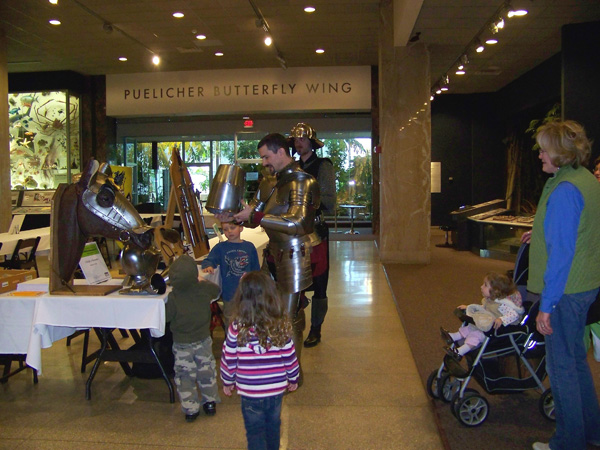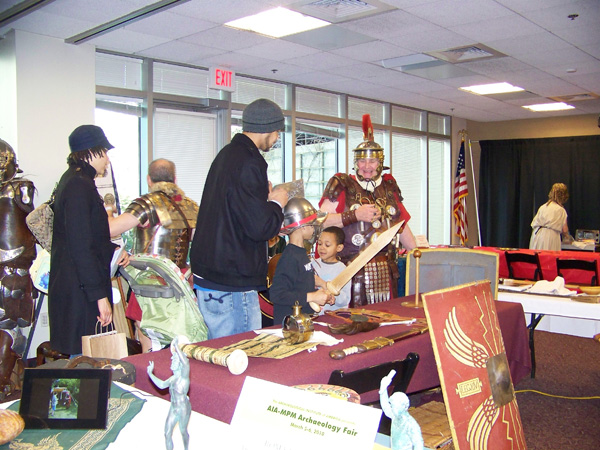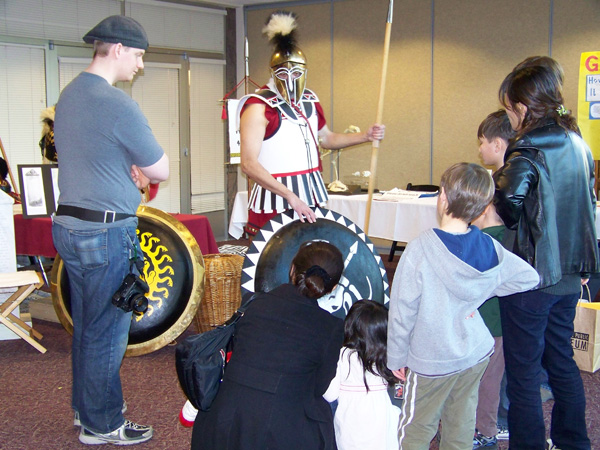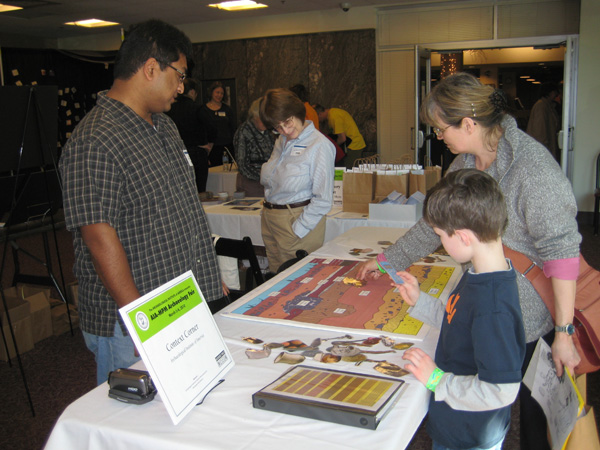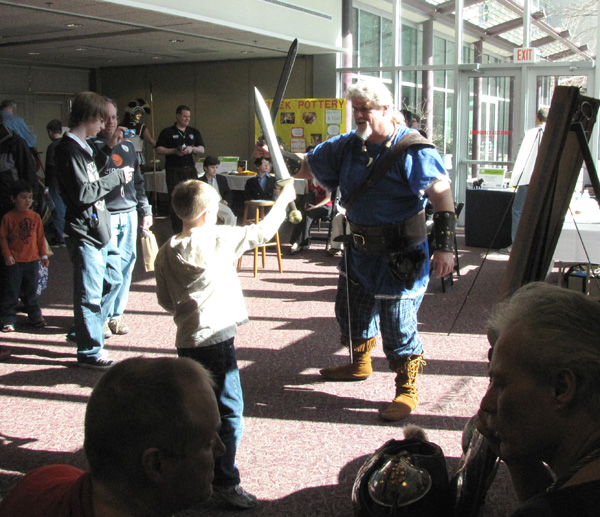 Thousands Attend Archaeology Fair Organized by AIA-Milwaukee Society and Milwaukee Public Museum
On March 5 and 6, 2010, the Milwaukee Society, in partnership with the Milwaukee Public Museum (MPM), became the first AIA Local Society to organize and host an Archaeology Fair. The event, funded in part by an AIA Society Outreach Grant, was a resounding success—more than 2,000 students, teachers, and families attended the Fair over the two-day period. Visitors were treated to a variety of creative and informative hands-on programs that highlighted various aspects of archaeology and the past. Attendees were encouraged to create cave art; unearth, wash, and sort pottery in simulated digs; write their names in Greek, Latin, and Cuneiform; learn Celtic fighting techniques; and travel through time with Greek hoplites, Roman legionnaires and Renaissance knights. Visitors craving real action were treated to the spectacle of Celtic warriors battling each other and the Romans in the museum's exhibit halls.
Co-organizers, Jane Waldbaum (President of the Milwaukee Society) and Jocelyn Boor (MPM Educator and Milwaukee Society VP for Education and Outreach), ably assisted by MPM staff and volunteers put on a superb, well-organized event that was enjoyed by both attendees and presenters. Representatives from AIA's National Headquarters had the privilege of attending the Fair and presenting several site preservation themed activities that discussed the fragile nature of archaeological sites and the need for preservation and protection of our cultural heritage. Congratulations to the organizers of this superb event. We hope that this does, indeed, become an annual event at the MPM.
For more information about the Milwaukee Society and their upcoming events, please visit their website at http://www4.uwm.edu/archlab/AIA/.
Presenters
'ROMA VICTA': Ancient Roman Military Life
See first century ancient Roman equipment and items of daily use, including weapons, and shields. Demonstrations of their use. Make a paperweight or key ring with the 14th Legion brick stamp.
Carlo Tuzzio, Independent Scholar
A Knight to Remember
Demonstration and exploration of Renaissance armor. Replica armor as well as genuine artifacts from the period on hand for patrons to experience.
Archaeological Institute of America
Honk! For Site Preservation
Site preservation is an important issue in archaeological ethics. Learn why and spread the word by making your own bumper sticker!
Archaeological Institute of America
Context Corner
Why is archaeological context so important? Discover information about artifacts based on where they were found–information that could never be discovered if they looted.
Celtic Peoples Come to Life
Learn about the items of everyday life used by the Celtic peoples of Europe and the British Isles. Demonstrations of how leather, wood and metals items were crafted. See the weapons and fighting styles of the Celtic tribes.
Carthage College—Dan Schowalter
Roman Ballista Target Practice
Learn how a Roman ballista works, by using a small scale model (using ping pong balls) and aiming at the "target."
Day Star Research, AIA-Milwaukee Society
Message to the Future: Create Your Own Cave Art
Learn about cave art, and then draw your own to symbolize something important in your life. Add it to our cave walls!
Diving Into Milwaukee's Past
Explore the exciting science of underwater archaeology by learning the techniques used to document local Lake Michigan shipwrecks. Go farther back in time and find where in urban Milwaukee ancient people once built earthen mounds around 1000 years ago.
What is Aztalan?
Learn about the Mississippian culture established in this Jefferson County location over 900 years ago. A society complete with earthen pyramids and protective stockades with guard towers. So why is it called Aztalan?
Historical Group of Rome
The Roman Art of Life
An educational display of replica ancient Roman items, including art, murals, coins, books & our group in Roman army & civilian costumes.
Kenosha County Archaeological Society
Rediscovering the Jambeau Trail
Discover how the Jambeau Trail – a Potawatomi trail in Kenosha County – was found and how it was preserved.
Hunting Elephants in Kenosha
Learn about the woolly mammoths that have been discovered in Kenosha County. Touch a real mammoth tooth and compare your foot to that of a mammoth.
Marquette University—Jane Peterson and Michael Gregory
Charmed Lives: Human and Animal Figurines in the Past
Examine examples of figurines from around the world. Make observations about the items and discuss the possible uses and meanings. Then make your own figurine to take home!
Marquette University Anthropology Club
Picking Potsherds and the Archaeological Process
Participants will follow the archaeological process from excavation to washing and ultimately drawing conclusions based on material culture (potsherds) found in the sandbox at our display. Kids will be given tools to dig in the sandbox to find potsherds. The sherds will then sift and clean the objects in water. With the help of our table volunteers, kids will create a hypothesis concerning the origin of the artifacts and will classify these according to type, geographical region, etc.
The Old Shell Game
For centuries shells have been used to make tools and ornaments for everything from buttons to grottos. We will explore some of these in our hands-on workshop.
Explain the Mayan numerical and calendrical systems. Math problems will be converted into Mayan symbols. The Mayan calendar and the "long count" will be discussed as a tool in establishing chronologies and understanding Mayan culture.
Milwaukee Public Museum—Anthropology
Fakes and Forgeries
See fake and forged archaeological items from the Museum's collections. Find out why this is such a "hot" topic in archaeology.
Milwaukee Public Museum—Anthropology
Meet Billy Bones (Friday only)
See what you look like underneath your skin! Mr. Bones helps researchers identify specific human bones when working with the anthropology Department's osteology collection.
Milwaukee Public Museum—Anthropology
What in the World? (Friday only)
Test your knowledge of archaeological artifacts from the Museum's anthropology collection.
Museum Studies—MPM-UWM
Creatures of Myth and Legend (Saturday only)
Help create a new exhibit by providing feedback on objects and titles.
Bones are Not Scary
Hands-on artifacts and materials that show kids what bones in the ground teach us and why archaeologists no longer dig them up.
University of Wisconsin-Green Bay—Greg Aldrete
Classical Kevlar: Reconstructing Greek Linen Body Armor
See reconstructed examples of the linothorax, a type of body armor made of laminated linen and worn by Alexander the Great. We will bring examples of this armor, as wells as information and samples of experiments including shooting the armor with arrows to test its effectiveness.
University of Wisconsin-Green Bay Ancient & Medieval History Club
It's All Greek Pots to Me
A display of ancient Greek pottery, including descriptions, images, and replicas, along with hands-on examples. Kids can decorate their own "pottery" – use stencils and graphics to decorate a cup or bowl in the style of the ancient Greeks.
University of Wisconsin-La Crosse—Mark Chavalas
Getting a Word in Wedgewise (Saturday only)
Want a challenge? Try a dead language! The Babylonian (or Akkadian) language of ancient Syria and Iraq has not been spoken for over 2,000 years. The writing system, cuneiform, has also fallen out of use. Learn how to write your name in cuneiform, using clay and a stylus, like the ancients.
University of Wisconsin-Milwaukee—Carlos Galvao-Sobrinho
In a Roman Tomb: Visit the Dead, Learn About Life in Ancient Rome (Friday only)
How much can you learn about life from the material culture of death in ancient Rome? Learn about different types of tombs and funerary rituals and get to pour libations for the dead.
University of Wisconsin-Milwaukee—Peter Grimm
Animals in Archaeology (Saturday only)
Uncovering how animal remains can be used to recreate the lives of past Wisconsin peoples.
University of Wisconsin-Milwaukee—Katie Iselin
Ancient Languages
Greek? Latin? Learn about these languages and try writing your name!
University of Wisconsin-Milwaukee—Ying Wang and Yuan Lu
The Future Tellers and the Oracle Bones of Ancient China (Friday only)
Look at oracle bone inscriptions of the late Shang Dynasty (15th-11th century BCE), and hear the stories of the bones and the future tellers. Learn how to write Chinese words using the brush pen and ink.