December 3, 2014
Olivia James Traveling Fellowship Update: Elizabeth Baltes
by Emily Maskas
---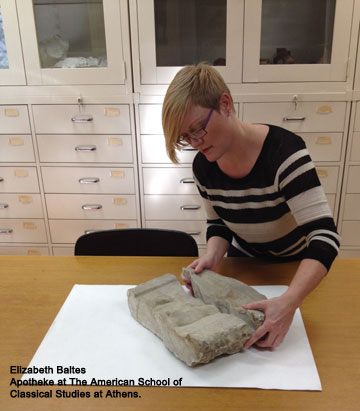 The Archaeological Institute of America is proud to offer the Olivia James Traveling Fellowship for travel and study in Greece, Cyprus, the Aegean Islands, Sicily, southern Italy, Asia Minor, and Mesopotamia. This year-long, $25,000 award supports a student involved in dissertation research or a recent Ph.D. recipient. The 2014 recipient of this fellowship is Elizabeth Baltes, a Ph.D. candidate with the department of Art, Art History & Visual Studies at Duke University, and an editorial assistant at the AIA's own American Journal of Archaeology.
Elizabeth, a Louisiana native, did not realize her passion for the complexities of "art history, archaeology and classics" until she started as a Ph.D. student at Duke University. As an undergraduate student at Louisiana State University, Elizabeth was originally interested in political theory. However, in her first year of graduate studies, she began working on a project about the Hadrianic Baths at Aphrodisias. She became interested in where objects were found and where they had been displayed; questions such as these would require going beyond a traditional art historical approach to answer. To investigate the topics that Elizabeth is interested in, questions of context and change over time, a multi-disciplinary approach, incorporating archaeology, art history and classical studies is needed.
Since beginning her Ph.D. program in 2008, Elizabeth has participated in digs in Israel and Sicily. She has taught courses on the art of Greece and Rome. In 2013, she became an editorial assistant at the American Journal of Archaeology; her advisor at Duke is AJA Editor-in-Chief Prof. Sheila Dillon. It was Sheila Dillon who introduced Elizabeth to freestanding exedrae monuments—part park bench, part statue base—and set her on the path to her dissertation. Articles and studies Elizabeth found typically lacked site plans and detailed discussions of landscapes and physical spaces around objects. Her dissertation project, "The Dedication and Display of Portrait Statues in Hellenistic Greece: Spatial Practices and Identity Politics," will look at some of these issues and will allow Elizabeth to explore theoretical possibilities of "how objects work to construct space and memory." Sheila Dillon also introduced Elizabeth to the Olivia James Traveling Fellowship at the AIA, and encouraged her to apply.
Beginning her time as the Olivia James Fellow in Athens, Greece this past September, Elizabeth has already completed one chapter of her dissertation and a catalogue. She has had the opportunity to travel to sites including Kassope, Thermon, Dodona and Epidaurus, where she was able to visit the Sanctuary of Apollo Maleatas, a site that is usually closed. She is in the process of applying to for a permit to conduct further research at Dodona. The American School of Classical Studies at Athens has proved to be an invaluable resource, connecting Elizabeth with scholars in her field and allowing her access to restricted sites. This empirical experience at sites has already had an important impact on Elizabeth's research, allowing her to consider space in a very real way.
Although she is very involved with ancient Athens, Elizabeth has been enjoying modern Athens as well, eating fabulous food, attending concerts and enjoying the city. Currently, she is also working on a chapter of an edited volume about the statue landscape of the Athenian Agora. Being in Greece has inspired Elizabeth to create "a list of great projects," that she hopes to tackle one day, as she pursues her goal of both researching and teaching.
The AIA is thrilled to hear that Elizabeth is having such a fruitful experience as the Olivia James Fellow, and wishes her all the best as she completes her dissertation. 
Further information about the Olivia James Traveling Fellowship, and the application, can be found here, or by contacting the AIA Fellowship Coordinator, fellowships@aia.bu.edu. The next deadline is November 1, 2015.
If you would like to support students like Elizabeth with a generous gift to grants and endowments at the Archaeological Institute of America, click here now, or call 617.353.8703.
If you are a graduate student, and current member of the AIA, who would like to be featured on the AIA website, please contact Emily Maskas at 617.353.8703 or emaskas@aia.bu.edu.
Through the AmazonSmile program, Amazon will donate 0.5% of the price of your eligible purchases to the Archaeological Institute of America. Click here to learn more and to register.