July 30, 2014
Pomerance Fellowship Spotlight: Daniel Fallu
by Emily Maskas
---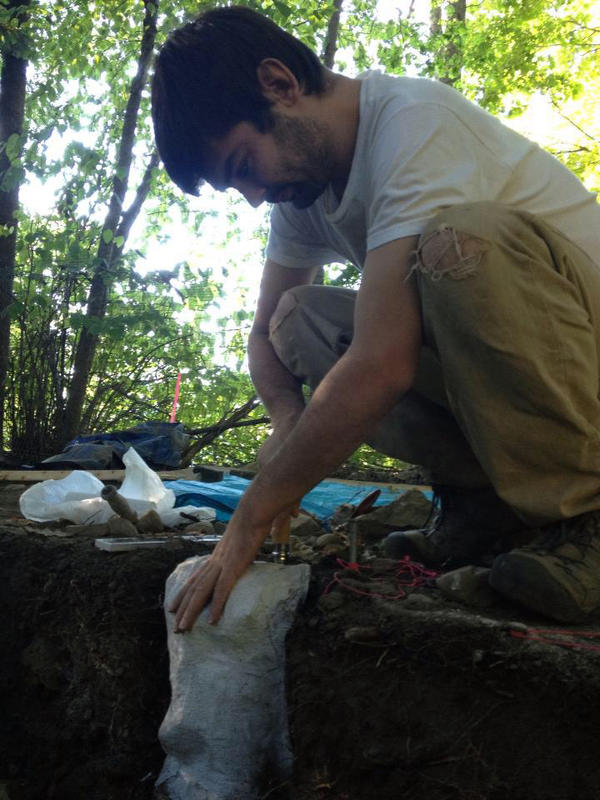 The 2014 recipient of the Archaeological Institute of America's Harriet and Leon Pomerance Fellowship, Daniel "Dan" Fallu, thought for a long time that he would become a lawyer. Yet that same drive to solve puzzles, along with a strong desire to travel, eventually led Dan to study archaeology. As an undergraduate student at Dickinson College and an MA/Ph.D. candidate at Boston University, Dan has focused on geoarchaeology and the Bronze Age Agean. 
With the support of the Pomerance Fellowship, Dan is currently undertaking fieldwork in Greece, and will be collecting data through at least October of this year. His research is focused on "detecting the effect that people in Bronze Age Greece had on their natural environment, and to what degree environmental change affected them." On a technical level, Dan is using "micromorphology and other earth science-based techniques… to understand how and why sites in the Argolid region were buried by floods and landslides at roughly the same time as the end of the Mycenaean palaces." Dan began this research as the 2013-2014 Geoarchaeology Fellow at the Wiener Laboratory of the American School of Classical Studies at Athens.
The work undertaken during his time as the Pomerance Fellow will become an important part of Dan's BU dissertation, entitled "Bronze Age landscape degradation in the northern Argolid: a micromorphological investigation of anthropogenic impact on erosion in the environs of Mycenae, Greece." Next January, Dan will be presenting a scientific session at the AIA's Annual Meeting in New Orleans with two other researchers from the Wiener Laboratory, Olivia Jones and the 2013 Olivia James Fellow, William Flint Dibble. The session is entitled, "The Preservation of Organic Remains in the Aegean," and will highlight the collaborative efforts begun by these and other researchers at Wiener Laboratory. The AIA is still accepting open session paper and posters submissions with a $25 late fee through August 17, 2014.
As a former student office assistant at AIA headquarters in Boston, MA, Dan had the opportunity to become familiar with the many funding opportunities offered to student and researchers, and had no difficulty deciding to apply for a fellowship. He is friendly with several former AIA Fellows and knew of their positive experiences. Impressively, Dan is also the recipient of a BU Graduate Research Abroad Fellowship, and is happy to see institutions funding "students with unique and varied perspective[s]," in relation to archaeological interests.
Looking ahead, Dan hopes to make a living as a professional geoarchaeologist and researcher. As a "scientific archaeologist and archaeological scientist," Dan believes that the future of archaeology relies on an interdisciplinary approach, integrating arts and sciences, which will allow researchers to apply "new methods to questions of interest to a large community of scholars and laypeople." The National Lecture Program, entering its 119th year, is one of the ways the AIA shares the latest archaeological discoveries with the community. The AIA wishes Dan the best of luck during the remainder of his fellowship period and is looking forward to his future work.
Further information about the Harriet and Leon Pomerance Fellowship, and the application, can be found here, or by contacting the AIA Fellowship Coordinator, fellowships@aia.bu.edu. The next deadline is November 1, 2014.
If you would like to support students like Dan with a generous gift to grants and endowments at the Archaeological Institute of America, click here now, or call Jennifer Klahn at 617.353.8709.
If you are a graduate student, and current member of the AIA, who would like to be featured on the AIA website, please contact Emily Maskas at 617.353.8703 or emaskas@aia.bu.edu.
Through the AmazonSmile program, Amazon will donate 0.5% of the price of your eligible purchases to the Archaeological Institute of America. Click here to learn more and to register.