Join the Archaeological Institute of America for ArchaeoCon 2020 on Saturday, January 4, 2020, at the Marriott Marquis Washington, DC. ArchaeoCon is a day of entertaining archaeological programs, activities, and demonstrations that showcase archaeology and the AIA. Booths and exhibits will be hosted by several archaeological organizations including the National Park Service, Archaeology in the Community, local archaeological organizations and AIA societies. Organizations present interactive, hands-on activities, encourage attendees to get involved in local archaeological activities, and answer questions. Attendees will also have an opportunity to hear from and talk to leading archaeologists. Featured speakers include TV personality Josh Gates, local historical archaeologist and educator Alexandra Jones, and underwater archaeologist James Delgado. (Learn more about our panelists below.)
Join the AIA at ArchaeoCon 2020 to enjoy archaeology, meet archaeologists, learn about all that the AIA does, and introduce friends and family members to the Institute. ArchaeoCon 2020 will take place in conjunction with our 2020 Annual Meeting, at the Marriott Marquis Washington, DC. Though there is a small entrance fee for non-meeting attendees, you do not need to register for the Annual Meeting to attend ArchaeoCon 2020.
Tickets for this fun and exciting celebration of archaeology can be purchased here.
9:30-12:30 Activity Fair
12:30-1:30 Lunch break
1:30-2:30 Panel presentation featuring James Delgado, Josh Gates, and Alexandra Jones
2:30-2:40 Break
2:40-3:10 Presenter 1 (James Delgado: Underwater Archaeology)
3:10-3:40 Presenter 2 ( Alexandra Jones: Archaeology in the Community)
3:40-3:50 Break
3:50-4:20 Presenter 3 (Josh Gates: Adventure of Archaeology)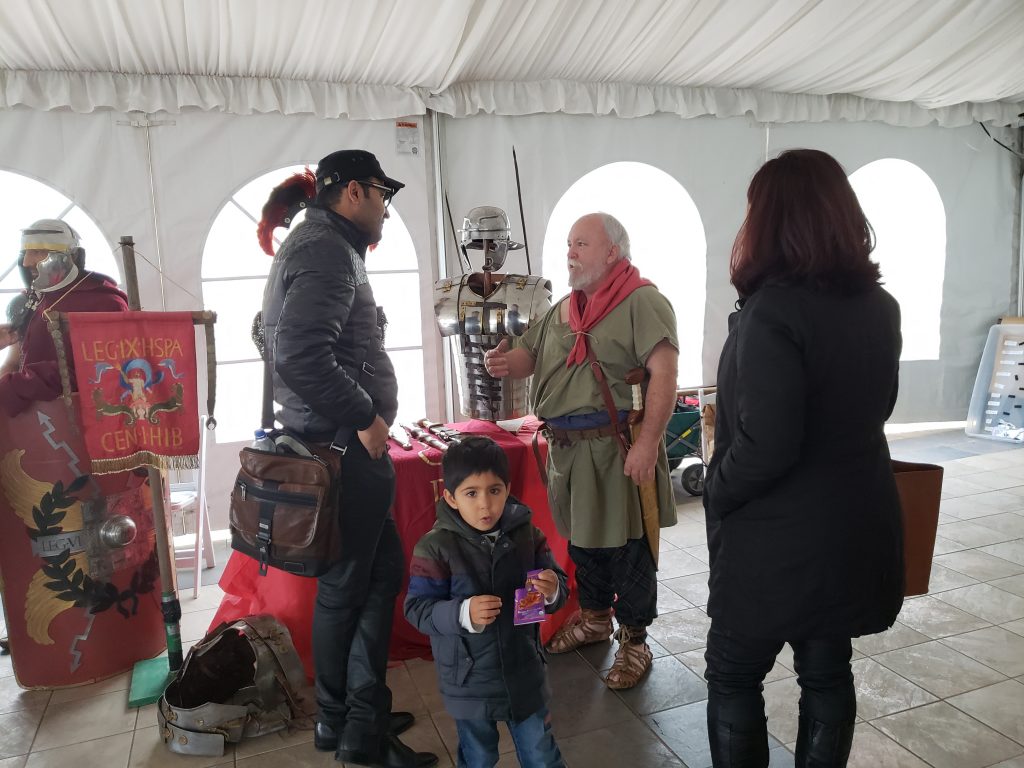 ArchaeoCon is a great opportunity for members of the public to learn about archaeology and archaeologists in an informal setting. It is also an opportunity for people to learn about the AIA and its programs as well as local archaeological groups and their programs.
ArchaeoCon 2020 Presenters:
James Delgado is among the world's leading experts in maritime archaeology and cultural heritage. Delgado is the Senior Vice President of SEARCH and is responsible for ensuring operational and research excellence, implementing strategic initiatives, and expanding the firm's international footprint. Prior to joining SEARCH, Delgado served as the Director of Maritime Heritage in the Office of National Marine Sanctuaries for NOAA, where he implemented heritage programs and active research in the nation's waters, as well as promoted outreach and education on America's underwater and marine heritage.
Delgado is the author, co-author, or editor of more than 35 books. He has presented at more than a hundred conferences and his work has reached hundreds of millions of viewers as the host of the National Geographic International television series, "The Sea Hunters," and more recently as the series advisor and as an in the field archaeologist and commentator on the award-winning series "Drain the Oceans." His live expedition broadcasts at Pearl Harbor and at the wreck of the USS Independence were telecast to over one million viewers on social media. His most recent project as a National Geographic Explorer was leading the SEARCH team's work in 2019 to identify the wreck of Clotilda, the last ship known to have brought slaves to America. He is a Fellow of the Royal Geographical Society, the Royal Canadian Geographical Society, and The Explorers Club, and an Officer of the Order of Civil Merit by King Juan Carlos of Spain for his global work in the discovery, documentation and preservation of some of the world's most significant shipwrecks.
Alexandra Jones, Founder and Chief Executive Officer of Archaeology in the Community, is an education leader focused on community outreach and service. Jones has been an educator for more than 14 years; she has taught in multiple educational environments from primary schools to museums, colleges and camps. She obtained dual Bachelors of Arts degrees from Howard University in History and Anthropology in 2001. Jones became a classroom teacher and discovered she had a natural talent for teaching. In an effort to further her career as a teacher she continued her education by obtaining a Master's degree in History from Howard University in 2003 and then attending University of California, Berkeley to obtain a Ph.D. in Historical Archaeology in 2010. She currently teaches people of all ages about archaeology. Jones worked for PBS's television show "Time Team America" as the Archaeology Field School Director, where she directed field schools for junior high and high school students at each of the sites for the 2013 season. She is currently an Assistant Professor at Baltimore City Community College and an Adjunct Professor at the University of Baltimore.
Josh Gates is an adventurer and avid explorer whose unique brand of humor and deep-rooted passion for off-the-map adventure takes him to the farthest corners of the world. Discovery Channel's hit-series "Expedition Unknown" chronicles Gates as he sets out on a global quest to find the truth behind iconic legends and thrilling archaeological mysteries.
Gates has participated in sub-sea archaeological excavations in the Mediterranean and his wanderlust has taken him to over 100 countries. In 2016, Gates won "Best Host" in the CableFax Program Awards for "Expedition Unknown," and the series also took home the "Best Educational/Instructional Show" award and in 2018, a Cynopsis TV Award for "Best Reality Series –Travel."
Gates has a degree in archaeology and is a member of The Explorers Club. He is the host of "Legendary Locations" on the Travel Channel where he shares the epic tales and secrets of the most storied places on earth, showcasing the ancient legends and folklore that made them famous. He has appeared on "TODAY," CNN, and a variety of other national media programs. Gates' adventures are chronicled in his bestselling book, Destination Truth: Memoirs of a Monster Hunter.
*Photography/Videotaping Notice:
By entering the premises, you understand that you may be photographed, filmed, or videotaped. Any photographs/recordings taken by or on behalf of the Archaeological Institute of America, and all rights associated with them, will belong solely and exclusively to AIA, which shall have the absolute right to copyright, duplicate, reproduce, alter, display, distribute, and/or publish them in any manner, for any purpose, and in any form including, but not limited to, print, electronic, video, and/or internet.
You hereby waive, release and forever discharge the Archaeological Institute of America, its officers, and employees from and against any and all claims or actions arising out of or resulting from the use of your image. Furthermore, by entering the event premises, you waive all rights you may have to any claims for payment or royalties in connection with any use of your image.
Event sponsor:
Discovery, Inc.