September 4, 2012
Report from 18th Annual Meeting of European Association of Archaeologists
by Ben Thomas, AIA Program Director
---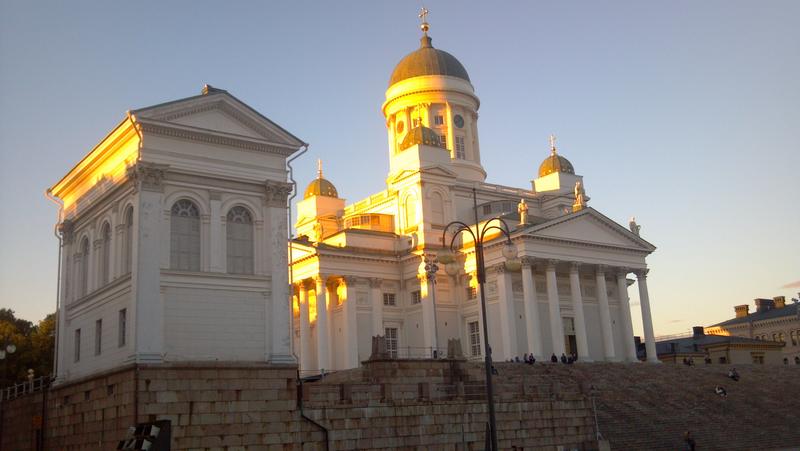 Despite the chill in the air the Finnish archaeologists I meet assure me that it is a warm, late summer day in Helsinki. It is August 29 and my colleague Andri Cauldwell and I are in the city to attend the 18th Annual Meeting of the European Association of Archaeologists (EAA). Over the next four days around 1200 archaeologists from over 40 countries will participate in the organization's largest meeting to date.
The University of Helsinki is hosting the meeting and we will be using several of the institution's buildings and lecture rooms. The opening ceremony will be held in the University's Great Hall later this afternoon. The Great Hall is an impressive space with large columns, elegant chandeliers, and an elaborate chair and dais at the front of the room. Behind the dais are the busts of Queen Christina of Sweden who was instrumental in founding the original university and Alexander the First of Russia whose generosity more than doubled the size of the university.
Although the conference officially opens this afternoon, several events including a tour of some of the region's archaeological sites and some business meetings have already occurred or will take place this afternoon before the official opening of the conference. One such event is the Presidential Lunch, which I had the privilege of attending. At lunch the conversation revolves around the possibility of greater collaboration among the various archaeological organizations. I discuss the topic with representatives from EAA, SAA, WAC, and MERC. MERC, in fact, is holding a joint meeting with the EAA in Helsinki. This is an arrangement that I later find out will become a permanent one. MERC has decided to do away with its own meeting in favor of a joint meeting with the EAA. This collaboration adds a strong medieval component to the EAA academic session and is a welcome development. By the end of the lunch I have been roped into co-organizing a session on collaboration for WAC 7 in Jordan.
At 5:00pm we assemble in the Great Hall. The meeting is declared open by our Finnish host, Professor Mika Lavento of the University of Helsinki. He is followed by the Director General of the National Board of Antiquities, the Rector of the University, and the President of the EAA. A delightful musical interlude introduces us to a young Finnish artist, Maija Kauhanen, who specializes in playing an instrument called the kantele. She is followed by the two keynote addresses. The ceremony concludes with a final welcome from the Rector and is followed by a reception.