October 30, 2012
Report from the AIA-Sponsored Voyage into Antiquity aboard Corinthian II
by AIA lecturer/host Albert Leonard, Jr.
---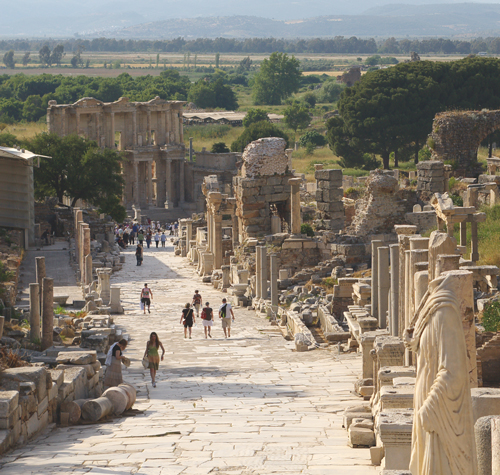 I recently returned from an eleven-day Voyage into Antiquity cruise aboard Corinthian II that I had the pleasure – and honor – to host for the AIA. What a trip: perfect weather and fantastic sites! We cruised south from Istanbul along the Turkish coast to Israel, then over to Crete and mainland Greece, and back up to Istanbul.
Our AIA group was great: wonderful sports, eager learners, and excellent traveling companions. During the cruise I hosted dinners for the AIA travelers that gave us the opportunity to get to know each other better over Corinthian's superb cuisine. Between bites, conversation ranged across a wide spectrum of archaeological topics – answering some questions and provoking others to be discussed at breakfast, over lunch, or during happy hour!  I was surprised at how many of our travelers were interested in site conservation and artifact repatriation and it was very rewarding to be able to discuss the AIA's positive role in both areas.
 On board, I gave several formal presentations that ranged from preparatory, pre-visit talks on the Palace of Minos at Knossos and Homer's Troy to a more synthetic discussion on the difficulties of recognizing and defining Canaanite art. I believe that these talks were very well received because I was frequently asked when I would host another cruise and where it would be going. The post-trip evaluations will tell the tale, but the answer to that question is Sicily, Malta & the Aeolian Islands next spring (April 29th – May 7th, 2013). A perfect time to visit a perfect part of the Mediterranean on the perfect ship—the 50 cabin, all-suite Corinthian!
— AIA lecturer/host Albert Leonard, Jr.