May 15, 2014
Rochester Wins AIA Local Society Program Contest
---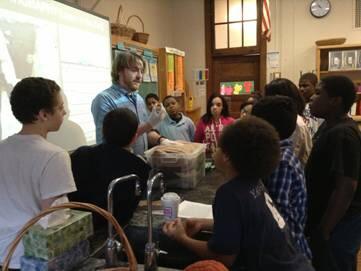 The Rochester Society is this year's winner of the Best AIA Local Society Program contest after a tight race between ten local societies from across North America.   Rochester's entry was for "Alex the Archaeologist," an outreach program that brought Rochester society member and Brown University Ph.D. candidate Alex Smith to 44 local middle and high school classrooms this past year.  The Rochester Society partners with the University of Rochester's Memorial Art Gallery to run this program and received an AIA Society Outreach Grant for the "Alex the Archaeologist" program in Fall 2013.
The program supplements museum visits and engages students through interactive discussions of tools, terms and techniques, illustrated by Alex's own field photos.  The hands on classroom visit also includes a demonstration "excavation" and gives students the opportunity to handle and examine artifacts from the Memorial Gallery's study collection.  The society estimates that they reached 900 students last year.  Teachers in classrooms that Alex visited have provided great reviews and noted improved observational and analytical skills amongst their students after the program.
The AIA congratulates the Rochester Society for their hard work in this endeavor!
The AIA would also like to congratulate the nine additional societies that participated in this year's contest.  The contest is always a proud moment to showcase the wonderful programming undertaken by our local societies.  This year's impressive submissions included International Archaeology Day events, hands on workshops, and more!