September 17, 2014
Save the AIA Society Outreach Grant
---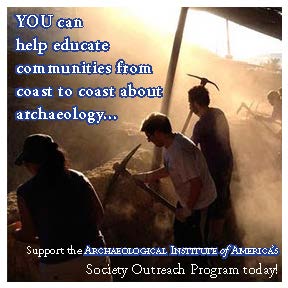 There are only 15 days left in the AIA's Campaign for the Society Outreach Grant Program on Indiegogo. Many generous supporters have contributed to the campaign so far, but we need your help to save this crucial outreach grant. Gifts of $5.00 or more given online will help ensure that societies will be able to receive grants to support their innovative educational progamming for the 2014-2015 season. Thank you!
The AIA is offering many unique "perks" on Indiegogo as a benefit of giving. Check out some of the perks available before you visit our campaign site:
For a gift of $35.00 to the campaign, you can receive a perk of an AIA postcard and an historically-inspired recipe.
For a gift of $100.00, you can receive a perk of an Apples + Archaeology tote bag and sports bag, and show your support for this long-running program that brings archaeology to Arizona schools.
For a gift of $250.00 you can receive an exclusive AIA tote bag, perfect for carrying your dig supplies or everyday items.
We would like to give a tremendous thank you to everyone on our donor roll:
haightagirl
jedzia2
eg202
mjpark1 
abvitale14
mlindsay333
Ben Thomas
mark.andrew.scott
elizabeth.anderson
bruce_morrison1
marianne1006
ssaksena44
saa123
rous0004
akehoe
thomasjmorton
amtmoore
cls7ma
cdeknatel
Meredith Langlitz
lhrul
Jennifer Klahn
ahsanten
Anonymous (8)