May 16, 2018
SPAAA Vol. 4 Now Available
by Kevin Mullen
---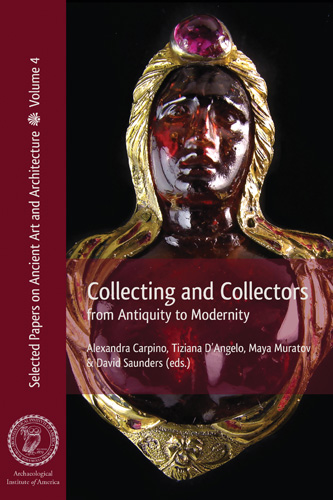 The fourth volume in the Kress-supported series: Selected Papers on Ancient Art and Architecture is now available. The book, entitled: Collecting and Collectors. From Antiquity to Modernity, was edited by Alexandra Carpino, Tiziana D'Angelo, Maya Muratov and David Saunders. 
This volume is a timely exploration of many facets of collecting and collectors. It brings together sixteen papers originally presented in two colloquia and a workshop at the Archaeological Institute of America's 2017 Annual Meeting in Toronto. Part 1, "Collecting and Presenting the Etruscans in North America" focuses on a select number of collecting narratives that demonstrate how the art and material culture of a then little-known Italic culture made its way to the United States during the mid- to late 19th and early 20th centuries. Part 2, "Satis sit una aliqua gemma: Collecting Classical Gem from Antiquity through the 19th Century," explores the significance that collecting antique gems acquired across time and space, as well the reasons why these objects remained highly valued and sought-after collectibles from antiquity to the modern era. Part 3, "Researching Ownership Histories for Antiquities in Museum Collections," draws attention to discoveries that have been made through provenance research, and also to the challenges that shape the investigation of provenance.
Contributors are Judith Barr, Ann Blair Brownlee, Alexandra A. Carpino, Roberta Casagrande-Kim, Sarah Costello, Tiziana D'Angelo, Paul Denis, Richard De Puma, John Hopkins, Laetitia La Follette, Liliana Leopardi, Claire Lyons, Maya Muratov, Helen Nagy, Seth Pevnick, Lisa C. Pieraccini, Caroline M. Rochleau, David Saunders, Phoebe Segal, and Claudia Wagner.
Regular price is $24.95, but you can save 20% by using code 1081-18 when you order by July 31st. To order the book, visit: https://www.isdistribution.com/BookDetail.aspx?aId=92908.
Selected Papers on Ancient Art and Architecture (SPAAA) is a new, peer-reviewed, annual series published by the Archaeological Institute of America, with the support of the Samuel H. Kress Foundation. SPAAA showcases innovative, interdisciplinary, and methodologically sophisticated scholarship presented at the AIA Annual Meeting.