November 11, 2011
Tour Guide Training Progresses at Banteay Chhmar, Cambodia
---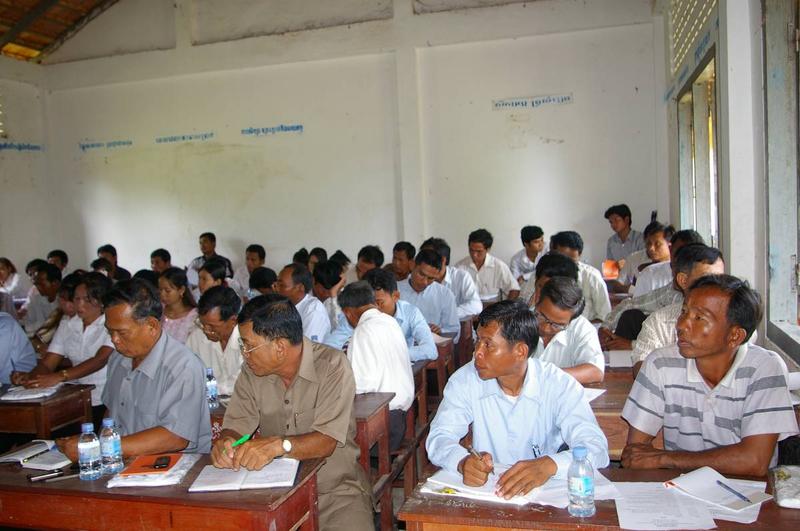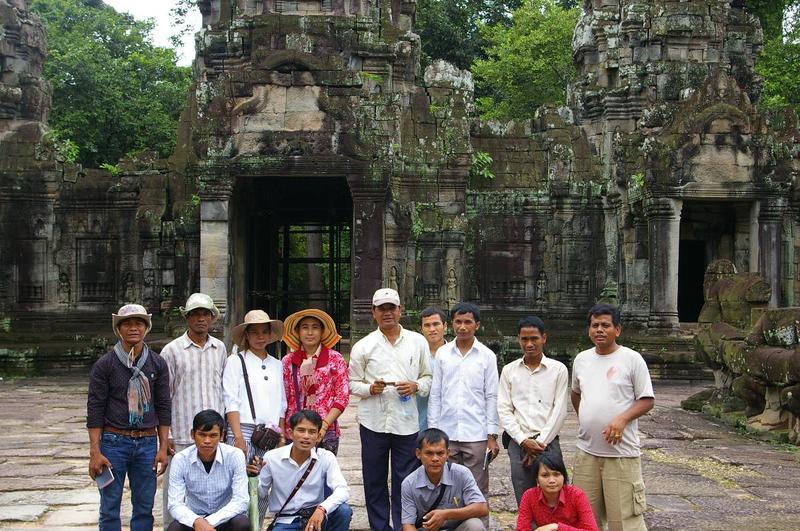 Heritage Watch, working in partnership with the Global Heritage Fund (GHF), is in its second year of implementing community development and stewardship programs at Banteay Chhmar, a late 12th century heritage site in northwestern Cambodia.
On September 2, 2011, Heritage Watch held a day long teacher training workshop on Heritage Education at Banteay Chhmar primary school to raise heritage awareness among teachers and provide them with the necessary knowledge and skills to play a more active role in preserving heritage in their own community. The training was attended by eleven principals and forty teachers from local schools. Presentations were given to the participants by several government and education officials covering topics such as cultural heritage, heritage management, inventory of antiquities, legislation to combat heritage crime, and new conservation work and findings at Banteay Chhmar. The training also promoted awareness of UNESCO World Heritage sites in Cambodia and other sites on the tentative list, especially Banteay Chhmar.
Participants were asked to discuss how heritage issues can be integrated into a school curriculum. Multi-disciplinary approaches were proposed to enable teachers of different academic subjects to introduce heritage awareness into classrooms through discussion, hands-on projects, and extracurricular activities. For example, a graphic novel written in Khmer, titled "Wrath of Phantom Army" and produced by Heritage Watch, was introduced to all the participants as an educational material for teachers to share their knowledge about heritage preservation with their students. Eight hundred copies were distributed to students at Banteay Chhmar.
The project has also continued its English Language Training Program. Many of the participants have developed significant language skills and twelve individuals were able to join our Tour Guide Training program. This program, scheduled for completion in May 2012, instructs participants in a number of subjects relevant to the understanding and interpretation of the archaeological materials at Banteay Chhmar.
On August 23, 2011, trainees gathered for a half-day guided tour of Banteay Chhmar Temple to view conservation work at the site as part of an orientation course for the tour guide training. The tour outlined the differences between conservation and restoration, gave examples of good and bad conservation, and discussed how to present conservation work to site visitors.
The Banteay Chhmar tour was followed by a three-day study tour to the Angkor temple complex, known as one of the most important archaeological sites in Southeast Asia. The objective of the study tour was for the guide trainees to gain a better understanding of the historical significance and architectural styles of ruins erected by Jayavaraman VII, the Khmer king who also built Banteay Chhmar Temple. From August 26 to 28, 2011 the participants, led by their guide trainer, visited some of the most prominent monuments—Bayon, Ta Prohm, and Preah Khan—and explored historical context, stories depicted on bas-reliefs, and architectural designs found at both Angkor and Banteay Chhmar.
The participants left the study tours with greater awe and respect for the work being done by Heritage Watch at Banteay Chhmar. Many expressed their gratitude for being part of the training that will allow them to help educate the public on the importance of preserving Cambodia's rich cultural and material heritage. Most importantly, they had the opportunity to observe some of the tourism procedures conducted at those sites. Upon seeing the different techniques with which to connect with site visitors, the participants felt they gained valuable knowledge to help themselves become the best possible tour guides for Banteay Chhmar.
Related Projects:
---