May 30, 2014
Travel for a Cause with the AIA online travel auction!
---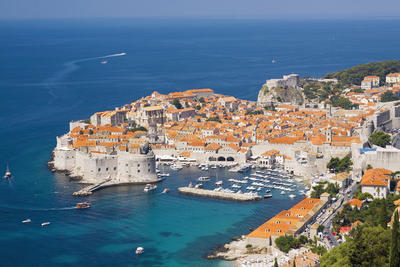 Throughout June we will be auctioning off trips online.  Your bid will help sustain and even create new funds for research, excavation, and preservation of sites; send students to their first field schools; and provide teachers with the tools they need to bring the human past alive in the classroom.  See a preview of this week's trips below and visit the online auction site to bid today.  Auction lots close on Friday, June 6th at 12:00pm EST.
Want to sail away this summer?  August is right around the corner and a starting bid of only $1,800 could grab you a suite for two aboard the ship Corinthian on this sea voyage from Venice to Croatia and Montenegro.  If you haven't sailed the Adriatic Sea to explore these amazing ports it might just be time for that next grand adventure.  Thanks to our partners at AIA Tours!
Are you making a travel Bucket List?  Add this trip because the splendors of Turkey await at a starting bid of only $300!  Spend four days and three nights on a private tour exploring the ancient city of Ephesus, the Temple of Artemis (one of the Seven Wonders of the Ancient World), the Basilica of St. John, Roman baths… the list goes on and on.  In the evening, relax in first class accommodations.  We thank our friends and generous supporters at Tutku Tours for donating this travel experience.   
If you aren't up for an overseas trip this year then why not stay closer to home? Spend a weekend in Nashville! Did you know that there are full scale replicas of the Parthenon and a lost colossal statue by Pheidias in Nashville's Centennial Park? Receive a private tour of the park with Wesley Paine, AIA Local Society President and Director of the Parthenon, and Dr. Barbara Tsakirgis, Associate Professor of Classics and Art History at Vanderbilt University, as your guides. Your daytime activity will be accompanied by a two night stay at the Gaylord Opryland Resort. 
Everyone loves a behind-the-scenes tour.  The Field Museum of Natural History in Chicago has taken it up a notch, inviting you and seven of your closest friends for a private tour with Dr. William A. Parkinson, Associate Curator of Eurasian Anthropology.  This tour includes excursions into the collections facilities, exhibitions, and labs.  Add two nights at the Hyatt Regency Chicago Hotel and you've got a fantastic weekend getaway! 
Archaeologists find the keys to understanding our human past.  They work tirelessly to excavate sites, advocate for preservation, and educate the world about our shared cultural heritage.  This is a mission that needs your help.  We invite you to visit our online auction and bid on these fantastic trips in support of a worthy cause! 
*Trips are 100% donated by the sponsors of the AIA Travel for a Cause online auction as part of the AIA Virtual Gala spring fundraiser. This allows the winning bid to go directly to supporting the Institute  The AIA thanks the sponsors for their support.