July 16, 2014
Waldbaum Recipient Spotlight: Emily Hails
by Emily Maskas
---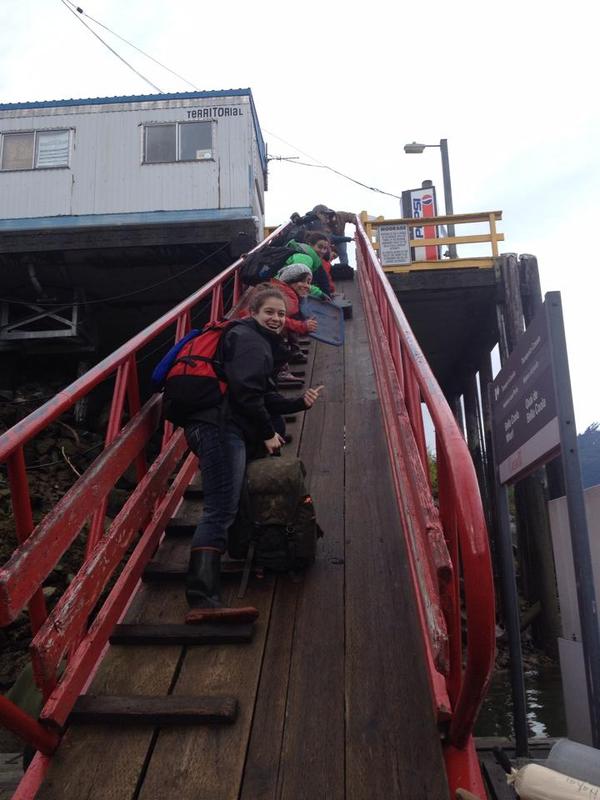 When asked to describe her experience supported by the Jane C. Waldbaum Archaeological Field School Scholarship, you can hear great enthusiasm in Emily Hails's voice as she says, "Awesome!" Emily attended Dr. Farid Rahemtulla's six-week Central Coast British Columbia Field School in May and June of 2014. Working between Bella Coola, British Columbia and Hakai Beach Institute (HBI) on Calvert Island with seven other students, Emily began excavating a section of a deep shell midden and learning valuable practical skills. Emily's field school experience also introduced her to the complexities of working in First Nations territory and the importance of proper cultural resource management.
As a student interested in history, Emily's introduction to archaeology was through reading about the excavation of Sutton Hoo. She was inspired to research other digs and take an introduction to archaeology course at the University of British Columbia-Vancouver. She is now in her senior year there, majoring in Anthropology with a focus on Archaeology, with a minor in History. University of California, Merced Professor and AIA Lecturer Mark Aldenderfer mentioned the Waldbaum Scholarship on a visit to the Vancouver Society, and Emily, a frequent attendee of AIA lectures, jumped on the opportunity. Emily notes that Dr. Rahemtulla's site on Calvert Island is an ideal location for students like her in British Columbia.
To analyze the stratigraphy of their coastal site, Emily and her fellow field school participants worked on a unit that ultimately reached a depth of 4.9 meters, 0.2 meters deeper than Dr. Rahemtulla's group last year reached. They did not hit the bottom of the midden, but with their persistent hard work, they were getting very close. There were several days when the pumps did not work, so the team bailed out their unit bucket by bucket. When not out in the field, they were cataloguing, drawing, mapping and doing data entry. The beads, worked bone points and obsidian flakes that they found offered glimpses at the people who inhabited the site for over 9,000 years before abandoning it in rather mysterious circumstances around 400 years ago.
The field school site is located on traditional Heiltsuk and Wuikinuxv Nation territory. Elders from both Nations granted permission for the research to take place, and Emily had the opportunity to meet some of them and other First Nations members who were happy to share their stories and their unique understanding of the land and its history. Emily is working in a consulting archaeology office this summer and hopes to put her experience with First Nations sites to good use. She is also interested in pursuing further study or experience with cultural resource management.
Noting the spectacular scenery in particular, Emily would recommend this field school experience to other aspiring archaeologists. And thanks to the Jane C. Waldbaum Archaeological Field School Scholarship, students like Emily have the opportunity to assist with the study and preservation of unique sites like Calvert Island.
 Further information about the Jane C. Waldbaum Archaeological Field School Scholarship can be found here, or by contacting Deanna Baker at 617-353-8705 or dbaker@aia.bu.edu. The deadline for next year is March 1, 2015.
If you would like to support students like Emily through a gift to the Archaeological Institute of America, click here now, or call the AIA at 857-305-9350. 
If you are a graduate student, and current member of the AIA, who would like to be featured on the AIA website, please contact Emily Maskas at 617-353-8703 or emaskas@aia.bu.edu.
Through the AmazonSmile program, Amazon will donate 0.5% of the price of your eligible purchases to the Archaeological Institute of America. Click here to learn more and to register.