May 21, 2014
Waldbaum Recipient Spotlight: Sarah Janesko
by Emily Maskas
---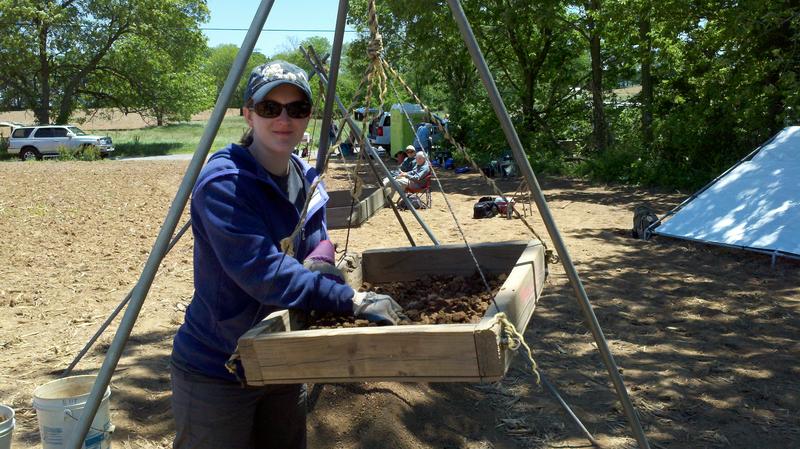 The Archaeological Institute of America would like to congratulate the 2014 recipients of the Jane C. Waldbaum Archaeological Field School Scholarship. These promising students were chosen from over 100 applicants to receive the $1,000 scholarship, to defray the costs of attending an archaeological field school for the first time. Sarah Janesko, who will be starting her graduate studies at the University of Maryland this coming fall, is excited to use her Waldbaum scholarship to attend the University of Maryland's Archaeology in Annapolis Project field school this summer.
Sarah attended Towson University, part of the University of Maryland system, and graduated in 2010 with a degree in Cultural Anthropology. The "strong" anthropology department, full of "great professors," inspired many students like Sarah. After graduating, Sarah worked at a non-profit in Washington, DC, which focused on advocacy and public policy surrounding childhood cancer. The non-profit world introduced her to the concept of using data and databases to find important trends, and allowed her to plan a workshop and gain an understanding of the importance of collaboration. This work had Sarah wondering how statistics and data mining can be applied to archaeology and anthropology.
In 2012, Sarah attended an Anthropology conference at American University, and had the chance to hear presentations by local archaeology Ph.D. students. One student spoke about their work in public archaeology, which immediately sparked Sarah's interests. With her anthropology and public policy experience, it was exciting for Sarah to hear about using archaeology outside of the academic world, and archaeologists "working with the community." After learning more about public archaeology, she was inspired to pursue a Master's in Applied Anthropology.
At field school this summer, Sarah will be working both in the city of Annapolis and at Wye House, a former plantation on Chesapeake Bay. This Waldbaum-sponsored field school experience will help prepare Sarah for her rigorous Applied Anthropology program. The AIA maintains the Archaeological Fieldwork Opportunities Bulletin for students interested in other fieldwork opportunities.
Growing interest in local and community archaeology, such as work in Maryland, allows archaeology to be better integrated into other disciplines. Recently, Sarah wrote a blog post about her interest in mixing public-minded archaeology with creative writing. She would like to see more local archaeological projects that emphasize greater community involvement; she hopes that avenues of support for field school, like the AIA's Waldbaum scholarship, will expand in the future. The AIA is looking forward to hearing about Sarah's experiences this summer, and her plans for future study.
Further information about the Jane C. Waldbaum Archaeological Field School Scholarship can be found here, or by contacting Deanna Baker at 617-353-8705 or dbaker@archaeological.org. The deadline for next year is March 1, 2015.
If you would like to support students like Sarah through a gift to the Archaeological Institute of America, click here now, or call the AIA at 857-305-9350.
If you are a graduate student, and current member of the AIA, who would like to be featured on the AIA website, please contact Emily Maskas at 617-353-8703 or emaskas@archaeological.org.