June 8, 2015
Waldbaum Spotlight: Emily Durham
by Emily Maskas
---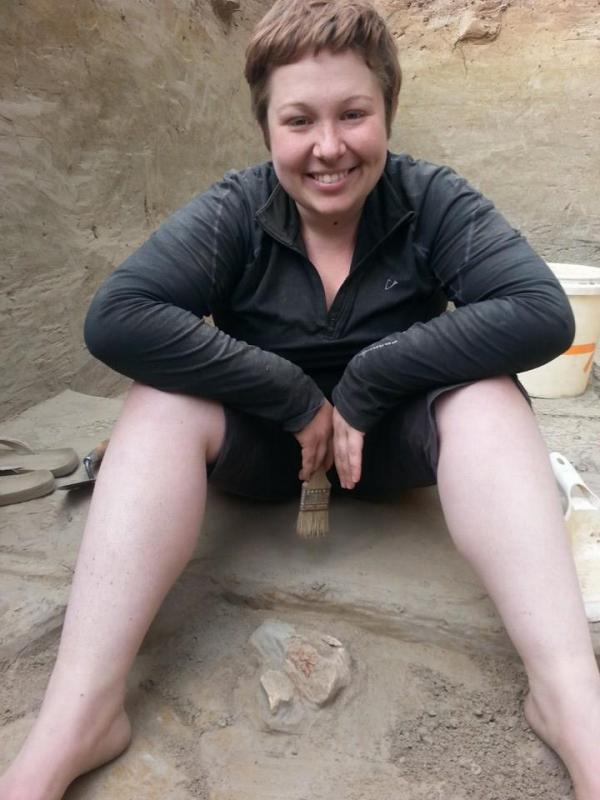 The Archaeological Institute of America is proud to offer the Jane C. Waldbaum Archaeological Field School Scholarship, to assist students with the expenses associated with participating in an archaeological field school for the first time. This summer, 14 students selected to receive the $1,000 scholarship will travel all over the world to attend field schools such as the Maya Culture History Field School in Belize and the Poggio Civitate Archaeological Field School in Italy. As this year's crop of students head off to the field,   Emily Durham, a senior at the University of Pittsburgh, shares her experiences with the Tanana Basin Subarctic Archaeological Field School in Alaska from last summer.
Growing up, Emily, "a research poet and science writer," was fascinated by the idea that modern people could learn about prehistoric humans who did not have a written language. Her parents inspired her interest in ancient civilizations through storytelling and rock collecting trips to the beach. Emily is particularly focused on geoarchaeology, and has been able to take exciting, practical classes at the University of Pittsburgh, including "Soils in Archaeology" and "Sedimentology and Stratigraphy." Margaret Sams, a soil scientist, and Charles Jones, a geologist, have been influential professors over the course of Emily's undergraduate experience.
Although Emily had a strong theoretical basis in archaeology, she knew she needed to experience a dig firsthand. When asked why she chose to attend field school, she says "I had no idea how to hold a trowel, how loess feels, how to interpret all the colors oxidized soil can contain." Emily believes it is very important to choose a field school based on specific archaeological interests, and that is her main advice to interested students. Dr. Ben A. Potter's Mead site in the Tanana Basin in Alaska seemed like the perfect fit with Emily's interests due to Dr. Potter's "stratigraphic and soil analysis approach to excavation." Dr. Potter, of the University of Alaska Fairbanks, has spent almost twenty years working in Alaskan archaeology; the Mead site is one of the oldest sites in the Western Hemisphere at almost 14,000 years and is under active investigation.
For Emily, each day in the field was "positive," with each small discovery, like the first in situ microblade, bringing a sense of accomplishment. Holding a trowel for eight hours each day was a lot to get used to, but eventually Emily mastered "how to balance digging speed with careful precision," and how to read the soil, with which she may be "uncommonly fascinated." The beautiful Alaskan setting invited hiking, with Emily's group traversing Donnelly Dome, a 2,400 ft. high mountain. Although they unknowingly took the very steepest route to the top, the amazing views on that freezing peak made for an "incredible moment." The Tanana Basin Subarctic Archaeological Field School in Alaska is strongly recommended by Emily for students with a particular interest in geoarchaeology, stone tool technology, and the peopling of America.
Field school is, of course, an expensive undertaking, and Emily would not have been able to have her incredible Alaskan experience without the support of the Jane C. Waldbaum Archaeological Field School Scholarship. Emily will use this field school work and her future archaeological experiences in her creative and scientific writing. She hopes to work towards explaining scientific concepts to those with little experience in the field. The AIA wishes Emily the best of luck in all of her future endeavours.
Please stay tuned for updates from our 2015 recipients. Further information about the Jane C. Waldbaum Archaeological Field School Scholarship can be found here, or by contacting Deanna Baker at 617-353-8705 or dbaker@archaeological.org. Applications for this season are now closed. The deadline for next year is March 1, 2016.
If you would like to support students like Emily through a gift to the Archaeological Institute of America, click here now, or call the AIA at 857-305-9350. 
If you are a graduate student, and current member of the AIA, who would like to be featured on the AIA website, please contact Samantha Craig at 617-353-9364 or scraig@archaeological.org.
Through the AmazonSmile program, Amazon will donate 0.5% of the price of your eligible purchases to the Archaeological Institute of America. Click here to learn more and to register.