February 25, 2015
William Parkinson – Cotsen Grant Recipient
by Emily Maskas
---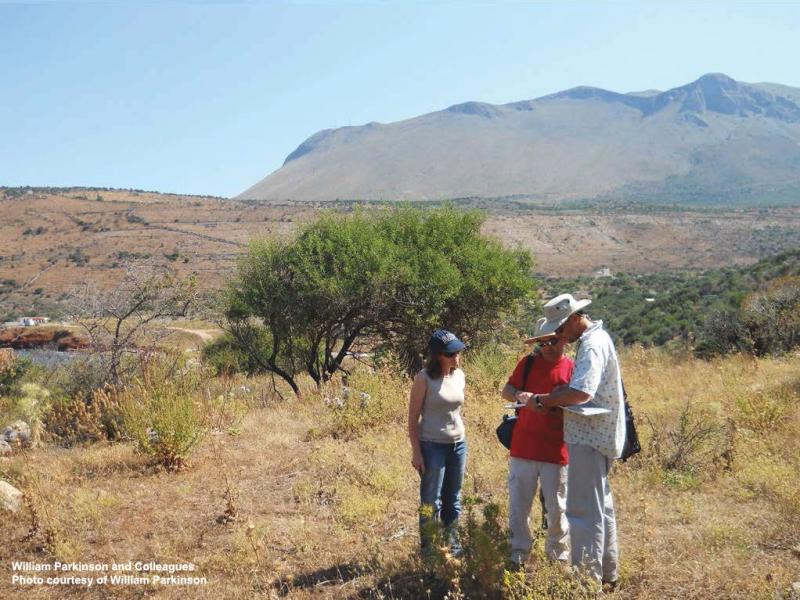 The Archaeological Institute of America is proud to offer the Cotsen Excavation Grant Program, made possible through the generosity of Mr. Lloyd E. Cotsen. This program provides two grants per year of up to $25,000 each. In the program's second season, beginning in 2014, Dr. William Parkinson, Associate Curator of Eurasian Anthropology at the Field Museum of Natural History in Chicago was awarded the Cotsen Grant for "mid-career" project directors. Parkinson and his colleagues spent five years as part of the Diros Project, excavating the Neolithic settlement of Ksagounaki Promontory in Diros Bay on the Mani Peninsula of the southern Greek mainland; this grant supported the final season of their work. Recently, some of the team's exciting discoveries at Ksagounaki were announced in a National Geographic article. The AIA is pleased to share more about the Diros Project and the work of our Cotsen Grant recipient.
The Diros Project involved an international team of archaeologists under the direction of Dr. Giorgos Papathanassopoulos (Honorary Ephor of Antiquities), coordinated by Dr. Anastasia Papathanasiou of the Ephorate of Palaeoanthropology and Speleology of the Hellenic Ministry of Culture. Excavations on the Ksagounaki promontory, the area surrounding Alepotrypa Cave, revealed a unique prehistoric site. Dr. Papathanassopoulos has excavated Alepotrypa Cave for over forty years, and has discovered a complex history of human activity spanning thousands of years; remains of over one hundred individuals who died between 6000 B.C. and 3200 B.C. have been found. Greek team members include Dr. Panagiotis Karkanas of the American School of Classical Studies in Athens. The American archaeologists involved are Dr. Parkinson, former AIA Trustee Dr. Michael L. Galaty from Mississippi State University, and Dr. Daniel J. Pullen from Florida State University. 
An archaeological survey of Ksagounaki was undertaken in 2011, and excavations began in 2012 that were completed in 2014. During their excavations, the team discovered the remains of an undisturbed, Final Neolithic house, which was radiocarbon dated to 3800 BC. The house contained obsidian tools obtained through the extensive trade networks in place during the Greek Final Neolithic, and large amounts of pottery. Another Neolithic structure was found just outside the mouth of Alepotrypa Cave, which was built from megalithic stones, and housed some surprising burials. Two infants, radiocarbon dated to 4200 BC, were found, along with four other individuals. One couple, both of whom died around 3800 BC, are embracing, or as Dr. Parkinson said to National Geographic, "They're totally spooning." Most unexpectedly, bones from dozens of individuals were found in a Mycenaean-period ossuary. People of the Mycenaean period appear to have been attracted to this site some two thousand years after it fell out of use, perhaps hinting at new insights into their ritual traditions.
Dr. Parkinson shared with the AIA that "the generous funding from the Cotsen Excavation Grant permitted us to bring several students and scholars to Diros to conduct the excavation at Ksagounaki. It also allowed us to run several of the radiocarbon dates and other analyses that were absolutely critical for understanding how the site was used during the Neolithic and the Bronze Age." In addition to the funds provided by the Cotsen Excavation Grant, funding was also provided by the Institute for Aegean Prehistory, the National Geographic Society Committee for Research and Exploration, the Wenner-Gren Foundation for Anthropological Research, the Field Museum of Natural History Women's Board, and private donors.
Contacts in Greece:
Dr. Anastasia Papathanasiou, Ephoreia of Speleology and Paleoanthropology, Athens anastasia.papathanasiou@gmail.com
Dr. Panagiotis Karkanas, American School of Classical Studies in Athens
Contacts in United States:
Dr. William A. Parkinson, Field Museum of Natural History
Dr. Michael L. Galaty, Mississippi State University
Dr. Daniel Pullen, Florida State University
Further information about the AIA's Cotsen Excavation Grant Program, and the application, can be found here, or by contacting the Director of Programs, Ben Thomas at bthomas@archaeological.org. The next deadline is November 1, 2015.
If you would like to support the research of archaeologists like Dr. Parkinson with a generous gift to grants and endowments at the Archaeological Institute of America, click here now.
If you are a professional archaeologist or graduate student studying archaeology who would like to be featured on the AIA website, please contact Samantha Craig at 617.353.9364 or scraig@archaeological.org.
Through the AmazonSmile program, Amazon will donate 0.5% of the price of your eligible purchases to the Archaeological Institute of America. Click here to learn more and to register.