October 20, 2014
Angkor Wat Wins ArchaeoMadness
---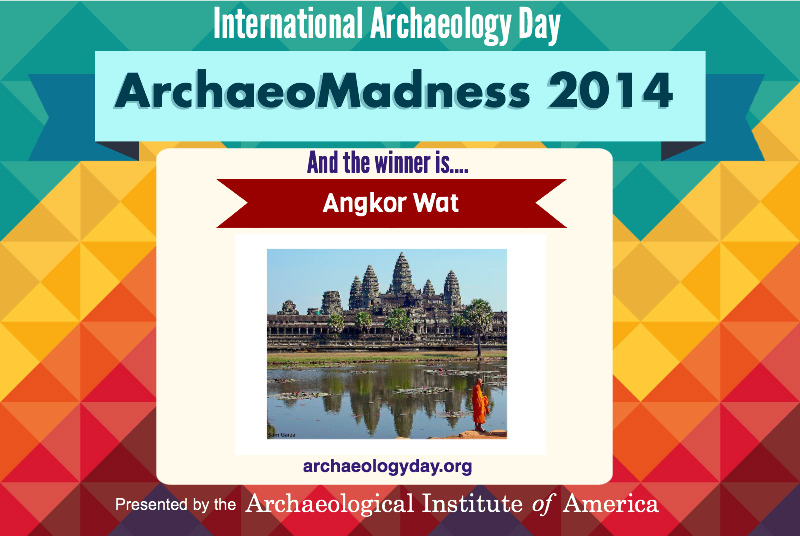 Angkor Wat (Cambodia) emerged as the 2014 ArchaeoMadness champion after a day of competition with Caracol (Belize) that was so intense it crashed the AIA website server more than once, preventing fans of both sites from voting for brief intervals while we worked to get the site back up.
ArchaeoMadness was introduced this year as an interactive and entertaining way to count down the days until International Archaeology Day (held annually on the third Saturday in October).  Designed as a bracket-style competition, ArchaeoMadness included 32 archaeological sites in a single elimination tournament.  Each day participants voted for their favorite archaeological site in a head-to-head competition between two sites.  The winning sites from each match-up moved on to the next round and this was repeated in each round until the championship.
Angkor Wat, a 9th-15th century Khmer capital as well as an artistic and architectural icon, beat out several other well-known sites before being crowned as this year's champion, including Chaco Canyon (USA), Machu Picchu (Peru), Tikal (Guatemala), and Cahokia (USA). 
While this year's ArchaeoMadness competition yielded a number of upsets, Angkor Wat's most formidable opponent and this year's runner up, Caracol, was certainly the competition's most impressive underdog.  Caracol's success caught most ArchaeoMadness players by surprise as less than one percent of the brackets submitted predicted the site's appearance in the championship round (in contrast, a little over 15 percent of players predicted Angkor Wat's appearance).  In the first round, Caracol soundly defeated Pompeii (Italy), a significant upset considering that Pompeii was the most popular pick to win the entire competition.  Caracol went on to beat Sterkfontein, Troy, and Petra before falling to Angkor Wat.
The 31 individual match-ups yielded over 11,000 votes (with just over one-third of the votes cast on the final day).  Actual web traffic was much higher, as many individuals revisited sites throughout the day to check the progress of their selected site.  Now that we know how popular ArchaeoMadness is, the AIA is already making plans to strengthen the website server so that next year's competition can go off without a hitch.
What site(s) would you like to nominate for next year's competition?  Each tournament will feature four sites each from the following geographic regions: Africa, Central America, Central and Eastern Asia, Europe, the Near East, North America, South America, and Oceania.
International Archaeology Day Blog