September 12, 2012
Archaeological Conservancy Regional Director to Speak on Preservation in Mississippi
---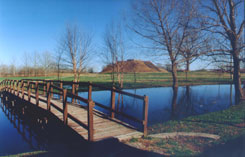 Southeast Regional Director for the Archaeological Conservancy Jessica Flemming-Crawford will be a guest speaker at the Winterville Mounds. She will speak on "Preserving Our Past: The Archaeological Conservancy in Mississippi" on National Archaeology Day, October 20th from 1-2 pm.  Refreshments will be served and admission is free! This event was organized by Winterville Mounds (Mississippi Department Archives and History), a National Archaeology Day Collaborating Organization.
See the National Archaeology Day Events Calendar
More information about how your organization can become a Collaborating Organization for National Archaeology Day.
International Archaeology Day Blog