Martha Sharp Joukowsky (1936 – 2022)
American Archaeologist and Educator of Generations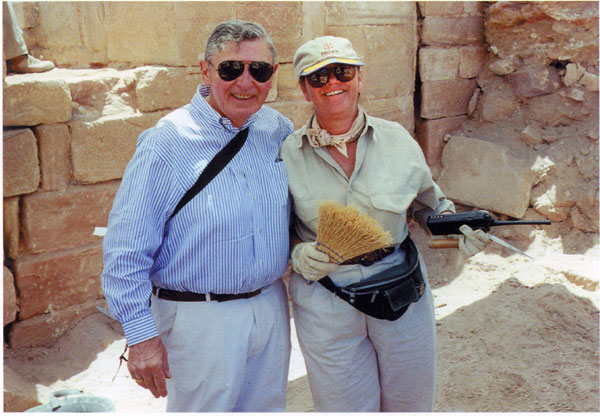 During her lifetime of archaeological work, Martha Sharp Joukowsky worked on sites all over the world, perhaps most notably in Jordan, where she discovered and excavated the Great Temple at Petra. She was also a longtime faculty member at Brown University and a gift from Martha and her husband Artemis enabled the founding of the Joukowsky Institute for Archaeology at Brown University after her retirement. A Lifetime Member of the AIA, Martha served as the institute's President from 1989 to 1993. Sadly, Martha passed away earlier this year. The AIA and the field of archaeology are deeply indebted to Martha and her legacy. Click here to read the full memorial statement in her honor.
We spoke to two of Martha's former colleagues at Brown University, Dr. Laurel Bestock and Dr. Peter van Dommelen to learn more about Martha's life, work, and why she is an archaeologist you should know.
Dr. Laurel Bestock's research focuses on the material culture of the Nile Valley and on the methodology of archaeological recording. Her interests include kingship, monumentality, the contexts and audiences for art and architecture, and cultural interactions. Bestock is the co-director of an excavation at Uronarti, Sudan with Christian Knoblauch (Swansea University). There, they are examining a monumental fortress built by the conquering Egyptian kings in the early 2nd millennium BC, the extramural settlement associated with it, and the relations between Nubians and Egyptians in this frontier zone. Bestock's recent book, Violence and Power in Ancient Egypt: images and ideology before the New Kingdom, examines the making of pictures of violence as a tactic of power in the early Egyptian state. On the methodology side, she is currently engaged in a project to develop a universal tablet-based archaeological recording system that does not rely on the internet for synchronization. In its alpha stage this system has been used in Uronarti, Petra, Kom el-Hisn (Egypt), and Wellesley MA. Bestock holds a BA from Brown and MA and PhD from the Institute of Fine Arts, NYU.
Dr. Peter van Dommelen is a Mediterranean archaeologist whose research and teaching revolves around the rural and indigenous Mediterranean past and present. The regional focus of his work lies in the western Mediterranean, where van Dommelen has been involved in fieldwork on the island of Sardinia for over thirty years. He concentrates on later Mediterranean prehistory and the indigenous and colonial worlds of the earlier part of Classical Antiquity – roughly the first millennium BCE, but comparative studies of ethnographic and recent historical contexts in the Mediterranean and elsewhere play a crucial role in his work. Van Dommelen studied Archaeology and Classics at the University of Leiden (the Netherlands), specializing in Theoretical and Classical Archaeology (MA, 1990; PhD, 1998, as well as Anthropology and Material Culture at University College London (1990-91). He taught Mediterranean Archaeology at the University of Glasgow from 1997 to 2012, before joining Brown University. At Brown, Peter has served as Director of Graduate Studies and (since 2015) as Director of the Joukowsky Institute. He has also held visiting appointments at the Universities of Valencia (Spain, 2005-06), Cagliari (Sardinia, 2011) and the Balearics (Mallorca, 2012).
What got you interested in archaeology.? How did you meet Martha?
Laurel Bestock:
I fell in love with archaeology as a teenager, mostly from reading novels, and I became aware of Martha's work at Petra when I saw her on a televised documentary when I was in high school. I already knew I was interested in applying to Brown, but that sealed the deal. I was so nervous my first year to ask her if I could join the Petra project; I was taking her course in the Archaeology of Iran and went to speak with her after class early in the semester. Her first answer was "I don't take freshmen into the field." But she also said, "come to the house this weekend to tell me why you want to join the project." That weekend, I stood in her kitchen while she cooked lunch for us and I told her about my dream to become an archaeologist of Egypt, about how I had already gotten a few field seasons of experience in Ireland. She found the funding, and took me to Petra that summer, and the following two summers as well. My first publication came out of a pottery deposit I excavated there; when I noted that it was significant enough to warrant an article, Martha said simply, and characteristically, "Yes. It is. You should publish it." My life-long interest in archaeological recording was kindled on Martha's project where we had context forms and a Polaroid camera in every trench. I could not have been more fortunate than to have her as a mentor and, later, a friend.

Peter van Dommelen:
Like Laurel, my first field experiences were before going to college, in my case in a medieval monastery in West Flanders, not far from my hometown. This experience led me to study Classics and Archaeology at Leiden University, which enabled me in turn to become involved in Etruscan archaeology (Lago dell'Accesa) and eventually resulted in a what was to become a long-term involvement in Sardinian and Phoenician archaeology, studying colonialism and rural communities of the first millennium BCE.
I only got to know Martha personally when I moved to Brown, now ten years ago. I was of course aware of her work, but as I met with her and her husband Artemis on campus and, especially, at their home, I realized her deep involvement in the archaeology of Lebanon, which resonated closely with my own Phoenician interests – and Martha told me fascinating stories about the pioneering research of the late 1960s and early 1970s – and at one point she and Artemis also treated me to a lunch with Patricia and Pierre Bikai! Her enthusiasm, deep engagement and long-standing experience with the Near East and its archaeology were truly captivating.
Get to know Martha:
Born in Montague, MA in 1936, Martha grew up in a Unitarian family with a keen sense of social justice that led her parents to become heavily involved in humanitarian relief efforts in World War II Europe. Martha was educated at Brown's Pembroke College, where she met and married Artemis in 1956; she received her BA in 1958. The young family moved to Italy in 1960 and subsequently lived in Lebanon and Hong Kong before returning to the US in 1974. During their years in Beirut, Martha and Artemis not only traveled extensively throughout the Levant, including Cyprus, but Martha also engaged intensively with the deep past of the Middle East, earning her MA in Archaeology from the American University of Beirut in 1972. She received her PhD from the Paris I Panthéon-Sorbonne University in 1982 with a dissertation on the prehistory of western Anatolia (published as Prehistoric Aphrodisias, 1996).

Martha taught at both New York University and Hunter College, and in 1982 she was appointed to the faculty at Brown University as Professor of Old World Archaeology and Art and of Anthropology. Brown subsequently awarded her an honorary doctorate in 1985. She held her post at Brown until her retirement in 2002. During these years, she conducted fieldwork in Turkey, Italy, and Greece and, especially, Jordan, where she discovered and excavated the Great Temple at Petra (Petra Great Temple, 3 vols 1998; 2007; 2016). On the Petra project, Martha trained generations of Brown students, undergraduate as well as graduate, in field archaeology. Other major publications include, A Complete Manual of Field Archaeology (1980) and Early Turkey (1996). Between 1989 and 1993, Martha served as the President of the Archaeological Institute of America. She was also honored by national and international institutions with multiple medals and awards.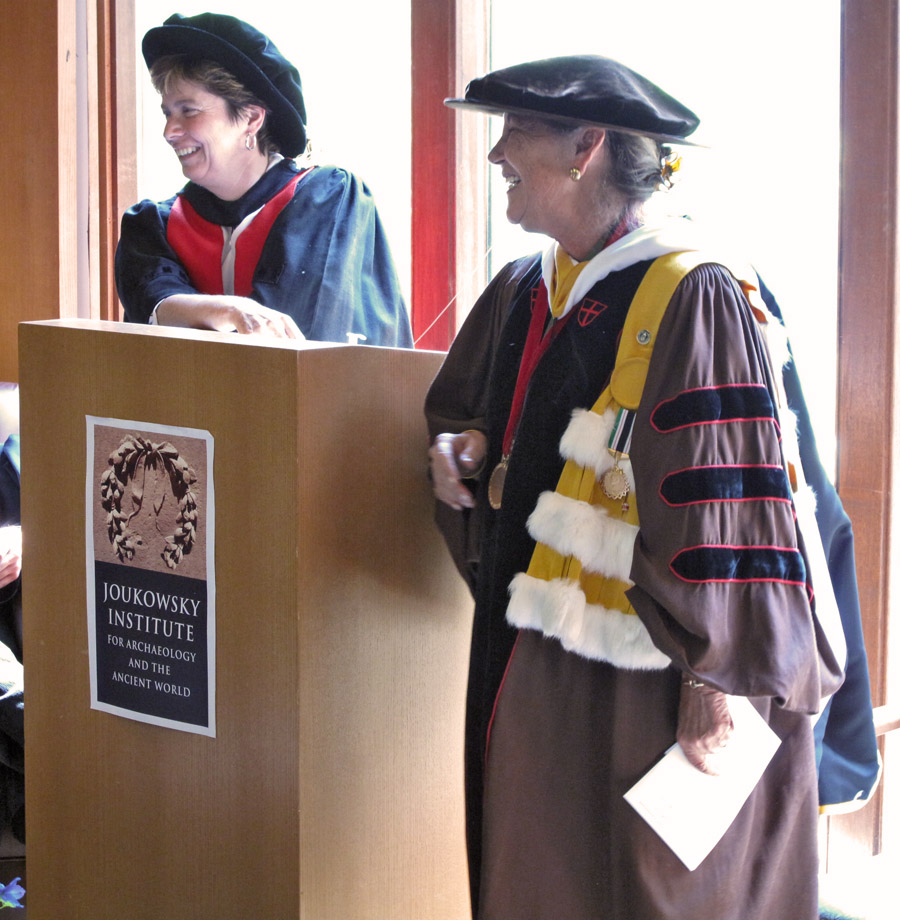 How would you describe Martha's work and field of study?
Trained as a Middle Eastern archaeologist and involved in archaeological excavations for 35 years, Martha Joukowsky has researched the domestication of plants and animals, the advent of Middle East urbanism and the varied cultural developments in Anatolia (ancient Turkey), Syro-Palestine, Mesopotamia (ancient Iraq), and ancient Iran-from the earliest times to the Hellenistic and Roman periods.

Martha Joukowsky directed the Brown University Petra Great Temple excavations in Jordan over a ten-year period, as she focused her research on Nabataean cultural history. She published well over a hundred articles about this remarkable site. Various aspects of the site's research have been presented in four Brown University doctoral dissertations, three M.A. theses, and six undergraduate Senior Theses – four of which have been published in peer-reviewed journals. Several documentary films have covered her project, including the Arts and Entertainment Network and the Learning Channel, which have been aired worldwide.

Martha's research, beyond excavation, included scientific applications including surveying with Geographic Information Systems (GIS) and Global Positioning Systems (GPS), Ground Penetrating Radar (GPR), artifact studies and databases, and analyses including Instrumental Neutron Activation (INAA), fresco pigment analysis, palynology, marble isotopes, stone weathering, and dendrochronology. It should come as no surprise that all of these are techniques that are dependent upon the expertise of team members. Martha's focus also included a multi-disciplinary digital archaeology project and the 3D Free-Form Models for Geometric Recovery and Applications to Archaeology, which was underwritten by two United States National Science Foundation Grants awarded to Brown University.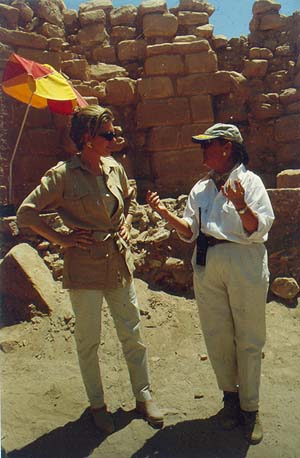 Do you have any interesting stories about Martha to share with us?
From Laurel Bestock: "I have many fond memories of Martha from Petra, where she was always known simply as Mudira (boss) and where her team, and she herself, poked fun at the military-style golden decorations that distinguished the brim of her hat from those of the rest of us. We called them the "scrambled eggs," but we also did what she told us to do. But in many ways, it is my memories of her from Providence that speak more directly to her generosity and her unstinting support for students as both people and scholars. Her house was always open, whether or not she was in it. Her undergraduates would gather in the basement for study sessions, not just for her classes but for others. We fended off the swarms of dogs and quizzed each other and basked in feeling we had an intellectual home and a community. She was as open to students after she retired. One of the graduate students at the newly formed Institute once said aloud in Martha's hearing that she didn't have the money to go home for Thanksgiving. An immediate invitation followed and was taken up. I once had a seminar of graduate students I wanted to meet Martha, to hear about her experiences, since they were relevant to the topic of the course. Not only were we invited over, but we were also met by the gooiest and most delicious home-baked chocolate cake imaginable (as well as by a swarm of the inevitable dogs). Her home was as much a center for archaeology at Brown as any place on campus was."
To learn more about Martha Sharp Joukowsky and her work, explore the following:
Petra: The Great Temple Excavation from the Joukowsky Institute of Archaeology at Brown University
Reconstructing Petra from Smithsonian Magazine, June 2007
Memorials for Martha Sharp Joukowsky from the New York Times, the Brown Daily Herald, and the Archaeological Institute of America
Martha Sharp Joukowsky on Research Gate
Martha Sharp Joukowsky on People Pill
Cohen, G. & M.S. Joukowsky. (ed.) 2004. Breaking Ground: Pioneering Women Archaeologists. Ann Arbor: University of Michigan Press.
Joukowsky, M.S. 1980. A Complete Manual of Field Archaeology: Tools and Techniques of Field Work for Archaeologists. Englewood Cliffs (NJ): Prentice-Hall.
Joukowsky, M.S. 1988. The Young Archaeologist in the Oldest Port City in the World. Beirut: Dar el-Machreq.
Joukowsky, M.S. 1996a. Early Turkey: An Introduction to the Archaeology of Anatolia from Prehistory Through the Lydian Period. Dubuque (IA): Kendall/Hunt Publishing Co.
Joukowsky, M.S. 1996b. Prehistoric Aphrodisias: An Account of the Excavations and Artifact Studies. Providence (RI): Brown University, Center for Old World Archaeology and Art.
Joukowsky, M.S. 1998. Petra Great Temple: Brown University Excavations, 1993-1997. Providence (RI): Brown University Petra Exploration Fund.
Read about our other Archaeologists You Should Know