Marion Rawson (1899-1980)
American Archaeologist Known for Her Contributions to Bronze Age Archaeology at Pylos and Troy
Shannon LaFayette Hogue, assistant professor at the University of Massachusetts Amherst, is a Classical archaeologist whose focuses include Bronze Age Greece and landscape history. Hogue shares with us why you should know about American archaeologist Marion Rawson, whose work contributed to our understanding of Troy and Pylos.
What got you intrigued about Marion Rawson?
Marion Rawson's work became integral to my own work while I was a Ph.D. student in the Department of Classics at the University of Cincinnati. Rawson was a highly accomplished scholar in the field of Aegean Prehistory whose work contributed to the systematic documentation and publication of major excavations at Troy in northwestern Turkey and the Palace of Nestor at Pylos in southwestern Greece. Both sites have been associated with the epic poems of Homer and the Trojan War with major settlements in the Late Bronze Age (ca. 1400-1200 BCE). Rawson's ability through skill and hard work to become an essential member of the excavation and publication teams at two major Bronze Age sites, Troy and Pylos, in the male-dominated field of the 1930s-1970s was deeply intriguing.
Rawson was born on August 17, 1899 in Cincinnati where she lived all her life with her sister, Dorothy. Her interest in archaeology came while taking courses at the University of Cincinnati and working towards a B.S. in Architecture. In 1928, Carl W. Blegen, Professor of Classics at the University of Cincinnati invited Rawson to join the final season of his excavation at Prosymna, a Middle and Late Helladic cemetery in the Argolid of Greece, and she returned the following season to assist with preparing finds for publication.
When Blegen launched the University of Cincinnati excavations at Troy in 1932, Marion and her sister Dorothy both joined the team. In the six subsequent seasons from 1933-1938, Rawson oversaw excavations in the central area of the citadel with deposits spanning five settlement eras (Troy I – V, the Early to Middle Bronze Age, ca. 2900-1700 BCE). She also took on management of the pottery inventory for the entire project. This inventory was essential to establishing the first chronology of the site using a systematic method so that its phases could be correlated with those of other major Bronze Age sites. After World War II, Rawson joined Blegen's team once again for the excavations of the Palace of Nestor at Pylos. From 1953-1961 she oversaw excavation of major sections of the Palace's Main Building, the Northeastern Building, the Wine Magazine, and the so-called plaster dump, which provided essential information about the architecture, economy, and functions of the palatial complex during the height of the Mycenaean Period (ca. 1400-1200 BCE).
Please share one anecdote that you see as representative of Rawson and her work.
Marion Rawson's unpublished excavation notebooks from the Palace of Nestor at Pylos are a testament to who she was as an archaeologist, and fundamental for on-going research. During the 1953-1956 seasons, Rawson oversaw excavation of more than half of the palace's Main Building, which served as the hub of the Pylian ruler. Trench supervisors used blank notebooks to record their observations of the soil deposits and finds in their trenches, but exactly what they recorded and how was not standardized. Rawson's skill as a keen observer of the stratigraphy and dedication to recording her finds systematically come through in her notebooks, which remained remarkably consistent through four seasons of intensive excavation. Rawson's descriptions of deposits, measurements of artifact findspots, and illustrations in her own plan and section drawings are impeccable for the standards of the field at the time. Her notebooks continue to be an indispensable source of data for recent publications and on-going research at Pylos (see for example Hruby 2010 and LaFayette Hogue 2016 in list of resources below).
What do you see as Rawson's chief achievements?
During excavation, Rawson pushed forward detailed documentation of the archaeological record and after excavation she was a driving force, working tirelessly behind the scenes. Of chief significance were the countless roles she played in bringing the excavation findings to publication in two seminal book series: Troy: Excavations Conducted by the University of Cincinnati, 1932-1938 (Princeton, 1950-1958), co-edited by Blegen, Rawson, and John. L. Caskey and The Palace of Nestor at Pylos in Western Messenia (Princeton, 1966-1973), co-edited by Blegen and Rawson.

In his "Foreword" to Troy IV, Blegen acknowledged that, while the project and its publication were a tremendous team effort, "From beginning to end M. Rawson has been the active editor… Indeed it is not too much to say that without her organizing ability, patient steady industry and stimulating propulsion, the work could probably never have been brought to completion," (Troy IV, p. viii). He added a few pages later that "The exacting responsibility of seeing this volume through the press has been borne by Marion Rawson," (Troy IV, p. x). Of her contribution to the Palace of Nestor project, Blegen noted that, "Continuity of method and supervision was thus maintained…largely through the indispensable participation of Marion Rawson from 1953 to 1965…" (PN I, p. x). Her colleagues also noted that her character, full of enthusiasm, collaborative energy, and persistence, contributed to the success of the Troy and Pylos projects both in the field and during the publication process.
Finally, explain in 50 words (or so) why Marion Rawson is an archaeologist the public should know more about.
Marion Rawson's archaeological work established a high standard for timely, rigorous publication, as well as a legacy of information and research productivity in Aegean Prehistory. The Troy and Palace of Nestor volumes remain essential resources and pillars on which decades of scholarship have been founded. Likewise, her notebooks continue to be an indispensable source of data for research at Pylos. In a field where we have a responsibility to not only carefully document, but also publish our finds, Rawson's contributions cannot be underestimated.
To learn more about Marion Rawson and her work, explore the following resources:
Blegen, C. W., Rawson, M., and J. L. Caskey. Troy: Excavations Conducted by the University of Cincinnati, 1932-1938, Volumes I-IV (Princeton, 1950-1958).
Blegen, C. W. and M. Rawson. The Palace of Nestor at Pylos in Western Messenia, Volumes I-III(Princeton, 1966-1973).
Lang, M. "Marion Rawson," in Breaking Ground: Women in Old World Archaeology, eds. M. S. Joukowsky and B. S. Lesko. https://www.brown.edu/Research/Breaking_Ground/bios/Rawson_Marion.pdf
"'I Once was Lost but Now I'm Found': The Search for Missing Archives, Marion Rawson, and the Excavations of the Palace of Nestor at Pylos," by Jack L. Davis, Carl W. Blegen Professor: https://nataliavogeikoff.com/2014/03/01/i-once-was-lost-but-now-im-found-the-search-for-missing-archives-marion-rawson-and-the-excavations-of-the-palace-of-nestor-at-pylos/
Urbanus, J. Uncovering Pylos: A Look at 80 Years of Archaeological History and Discoveries at the Greek World's Best Preserved Mycenaean Palace (AIA, 2020).
Hruby, J. 2010. "Mycenaean Pottery from Pylos: An Indigenous Typology," AJA 114.2, pp. 195-216.
LaFayette Hogue, Shannon. 2016. "New Evidence of Post-Destruction Reuse in the Main Building of the Palace of Nestor," AJA 120.1, pp. 151-157.
The New Palace of Nestor at Pylos Excavations and the Grave of the Griffin Warrior, directed by Sharon Stocker and Jack Davis http://www.griffinwarrior.org/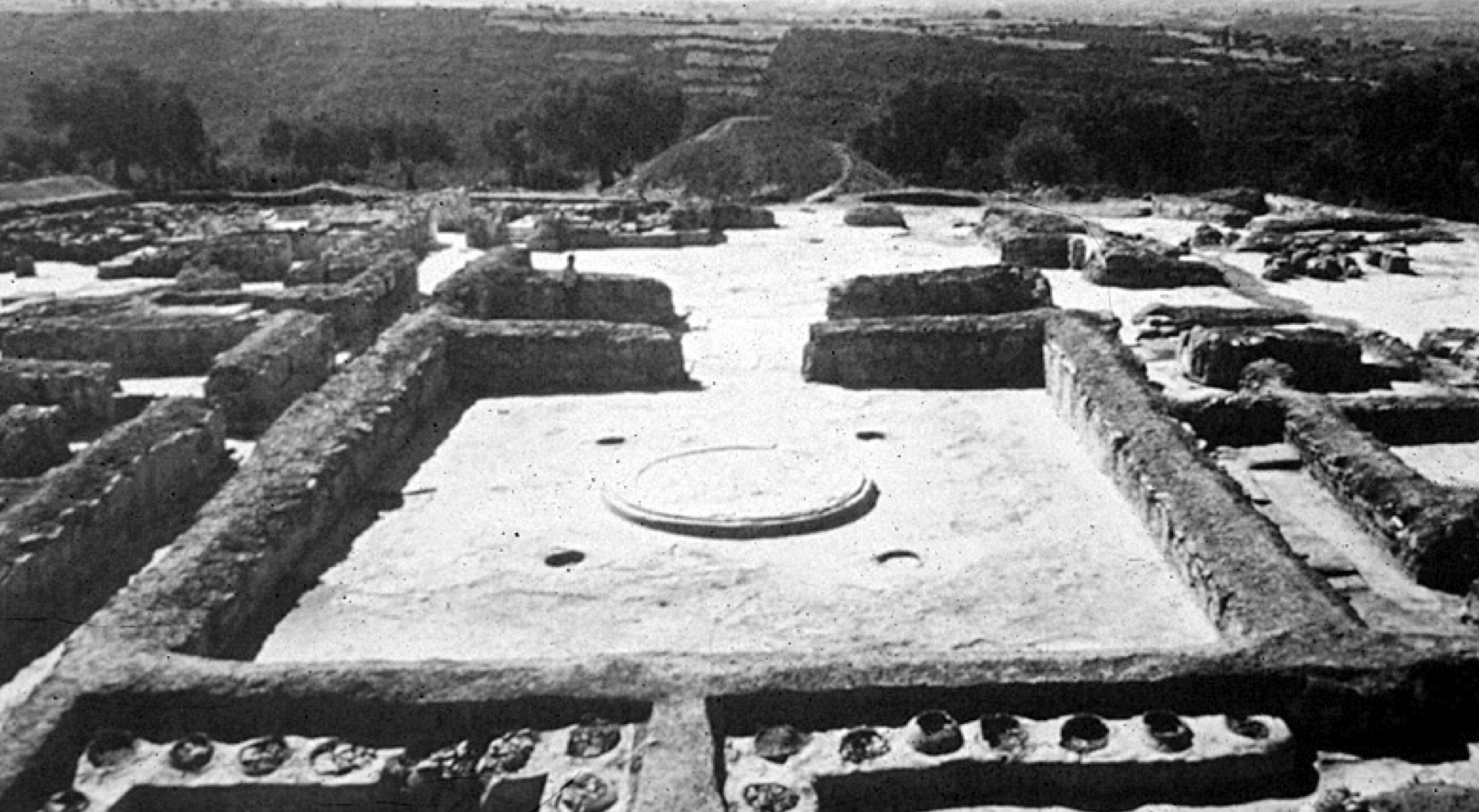 Read about our other Archaeologists You Should Know