Nancy Wilkie (1942-2021)
American Archaeologist, Educator, and Tireless Advocate for the Preservation of Cultural Heritage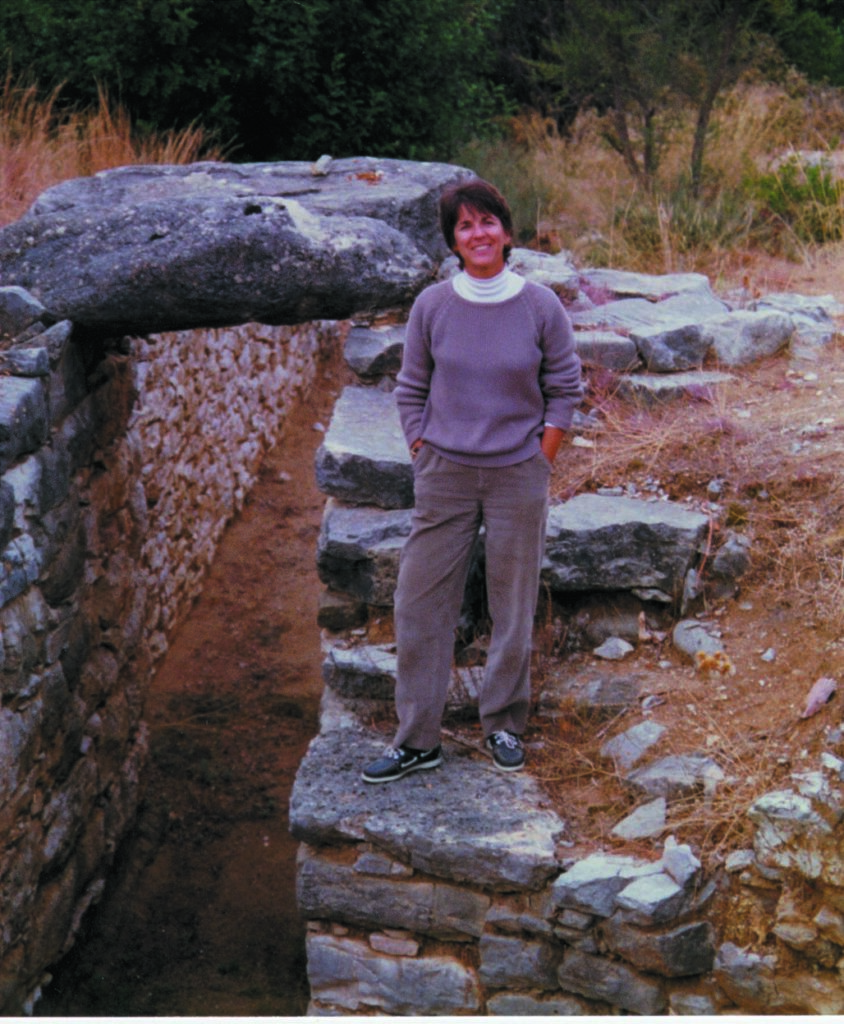 During her lifelong archaeological career, Nancy Wilkie worked on projects all over the world and tirelessly advocated for the preservation of cultural heritage. A longtime member and supporter of the AIA, Nancy served on the AIA's Governing Board and as the Institute's president from 2000-2003. Sadly, Nancy passed away recently. The AIA and the field of archaeology are deeply indebted to Nancy and her considerable contributions. Read the full memorial statement in her honor.
We spoke to two of Nancy Wilkie's colleagues to learn more about why she is an archaeologist they think you should know.
Brian I. Daniels is the Director of Research and Programs at the Penn Cultural Heritage Center at the University of Pennsylvania Museum and the AIA Vice President for Cultural Heritage. His area of expertise is cultural heritage, including issues of site destruction, archaeological looting, conflict archaeology, site preservation, and disaster risk management.
Jack Davis is the Carl W. Blegen Professor of Greek Archaeology at the University of Cincinnati and former Director of the American School of Classic Studies in Athens. His area of expertise is Greek Archaeology, most recently including excavations with Sharon Stocker at the Palace of Nestor which uncovered the Griffin Warrior Tomb.
What got you intrigued about Nancy Wilkie?
Nancy Wilkie was an exceptional archaeologist with experience gained from working on archaeological projects around the world including Greece, Egypt, and Nepal. As a PhD student at the University of Minnesota she worked on the Nichoria tholos tomb excavation in Greece. She later co-edited Excavations at Nichoria in Southwest Greece: Volume II with William McDonald. From 1985 to 1996, Nancy managed a team of archaeologists, geologists, and anthropologists as director of the Grevena Project in Southwest Macedonia, Greece. Later in her career, Nancy's focus shifted to the protection of cultural heritage and she served on several committees devoted to this cause. Her work included co-founding the US Committee of the Blue Shield and two appointments (2003-2005 and 2011-2017) to the U.S. Cultural Property Advisory Committee (CPAC).
"I first met Nancy Wilkie when she served on the President's Cultural Property Advisory Committee. She was the longest serving member, spanning several presidential administrations. Passionate about the preservation of archaeological sites, I got to know her, and she became a mentor to me on the policy issues surrounding the preservation of cultural heritage." – Daniels
"Nancy and I somehow bonded early in my career, as prehistorians of Greece, but also as fellow admirers of Bill McDonald, her professor and one of my early academic idols, an insider-outsider who changed the direction of archaeology in Greece in ways still to be fully appreciated. Nancy and I saw eye to eye in nearly everything archaeological and I came to know that I could depend on her for sound advice and unfailing support. She was loyal and constant and to my mind unflappable." – Davis
Please share one anecdote that you see as representative of Wilkie and her work.
Nancy worked closely with many people throughout her career. As AIA President, Nancy was deeply respected by her colleagues for her strong leadership and for her commitment to ethical and responsible archaeological practices—qualities demonstrated through her work in cultural heritage protection and education. She also was a regular lecturer in the AIA's Lecture Program and a popular AIA Tour leader, leading more than 40 tours through her career.
"There are many Nancy anecdotes. She was absolutely tough as nails, but negotiated with a velvet glove. She was always happy to have dinner with someone she disagreed with to twist their arm just a bit to her point of view. She had a great many "projects" of people she intended to persuade to her way of thinking." – Daniels
"One example of the latter trait (unflappability) that I remember, perhaps trivial but meaningful nonetheless, was Nancy rushing into the American School one summer day, having just arrived from the Athens airport. She had forgotten she was supposed to fly to Greece until shortly before her flight was scheduled to depart America. Nancy had run to the airport with not much but the clothes on her back and her purse. Was she upset? Not at all. We did the only thing that seemed sensible in the moment. We sat down and talked about Greek prehistory." – Davis
What do you see as Wilkie's chief achievements?
Nancy's career was one of significant achievements. She was committed to field research, the preservation of cultural heritage, and education.
Nancy was a beloved teacher and mentor. She was the William H. Laird Professor of Classics, Anthropology and the Liberal Arts, and co-director of the Archaeology Concentration, at Carleton College in Northfield, MN.
She devoted several years of her life to serving on CPAC. Appointed directly by the President of the United States, CPAC makes recommendations to the President about bilateral cultural property agreements between the United States and nations seeking to protect their archaeological objects from looting and illegal export. Nancy was appointed to CPAC by both President Bush and President Obama.
Nancy co-founded the US Committee of the Blue Shield, which works globally to protect cultural heritage in emergency situations. Blue Shield provides emergency responses in cases of natural disaster and armed conflict and leads educational efforts aimed at informing people about protecting and minimizing damage to cultural property.
Nancy was an important part of the AIA's Site Preservation Program and its development into the globally impactful program that it is today.
Fittingly, Nancy was honored with the Outstanding Public Service Award at the AIA Annual Meeting in 2021, in recognition of her lifetime commitment to the preservation of archaeological heritage worldwide.
"Nancy's achievements are best seen, I think, not in the number of excavations, books, or papers, but in her extraordinary legacy in encouraging archaeologists to think far more about how to integrate cultural heritage preservation in their projects. She helped introduce and institutionalize its importance in our field." – Daniels
"Nancy's leadership in the AIA. Her devotion to publication, notably seeing the publication of prehistoric remains from Nichoria through to publication." – Davis
Finally, explain in 50 words (or so) why Nancy Wilkie is an archaeologist the public should know more about.
"Very few archaeologists had Nancy's scope of knowledge about archaeology and have done so much to preserve cultural heritage" – Daniels
To learn more about Nancy Wilkie and her work, explore the following:
The AIA Site Preservation Program – One of the strongest testaments to Nancy's legacy, she helped steward it into the program with global impact that it now is.
The Nancy Wilkie Lectureship in Archaeological Heritage – The list of recipients shows the range and scope of the heritage field—amplified by this award.
Blue Shield International – Nancy was one of the founders of Blue Shield International, a non-governmental, non-profit, international organisation committed to the protection of heritage across the world especially in times of emergency.
Excavations at Nichoria in Southwest Greece, Vol. II. The Bronze Age Occupation. (Minneapolis, 1992). With William A. McDonald (eds.).
The Great Isthmus Corridor Route. Explorations of the Phokis-Doris Expedition, Vol. I. Center for Ancient Studies, University of Minnesota, Publications in Ancient Studies. (Dubuque, Iowa, 1991). With Edward, W. Kase, George J. Szemler, and Paul W. Wallace (eds.).
Contributions to Aegean Archaeology: Studies in Honor of William A. McDonald. Center for Ancient Studies, University of Minnesota, Publications in Ancient Studies. (Dubuque, Iowa, 1985). With W.D.E. Coulson (eds.).
"Governmental Agencies and the Protection of Cultural Property in Times of War." In Lawrence Rothfield (ed.), Antiquities Under Siege. Cultural Heritage Protection After the Iraq War (Lanham 2008) pp. 237-247.
Read about our other Archaeologists You Should Know