September 5, 2014
ArchaeoMadness is here!
---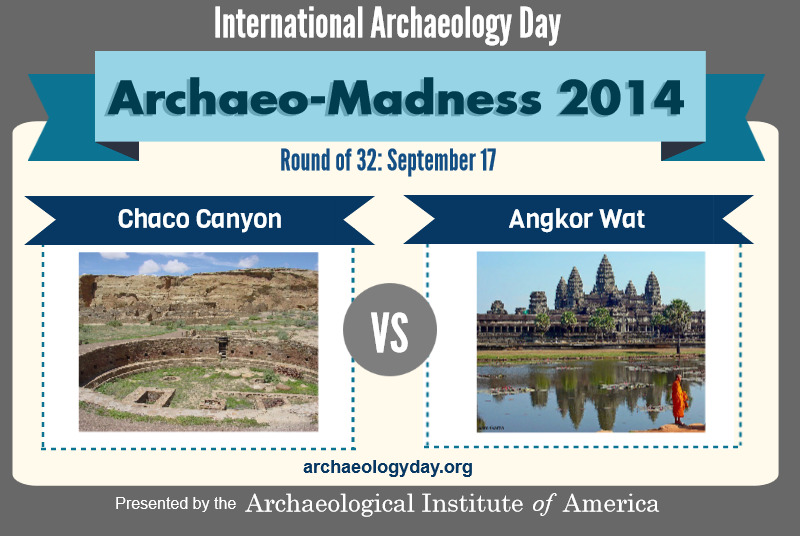 Count down to International Archaeology Day with ArchaeoMadness!  In ArchaeoMadness, 32 archaeological sites will enter a tournament in a single elimination bracket.  Each day participants can vote for their favorite archaeological site in a head-to-head competition between two sites.  The winning sites from each matchup move on to the next round.  This will be repeated in each round until the championship.
There are two ways to participate: submit a bracket before the tournament begins to be considered for the Grand Prize and/or, once the tournament starts, pick a favorite site each day and vote for it!
The tournament begins on September 17 with two head to head competitions—Chaco Canyon vs. Angkor Wat and Machu Picchu vs. Ur.  Which two sites will make it through the first day??
Grand Prize
The participant with the highest ranking bracket* will win a Roku 3 Streaming Media Player.  Brackets must be submitted by 5pm (Eastern) on September 16.
Daily Prizes
One lucky voter each day will win one of our daily prizes (you must supply your e-mail address when voting to be considered).
Round of 32 (8 prizes): 50 International Archaeology Day stickers to share with your friends
Sweet Sixteen (8 prizes): Selection of fun archaeology buttons
Elite Eight (4 prizes): Digital ARCHAEOLOGY magazine subscription
Final Four (2 prizes): AIA Society Membership
Championship (1 prize): AIA Society Membership & AIA Totebag
International Archaeology Day Blog