December 12, 2011
Bowers Museum Celebrates National Archaeology Day with Festivities for Both Adults and Children
---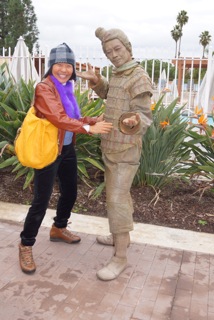 The Bowers Brings Artifacts and a Live Terra Cotta Warrior to Senior Living Community
In recognition of National Archaeology Day and through a generous donation from Honorary Board Member, Norma Kershaw, Bowers Museum staff and docents recently participated in the Laguna Woods Annual Artists Bonanza.  They displayed and discussed artifacts from each of their permanent collections and shared information about their newest visiting exhibition Warriors, Tombs and Temples: China's Enduring Legacy. They even brought Jarry.  Visiting from China for the duration of the exhibition (through March 4, 2012), Jarry has trained as a mime and when still, he is mistaken for a life size Terra Cotta Warrior statue! When he moved, he startled, surprised and delighted many Laguna Woods residents. 
The Laguna Woods Annual Artist Bonanza is the largest event this 18,000+ southern California senior community hosts.  Residents display and sell their art creations including wood carvings, jewelry, ceramics and textiles.  This event draws hundreds of people from within the community and the surrounding area.
Kidseum at the Bowers Museum Brings the Joy of Discovery to Children
Kidseum, the children's museum at the Bowers Museum, is home to three sand pits where children, parents and grandparents are introduced to the excitement of an authentic archaeological dig. For National Archaeology Day, Kidseum hosted a dig featuring Ancient China.  Young excavators uncovered ancient Chinese "artifacts" including coinage, terra cotta warriors and pottery. Afterwards, they made their very own clay terra cotta warriors to take home.
International Archaeology Day Blog