March 1, 2019
Dispatches From The AIA – March 2019
---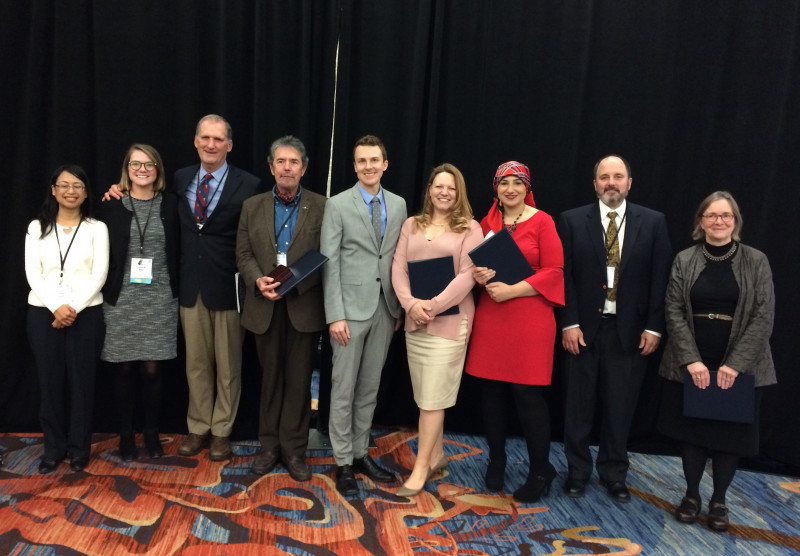 AIA-SCS 120th Joint Annual Meeting Welcomes More Than 2,200 Attendees in San Diego
The AIA kicked off 2019 in San Diego with the 120th AIA-SCS Joint Annual Meeting, a gathering of archaeologists, classicists, philologists, and archaeology enthusiasts. This year's meeting included more than 70 sessions, seven workshops, and 12 roundtables. The complete program is available at archaeological.org/meeting/program.
The tone was set by Sarah Parcak's opening night public lecture, The Rainbow Marshalltown: An Allegory for the Archaeology of the 21st Century. Parcak, an AIA Trustee and faculty member in the Department of Anthropology at the University of Alabama at Birmingham, is renowned for using satellite remote sensing to locate thousands of previously unknown archaeological sites around the world. In 2016, Parcak built a citizen science platform for archaeology called GlobalXplorer° (globalxplorer.org) using a $1 million TED Prize. Through her efforts, Parcak is helping to record, preserve, and protect the world's cultural heritage.
The AIA introduced two new events at this year's meeting. ArchaeoCon was a day of public events headlined by Josh Gates, host and co-executive producer of Expedition Unknown on Discovery; Sarah Parcak; and Patrick Hunt, Stanford University archaeologist, author, and explorer. While Gates, Parcak, and Hunt spoke with some of the 300 attendees, several archaeological, historical, and scientific organizations hosted tables of displays and activities. These organizations included Barona Cultural Center & Museum, California Archaeological Site Stewardship Program, Heritage Education Programs, Legion Six Historical Foundation, Partners for Archaeological Site Stewardship, San Diego County Archaeological Society, Skirball Cultural Center, and the Western Science Center.
Our Trivia Night also debuted in San Diego. Six teams of trivia buffs participated in this first-time event, answering a variety of archaeologically themed questions. These ranged from identifying ancient sites to knowledge of the Indiana Jones movies. ArchaeoCon and Trivia Night broaden the meeting's appeal. Most people who came to ArchaeoCon were not AIA members and had come specifically for this event. This type of event also provides Annual Meeting attendees with opportunities for socializing and networking.
The 120th AIA-SCS Joint Annual Meeting was a fantastic start to 2019. Join us in January 2020 when the meeting moves to Washington, D.C.
123rd Season of the AIA Lecture Program Continues Into 2019
We are midway through the 123rd Lecture Program. One of the highlights thus far has been the establishment of a new endowed lecture by Vice President for Societies, Ann Santen, a former Society Trustee and long-time supporter of the AIA. This endowment covers not only the traditional lecture format, but also classroom presentations, interactive communication through technology, and any other format that helps to illuminate the past. The inaugural Ann Santen Endowed Lecture took place in November 2018, when Bettina Arnold, Professor of Anthropology at the University of Wisconsin–Milwaukee, presented Belted Ladies and Dagger Men: Technology Brings European Iron Age Back to Life to the AIA Cincinnati Society. To learn more about the Lecture Program, visit archaeological.org/lectures. To learn how you can endow a lecture, visit archaeological.org/giving/endowments.
AIA Award Winners
Gold Medal Award for Distinguished Archaeological Achievement:
Curtis Runnels, Boston University
Pomerance Award for Scientific Contributions to Archaeology:
Robert E.M. Hedges, University of Oxford
Martha and Artemis Joukowsky Distinguished Service Award:
John R. Hale, University of Louisville
Outstanding Public Service Award:
Laurie Rush, Cultural Resources Manager and Army Archaeologist, Fort Drum, N.Y.
Excellence in Undergraduate Teaching Award:
Jennifer Ramsay, College at Brockport, SUNY
James R. Wiseman Book Award:
John M. Marston, Boston University
Felicia A. Holton Book Award:
Timothy Matney, University of Akron
Outstanding Work in Digital Archaeology Award:
The Open Digital Archaeology Textbook Environment
Graduate Student Paper Award:
Heba Abdelsalam, ARCE
At the awards ceremony, the AIA recognized Trustee Emerita Norma Kershaw, Trustee Emeritus Charles La Follette, and Trustee Emeritus Brian Heidtke. Only three Trustees hold this status. The AIA is proud to honor these extraordinary individuals for their steadfast support of and exemplary service to the AIA.
International Archaeology Day
International Archaeology Day (IAD), the yearly global celebration of archaeology coordinated by the AIA, will take place on October 19, 2019. IAD continued its unprecedented growth in 2018 with more than 900 events in 24 countries attended by more than 200,000 people. This level of participation by both collaborating organizations and interested attendees is a testament to the popularity of archaeology and the need for public events like this. Join us for IAD 2019 by attending an event or becoming a collaborating organization and hosting one. Read more at archaeologyday.org.
"A Year of Archaeology" Calendar Still Available
It's not too late to purchase the AIA's 2019 calendar, "A Year of Archaeology," which features stunning archaeological images selected from our annual photo contest. Proceeds support the AIA's Site Preservation Program, which has awarded grants to help preserve and protect 29 sites on five continents. Calendars are available by visiting archaeological.org/calendar.