November 9, 2007
Education and Outreach Successes
---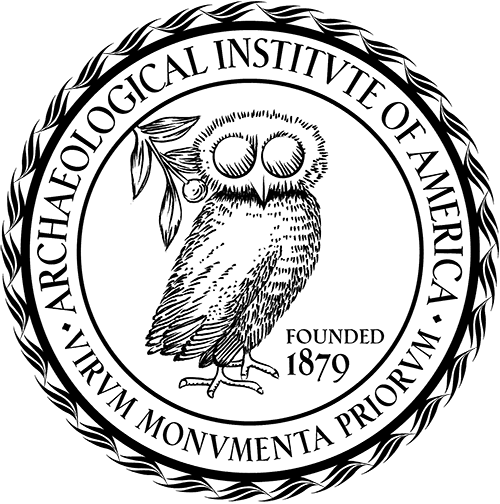 AIA-MOS Archaeology Weekend presenters and attendees
October was an extremely busy month for the AIA's Education and Outreach Department, which organized, hosted, and presented a series of events for Massachusetts Archaeology Month as well as a teachers' workshop in Rhode Island. It began with an Archaeology Weekend held jointly with Boston's Museum of Science (MOS) on October 5 and 6 (Friday and Saturday). Organized along the lines of our Archaeology Fair held at the Annual Meeting, it featured 14 presenters who offered archaeologically and historically themed activities to participants including children, teachers, and parents. Kids learned about everything from stone tools and the Mesoamerican ballgame, to archaeology at sites from Massachusetts to China. Additionally, the MOS sponsored several programs including, "Fantastic Forces"–a physics-themed program that was given an archaeological twist with the addition of an atlatl (spear thrower) and trebuchet (a type of catapult) to the normal demonstrations and "Adventures in Archaeology: Motel of the Mysteries"–a program based on the book by illustrator David Macaulay.
On Friday, 1,325 students with organized school field trips and another 300-350 regular visitors and home-schoolers attended. On Saturday, more than 3,800 people visited the museum, and most of those looked at or participated in the fair. The response to the event from participants, presenters and MOS management has been overwhelmingly positive and there is strong interest in making this an annual event. We have already started discussion about next year's event and have talked to several groups who were unable to attend this year's event and have received commitments of participation from several of them. The new presenters, along with the ones from this year (see below), will mean a much larger event in 2008. Special mention must be made of Michael Adams, our collaborator at the MOS. Adams works with the museum's traveling programs and is a member of AIA's Education Committee. This would not have been possible without him.
Participants in the AIA-Moses Brown School Teachers' Workshop
This year, as in 2006, we offered three Wednesday night tours at the Museum of Fine Arts in Boston. The tours were well attended (approximately 20 people per tour) and participants were thrilled to be able to visit the galleries with our experts. Participants viewed the Egyptian collection guided by led by Dr. Lawrence Berman, the Norma Jean Calderwood Senior Curator of Ancient Egyptian, Nubian, and Near Eastern Art and Dr. Rita Freed, the John F. Cogan, Jr. and Mary L. Corneille Chair of Art of the Ancient World on October 3 and 17, and the classical collection with Dr. Richard Grossman, the Mary Bryce Comstock Assistant Curator of Greek and Roman Art (and a former AIA society officer) on October 24. Several people who took thee tours commented on how much they had learned, noting especially the behind-the-scenes information that they received from the tour leaders.
On October 19, the AIA's Education and Outreach Department and the Moses Brown School presented a workshop for educators in Providence, Rhode Island. History, science, and art teachers from several area schools enjoyed presentations by professional archaeologists, received hands-on introductions to archaeologically themed arts-and-crafts projects for the classroom, and practiced small-scale simulated excavations. The teachers loved the fact that we discussed the applicability and use of archaeology across the curriculum. They were excited to take part in hands-on activities and were happy to be introduced to archaeologists from their local area.
Presenters for the day included AIA Education and Outreach coordinator Ben Thomas, who introduced the group to the basic principles of archaeology, and Charlotte Taylor of the Rhode Island Historical Preservation and Heritage Commission, who showed how examples from archaeology can be used to teach scientific concepts like climate change in an interesting way and gave ideas for local field trips. The Narragansett Society of the AIA played a major role in the workshop as well. Society president Katharina Galor, of Brown University, shared some of her exciting work at the Crusader castle of Apollonia-Arsuf, in Israel, while other society officers spoke about their research in Egypt and presented creative archaeology projects for the classroom. The final activity of the day was probably the most exciting. The teachers worked together in small groups to create shoebox digs using sand, potting soil, and toy artifacts. Each simulated site had a carefully constructed back story. The participants then methodically excavated each others' boxes to try to reconstruct the past events envisioned by each group. The shoebox dig was a lot of fun, and it also showed how a hands-on archaeology project can be used to teach students about the scientific method and stratigraphy. Shoebox Dig and other lesson plans for the classroom activities are available in the Education section of the AIA website.
2007 AIA-MOS Archaeology Weekend Presenters and Activities
Archaeological Institute of America: Ancient Languages; Mesoamerican Ballgame
Boston Children's Museum: Exploring Ancient China
Connecticut State Museum of Natural History and Connecticut Archaeology Center: Stems, Leaves and Fur: The Use of Natural Fiber
Calliope and Dig: Mosaic Magic
Danvers Alarm List Company and The Rebecca Nurse Homestead: Archaeology and Revolution at the Rebecca Nurse Homestead
Franklin Pierce University Anthropology Club: Understanding Atlatls
Massachusetts Archaeological Professionals: PARP4Kids' Little Shovel Bums Programs–Archaeology Education, Excavation and Preservation
Museum of Science: Science of Mummification, Bringing Archaeology into the Classroom
Old Sturbridge Village: From the Ground Up
Robbins Museum of Archaeology and Massachusetts Archaeology Society: Clues to the Native American Past
Semitic Museum: Near Eastern Archaeology
Strawbery Banke Museum: Solving the Mysteries of Strawbery Banke
The Museum of Underwater Archaeology: Finding the Site: Looking from High to Low; Mapping the Site: X Marks the Spot; Artifact Analysis: Holding History in Your Hand
The Public Archaeology Laboratory, Inc.: How Stone Tools Tell Stories