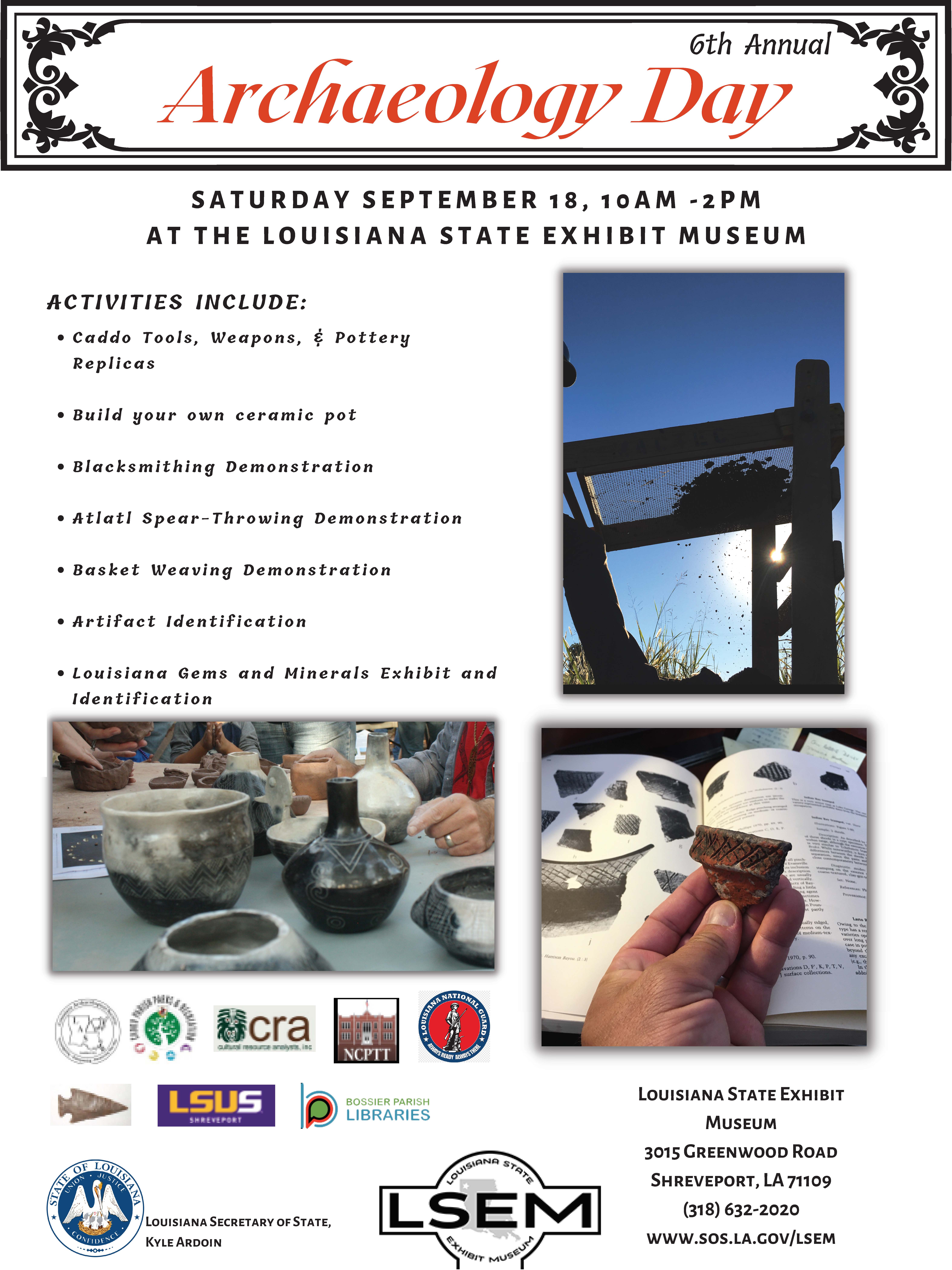 The Louisiana State Exhibit Museum will host the 6th Annual Archaeology Day on Saturday, September 18, 2021 from 10 AM to 2 PM. The museum and grounds will be filled with demonstrations and activities for the whole family to enjoy and participate in. This event is free and open to the public.
There will be naturalists with Walter B. Jacobs Park to lead you on a mock dig, geologist Cooper Abney is bringing his wonderful fossil display, zooarch Jordan Wilson, with Camp Minden Nat'l Guard will focus on preserving cultural resources, Del Glasner with ArkLaTex Gem & Mineral will have a Louisiana mineral display, and the Chippolattas will be demonstrating flintknapping. You can see Mark Brink, Park Manager of Poverty Point demonstrate the atlatl or Marty Young from Pioneer Heritage Center show his blacksmithing skills, and Archaeologist David Jeane will reconstruct pottery artifacts piece by piece. Archaeologist Jeff Girard will work a pump drill and sign his book "The Caddo and Their Ancestors" and the historians from the Bossier History Center will have their Caddo tools on display. More demonstrations by Artists Geraldine Zelinsky on basketry and Curtis Bias will help you make a Caddo styled pot. These are just some of the demonstrations you can experience.
The museum is located at 3015 Greenwood Road. From Interstate 20 traveling west, take either Greenwood or Hearne exit. If driving east from Texas, use the Jewella exit and turn right onto Greenwood Road. Admission is free and tours are available by appointment.
The Louisiana State Exhibit Museum is under the direction of Secretary of State Kyle Ardoin. For more information about the Friends of Louisiana State Exhibit Museum, go to www.laexhibitmuseum.org and for the Secretary of State's Museums Program, please visit www.sos.la.gov/museums.
When placing events on your calendar using these buttons, please check that time zone displays correctly.