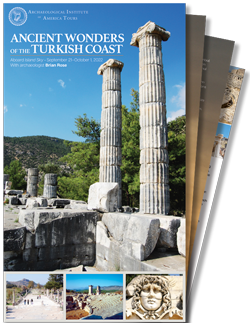 I invite you to join Archaeological Institute of America lecturer and host C. Brian Rose to visit extraordinary ancient Greek, Roman, Byzantine, and Ottoman sites. Brian Rose is a supremely engaging lecturer who has been excavating in Turkey for decades and is former co-director of the excavations of Troy.
Your journey begins with one hotel night in Istanbul and visits to some of the city's highlights; followed by an eight-night cruise aboard the lovely, 59-cabin, all-suite Island Sky. Cruise along the Aegean coast of Turkey toward Cyprus, calling en route at Troy, of Iliad fame; and the fabulous archaeological sites of Pergamon, Ephesus, Didyma, Priene, and Miletus. Along Turkey's Mediterranean coast, explore the Lycian Peninsula sites of Xanthos and Patara, and the spectacular Roman theater at Aspendos.
Also available is a two-night, pre-trip extension in Istanbul, the incredible city that bridges the Eastern and Western worlds and was an imperial capital for nearly 1,600 years; and a two-night, post-trip extension in Cyprus, including time in Limassol and Larnaca.
When placing events on your calendar using these buttons, please check that time zone displays correctly.