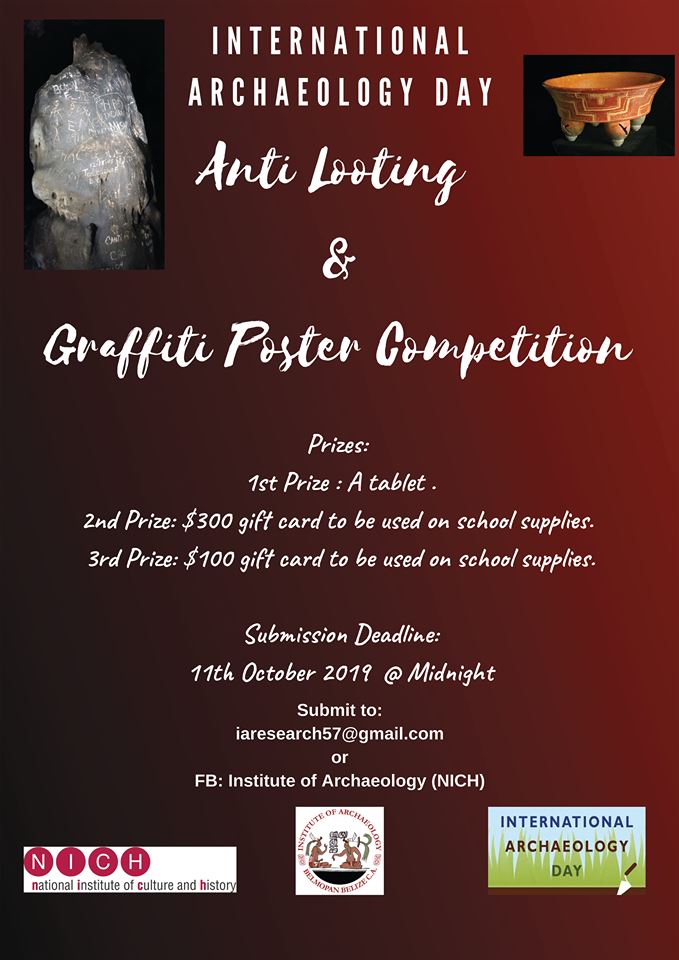 Recently, there has been a number of cases of destruction, looting and graffiti at archaeological reserves and sites. The Institute of Archaeology deems it necessary to launch a campaign aimed at promoting the protection and preservation of Belize's archaeological sites. The campaign to combat graffiti and looting at sites will be done with a poster competition. This venture is expected to reach a large audience and seeks to promote the idea that these sites are national possessions for all citizens of Belize and that we are responsible for the protection of our cultural heritage.
The competition would be done in two parts. Initially a soft copy (electronic version) of the poster will be submitted followed by the hard copy of said electronic version will be submitted to the Institute. Part 1: Participants will create their posters (NB. Photoshop is not allowed) of which they must take a clear picture of and submit to the IA via email (IAResearch5@gmail.com) or the IA's Facebook page (Institute of Archaeology [NICH]). This submission deadline is October 11th, 2019 at midnight. Members of the IA staff will then select ten posters to be in the second part of the competition. Based on the grading criteria is an evaluation of the posters to determine who is the winner. Part 2: The ten finalists will then be notified and be expected to send the hard copy of their poster to our office at 3401 Mountain View Blvd. This submission will be done through the mail service or by personal delivery. Of the ten, the best three posters will be selected and the three finalists will be announced and will be awarded prizes during International Archaeology Week (October 13th – 19th).
When placing events on your calendar using these buttons, please check that time zone displays correctly.