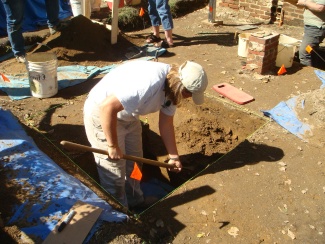 Auburn Valley State Park Archaeological Excavations
To prepare for an upcoming project which will switch the buildings at the Auburn Valley Marshall Mansion complex from septic to sewer, we will be excavating ~3 test units in order to determine the level of previous disturbances in the area. While most of the yard surrounding the mansion has little potential for intact archaeological remains, due to previous disturbances from old and modern construction and landscaping, part of the yard area on the west side of the property closer to Benge Road has the potential for intact deposits relating to the Insulite Mill or earlier deposits relating to a worker's housing unit that used to be located in the area before the Insulite Mill was built.
Previous archaeological experience is preferred but not necessary for this project, as this excavation should not be as physically intensive as some of our other ones, and is easily accessible and close to buildings with air conditioning and toilets. We will provide any tools you will require for the project, but be sure to bring your own water and a bag lunch if you plan to stay for the day!
SIGN UP HERE: https://www.signupgenius.com/go/70a044daca82aa20-auburn3
Additional info about location, etc. will be sent out closer to the event after you register
When placing events on your calendar using these buttons, please check that time zone displays correctly.