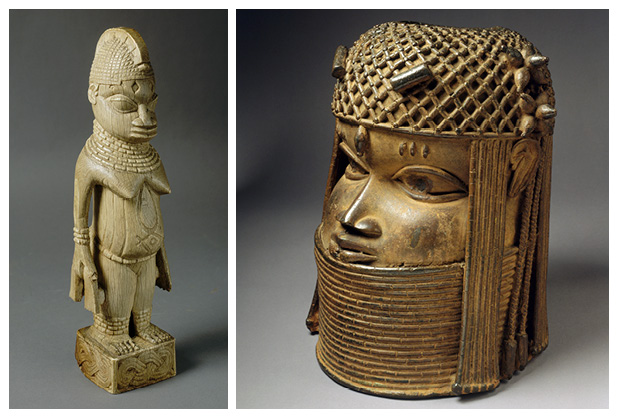 Sarah Anita Clunis, Director of Academic Partnerships and Curator of African Collections, Peabody Museum of Archaeology and Ethnology, Harvard University
In conversation with Diana DiPaolo Loren, Senior Curator, Peabody Museum of Archaeology and Ethnology, Harvard University
The kingdom of Benin, a highly centralized state founded in the thirteenth or fourteenth centuries in southwestern Nigeria, dominated trade with Europeans on the Nigerian coast from the late 1400s until the end of the 1900s. Ruled by a divine king, or Oba, the Benin kingdom relied on specialized guilds who created elaborate court regalia that adorned the palace of the Oba. Bronze plaques, ivory statuettes, and delicate coral-beaded items were used to establish status and validate the Oba's power. In 1897 a British expeditionary force invaded Benin, plundered the palace, and burned it to the ground. Items linked to this expedition were then sent to museums around the world, including both the Harvard Art Museums and Harvard's Peabody Museum, and are housed in their collections. In this program, Sarah Clunis will look at objects currently in the care of Harvard and discuss the way that these objects represent an iconographic and contextual story of trade, contact, and crossroads between cultures. Diana Loren will moderate a discussion after the presentation.
The bronze, ivory, and wooden artworks broadly known as the "Benin Bronzes" were taken from Benin City as part of the British Punitive Expedition of 1897 and dispersed to private collections and museums around the world. The Peabody Museum of Archaeology & Ethnology and Harvard Art Museums acknowledge the violence and trauma of the Expedition and understand that the presence of this cultural material in Western museums is experienced as continued injustice by descendent communities.
Presented by the Peabody Museum of Archaeology & Ethnology and the Harvard Museums of Science & Culture in collaboration with the Harvard Art Museums
When placing events on your calendar using these buttons, please check that time zone displays correctly.