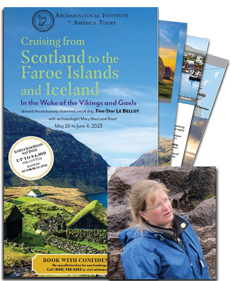 Travel with archaeologist Mary MacLeod Rivett and discover the myths and stories of the Nordic Vikings and the Gaels of Scotland, from the misty peaks of Scotland to the rarely visited Faroe Islands and on through the "fire and ice" of Iceland. Cruising the North Atlantic Ocean from Glasgow, Scotland, to the remote Faroe Islands and then to Reykjavík, Iceland, you will enjoy the luxuries of the exclusively chartered, five star Le Bellot small ship. On this new specially curated 10-day Cruising Scotland to the Faroe Islands and Iceland cruise you will explore the mighty Norse-Gael kingdom's legendary impact on Scotland, Iceland and the Faroe Islands.
Main tour highlights include:
• Cruising to the Isle of Iona the birthplace of Christianity in Scotland, and stroll through the serene, restored abbey and see the churchyard's intricate Celtic crosses.
• An excursion to the 5,000-year-old Neolithic ruins of the Standing Stones of Callanish.
• Visiting the village of Sumba and the Akraberg lighthouse to look for puffins, kittiwakes, gannets, and migrating warblers.
• Embarking on especially designed boats for a private cruise and the chance to touch ice blocks broken from Breidamerkurjőkull, one of Vatnajőkoll's glacier outlets.
When placing events on your calendar using these buttons, please check that time zone displays correctly.