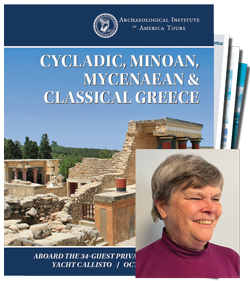 Join us to explore storied Athens and its celebrated ancient monuments before flying to legendary Crete, Greece's largest island and the place that gave rise to Europe's first advanced civilization. After visiting fascinating sites and museums in and around Heraklion, we will embark the lovely Callisto, which is akin to a private yacht rather than a cruise ship and accommodates only 34 guests.
Cruise to several of the most beautiful and historically important Greek islands. Some of the islands we will explore, such as Santorini, are well known, while others, such as Amorgos and Sifnos, are less known and yet considered to be the gems of the Greek archipelago. Beyond the bounds of mass tourism, they remain unspoiled, retaining their original character, and their ancient sites are devoid of large groups of visitors. A special feature of the cruise is the inclusion of the small, uninhabited, and seldom-visited islet
of Despotiko, which was an important sanctuary of Apollo in antiquity. Ongoing excavations under Greek archaeologist Yannos Kourayos have revealed major structures, including the Temple of Apollo, now partially restored.
Your engaging AIA expert, Professor Shelmerdine, will offer a series of onboard lectures and informal discussions, and local guides will illuminate the sites on every excursion ashore. Our custom-designed itinerary, the small size of the ship, and the planned activities combine to make for a truly memorable travel-learning experience.
When placing events on your calendar using these buttons, please check that time zone displays correctly.