A journey to Athens and the fabled Aegean Sea aboard the 17-cabin yacht, Callisto
We are pleased to invite you on a journey that will explore the long legacy of Greece with Archaeological Institute of America lecturer and host Cynthia Shelmerdine. Perhaps more than any other land, Greece has exerted a profound and lasting influence on the development of the Western world. Democracy, philosophy, historiography, scientific inquiry, and theater, among others, were born here.
Join us to explore storied Athens and its celebrated ancient monuments before flying to legendary Crete, Greece's largest island and the place that gave rise to Europe's first advanced civilization. After visiting fascinating sites and museums in and around Heraklion, we will embark the lovely Callisto, which is akin to a private yacht rather than a cruise ship and accommodates only 34 guests.
Cruise to several of the most beautiful and historically important Greek islands. Some of the islands we will explore, such as Santorini, are well known, while others, such as Amorgos and Sifnos, are less known and yet considered to be the gems of the Greek archipelago. Beyond the bounds of mass tourism, they remain unspoiled, retaining their original character, and their ancient sites are devoid of large groups of visitors. A special feature of the cruise is the inclusion of the small, uninhabited, and seldom-visited islet
of Despotiko, which was an important sanctuary of Apollo in antiquity. Ongoing excavations under Greek archaeologist Yannos Kourayos have revealed major structures, including the Temple of Apollo, now partially restored.
Your engaging AIA expert, Professor Shelmerdine, will offer a series of onboard lectures and informal discussions, and local guides will illuminate the sites on every excursion ashore. Our custom-designed itinerary, the small size of the ship, and the planned activities combine to make for a truly memorable travel-learning experience.

Since Callisto has only 17 cabins and this program is co-sponsored, contact our office today at aia@studytours.org or (800) 748-6262 to be notified first when the tour is ready.
The Callisto (17-cabin small-ship)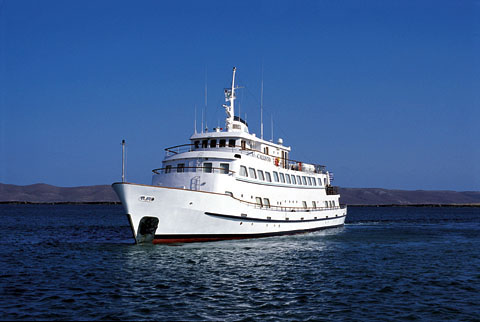 In an era of mega cruise ships that carry thousands of passengers, Callisto is a delightful alternative. More like a private yacht than a cruise ship, Callisto accommodates a maximum of just 34 guests in 17 cabins that face outside. Unlike the formalities found on larger cruise ships, a relaxed and informal atmosphere prevails aboard. A well-trained English-speaking crew of 18 manages the ship and provides friendly and efficient service. The dining room, surrounded by large windows, accommodates all guests at one unassigned seating, while the adjoining lounge, which is also lined with windows, is a good place to meet and socialize with fellow travelers, and attend lectures. When the weather permits, several meals will be served al fresco. A library faces the spacious Sun Deck.
Tour Prices per person
Tour prices start at $7,490 double occupancy, limited cabins available for single occupancy at a supplement of 150% of the per person double occupancy rate. More information on pricing and other details will be available on the brochure when it is available. Contact us to be notified first when it is available.
To reserve your space using the online form, click here.
For reservations or questions, please email us at aia@studytours.org (and include your full name) or call us toll-free at (800) 748-6262 (toll: 603-756-2884).