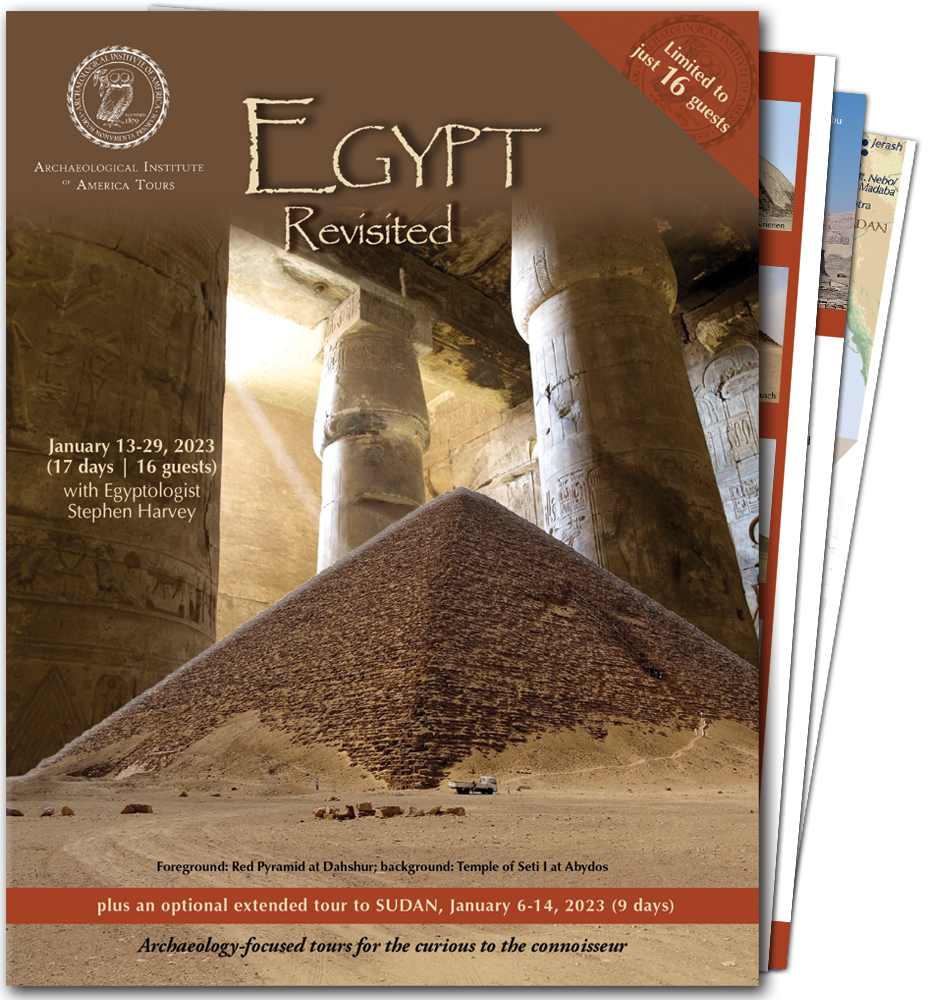 You are invited to return to Egypt to experience this 17-day, custom-designed itinerary in the engaging company of Egyptologist Stephen Harvey plus an expert local Egyptology guide and a professional tour manager. This trio has been receiving accolades for many years.
Highlights are many and varied:
Spend two full days visiting museums in Cairo (the new National Museum of Egyptian Civilization and the historic Egyptian Museum) or two full days exploring Giza's Grand Egyptian Museum if it is open.
Gain inside access to the Red Pyramid at Dahshur, enter the burial chamber of the collapsed pyramid at Meidum, and visit two mud-brick pyramids at the Fayoum Oasis.
Go behind-the-scenes at the ancient necropolis of Saqqara to see some of the new and remarkable excavations that are not open to the public, including (pending final confirmation) special access to the newly-discovered, 5th-dynasty Tomb of Wah Ti.
Explore the necropoli of Beni Hasan, known for its 39 rock-cut tombs with well-preserved paintings of dancing, acrobatics, juggling, fishing, hunting, and weaving; and Tuna el-Gebel, with huge catacombs for thousands of mummified ibises and baboons, and much more.
Visit Tell el-Amarna, which replaced Thebes (modern Luxor) as capital of Egypt under the heretic, 18th-dynasty Pharaoh Akhenaton and was significant for its monotheism and distinctive artistic style.
Enjoy two in-depth visits to Abydos, where Stephen Harvey has worked since 1993, including visits to the spectacular Temple of Seti I, with its invaluable "Abydos King List" and chapels with exquisite reliefs; and special access to the subterranean Osireion (symbolic tomb of Osiris), centered around a burial chamber that was once surrounded by water.
Discover two interesting and lesser-visited sites near Luxor: the Temple of Montu (the falcon-headed god of war) at El-Tod, and the tomb of Ankhtifi, a provincial governor and warlord, at El-Mo'alla.
Enjoy luxurious or best available accommodations throughout, with two or three nights at each property.
Enhance your adventure with a nine-day, pre-tour extension in Sudan (January 6-14, 2023) land of the Nubian pharaohs, replete with ancient pyramids and temples.
When placing events on your calendar using these buttons, please check that time zone displays correctly.