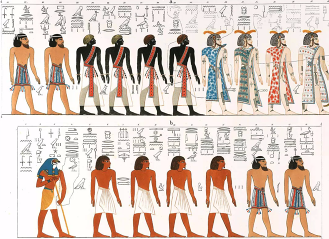 Egyptologists make decisions about how to define the discipline. They make decisions involving time, space, and values. These actions are perfectly normal in that there is a limit as to how much data one mind can absorb. One also has the opportunity to stand back and view these decisions in aggregate. This especially applies to the ones made at the beginning of Egyptology before everything was settled and these decisions had not yet become paradigms, standards, or ruts.
This talk will examine some of these decisions about how Egyptologists defined Egyptology. It will look at what has been included and what has not. One should note that the general public has been part of this decision-making process. Egyptologists do not operate in a vacuum. Next year will be the centennial of the discovery of the tomb of King Tut (ankhamun). The opening words to the 1952 number one hit in both England and the United States to the romantic ballad "You Belong to Me" are "See the pyramids along the Nile" express the dominance of those structures in the public mind.
The focus here will be on how did it come to be that the Egyptian civilization emerged capable of building those pyramids. What happened to transform a people who had lived a certain way for millennia to one that became known as "Pharaonic Egypt"? The answers Egyptologists developed included such concepts as the Dynastic Race which will be included in this talk and the Hamite Hypothesis which requires a separate talk. These concepts live on until today even if different terms are used.
In-person and virtual. To register go to http://www.eventkeeper.com/mars/xpages/xp_newpopevent.cfm?zeeOrg=RFRR&EventID=6725193&sw=1366
When placing events on your calendar using these buttons, please check that time zone displays correctly.