The Niagara Peninsula Society of the Archaeological Institute of America (AIA) Public Lecture Series is excited to welcome Mark Usher, University of Vermont, as our first lecturer of the season. Dr Usher will speak about, "The Roman Villa Project: Archaeology, Paleobotany, and Sustainable Agriculture in Italy's Sabine Hills." See the poster below.
The lecture will take place via Microsoft Teams on Sunday, September 26 at 3:00 pm EDT.
Pre-registration through this link is required: https://forms.office.com/Pages/ResponsePage.aspx?id=FRGudvwe8kqlNuKyRDrxoCEKDnEtoJ5PlMr0iwglNS1UQlBRT1VTVjVQS1ZXQUJaMFJBTE9STEFUMS4u&wdLOR=c1EB8B1C8-2996-4B4B-9B98-ED3E863F6796.
AIA lectures are free and open to the public. For more information and our 2021-2022 lecture schedule, see: https://brocku.ca/humanities/classics/outreach/aia-niagara/ or find us on Facebook @AIANiagara (https://www.facebook.com/AIANiagara).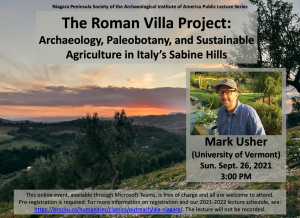 Pre-registration through this link is required
When placing events on your calendar using these buttons, please check that time zone displays correctly.