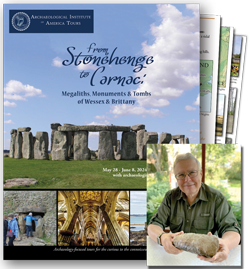 Explore the extraordinary prehistoric sites of Wessex, England, and Brittany, France. Amidst beautiful landscapes see world renowned, as well as lesser known, Neolithic and Bronze Age megaliths and monuments such as enigmatic rings of giant standing stones and remarkable chambered tombs. Travel and learn with Peter Bogucki (Ph.D., Harvard University) studies the prehistoric societies of Europe and has a particular interest in the spread of farming and its consequences. In addition to many visits
to sites and museums throughout Europe, Dr. Bogucki has conducted excavations at Neolithic sites in Poland and participated in research that identified the earliest evidence for cheese production.
Highlights:
• Stonehenge, the world's most famous megalithic site, which is a UNESCO World Heritage Site together with Avebury, a unique Neolithic henge that includes Europe's largest prehistoric stone circle.
• Enigmatic chambered tombs such as West Kennet Long Barrow.
• Carnac, with more than 3,000 prehistoric standing stones, the world's largest collection of megalithic monuments.
• The uninhabited island of Gavrinis, with a magnificent passage tomb that is lined with elaborately engraved, vertical stones.
• Several outstanding museum collections including prehistoric necklaces, pendants, polished stone axes, and more.
• The UNESCO World Heritage Site of Mont-Saint-Michel, an imposing abbey built on a tidal island.
• Charming villages, medieval churches, and beautiful landscapes of coastlines and rolling hills.
• The tour begins in London and ends in Paris! Arrive early and/or stay longer to explore these cities independently.
When placing events on your calendar using these buttons, please check that time zone displays correctly.