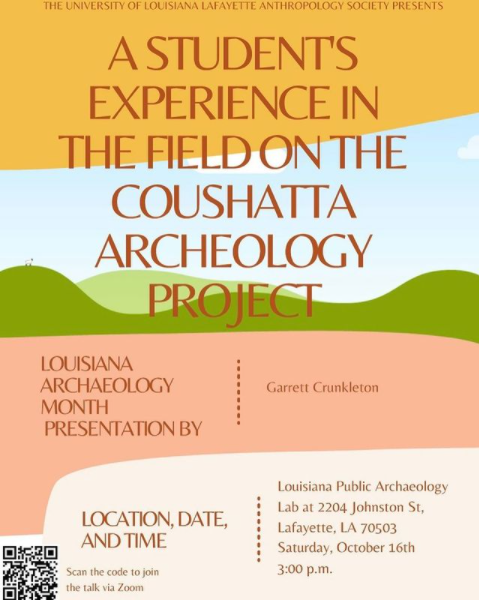 The University of Louisiana at Lafayette Anthropology Society presents:
"A Student's Experience in the Field on the Coushatta Archeology Project"
Louisiana Archaeology Month Presentation by Garrett Crunkleton
"I will discuss where I started and where I am now. I have been working with Sam Huey, the project director of the Coushatta Historical Archeology Project(CHAP). This investigation is between the Coushatta Tribe of Louisiana and the University of Louisiana at Lafayette. During my time I have learned communication skills, artifact identification, and proper site excavation. I will be sharing photos from the CHAP project of me out in the field. I am grateful for this opportunity and look forward to sharing my experiences."
In person at the Louisiana Public Archaeology Lab at 2204 Johnston St, Lafayette, LA 70503
Or on Zoom (Meeting ID 916 61232306) on International Archaeology Day.
When placing events on your calendar using these buttons, please check that time zone displays correctly.