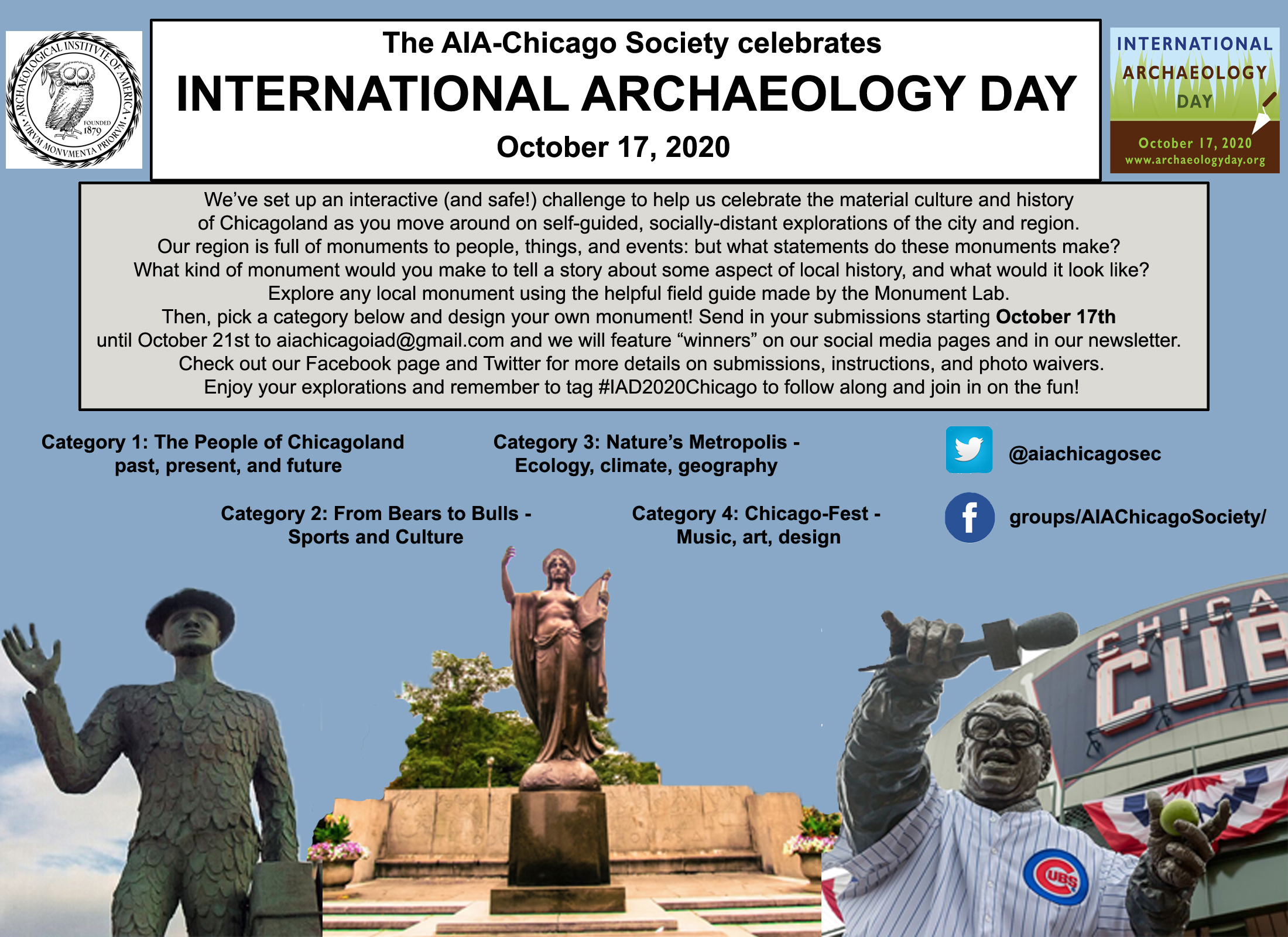 Join our interactive and safe challenge to help us celebrate International Archaeology Day and the material culture and history of Chicagoland. Our region is full of monuments to people, events, and places, but what statements do these monuments make? What kind of monument would you make to tell a story about Chicago? In this self-guided, socially-distant challenge, first pick any monument using the helpful field trip guide made by the Monument Lab . https://data.monumentlab.com/monument-lab/assets/koc89365r1w8o044
Then, pick a category below, and design your own monument!
1. People of Chicagoland past, present and future: highlight a person or group from any part of the region's (pre)history
2. From Bears to Cubs: a monument to some aspect of Chicagoland sports
3. Nature's Metropolis: celebrate or commemorate regional geography, climate, or ecology
4. Chicago-Fest: a monument to some aspect of regional music, arts, design, architecture, or popular culture
Once you've made your design, send a picture, sketch, or photograph (in any reasonable digital file format) to aiachicagoiad@gmail.com starting October 17th and running until October 21st. If you sign the photo waiver form, we will share submissions throughout the challenge period on our social media pages. "Winners" will be chosen based on creativity and critical designs for a proposed Chicago monument, and will be shared in social media and our newsletter, and announced at our first Archaeology & Ale on October 22nd. Feel free to follow along and join in on social media by using #IAD2020Chicago!
Photo release form: https://form.jotform.com/202854295793164
When placing events on your calendar using these buttons, please check that time zone displays correctly.