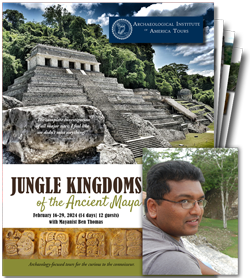 This tropical adventure provides the best-paced itinerary available to thoroughly explore ancient Maya sites in the lush jungles of Mexico, Guatemala, and Honduras. Maya art and architecture will "come alive" as you encounter enormous stelae (carved monoliths), painted frescoes, stucco friezes, carved lintels, and huge temple-pyramids that soar above the rainforest. Explore, in-depth, the sites of Palenque, Bonampak, Yaxchilán, Tikal, Yaxhá, Copán, and Quiriguá (four are UNESCO World Heritage Sites); with free time to go bird watching or simply relax, reflect, and enjoy our comfortable hotels and remote jungle lodges. Maximum of just 12 guests.
Highlights include:
• Visit La Venta Park to see a magnificent outdoor collection of stone sculpture that originally came from the Olmec site of La Venta.
• Explore Palenque's many exquisite examples of 7th- and 8th-century Maya architecture, including the Temple of the Inscriptions, Palace, Temples of the Cross Group, and much more..
• Journey upriver and cross over into the heart of Guatemala, to the UNESCO World Heritage Site of Tikal.
• Join in on the optional, pre-dawn hike up the steep steps of Tikal's Temple IV—the site's tallest pyramid at 230 feet, and the largest Maya shrine built in the 8th century.
• Tour the Sepulturas Group, located a few miles from the site of Copán, which also housed a residential area for non-Maya (perhaps foreign merchants) around A.D. 800.
Travel and learn with Dr. Ben Thomas who after several years of fieldwork in the jungles and swamps of Belize and Guatemala has become a specialist in Mayan archaeology with specific interests in Ancient Maya settlements and architecture. He has travelled extensively throughout Mexico, Guatemala, and Belize.
When placing events on your calendar using these buttons, please check that time zone displays correctly.